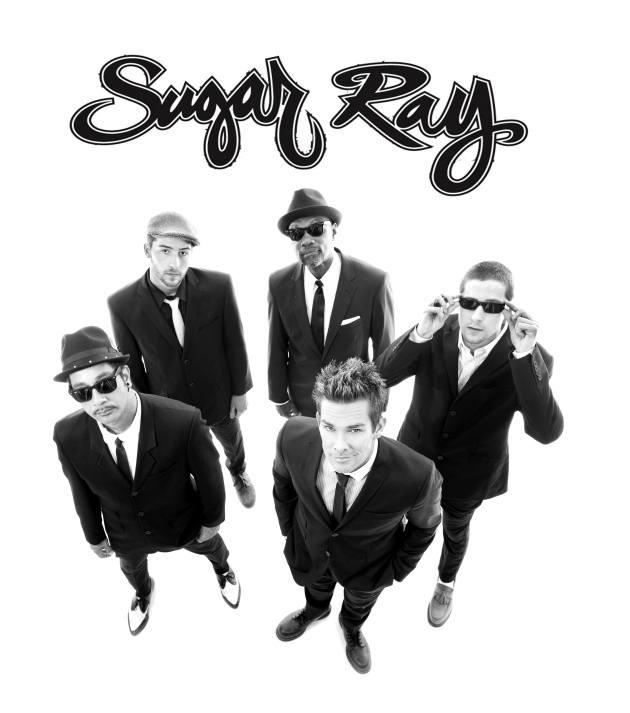 The first ever Summerland Tour rocked Wolf Trap on Wednesday night. A sold out crowd packed every square inch of lawn and seats at The Filene Center and partied until curfew! Because Wolf trap is a National Park and in a neighborhood, there is a curfew for the sound, but I have a feeling that if these guys could have rocked all night, they would have!!
The Summerland Tour is the brainchild of Sugar Ray lead, Mark McGrath and Everclear front man, Art Alexakis. They decided that there are enough of us out there that LOVE 90's rock to sell-out shows across the country and rock out for a summer of great music. This first year, which has proven to be a HUGE success, hosts Marcy Playground, Lit, Gin Blossoms, Sugar Ray, and Everclear. With bands leaping on board for next year's tour, you can be sure this will be a summer staple for years to come! It's kind of like the music version of, "The Expendables". This year it is five awesome bands, but because of the magnetism of this tour, rumors have it that bands like Third-Eye Blind and Mighty Mighty Bosstones are already interested for next year! One nay-sayer was "upset" that there aren't any girl acts on the tour, but I couldn't really think of one that is up to snuff with theses guys! You had a lot of girl acts in the 90's that were good, but very few have come out of that decade alive! Alanis is one, but other choices like Shawn Colvin would bring the night to a screeching fault! I have seen her in concert in recent years and while she is still a great singer, she holds a slower pace in her concerts and I came out of her concert enjoying her opening act, Katie Herzig way more! She had more zip, Colvin is too dreary for these guys! Maybe Meredith Brooks or Luscious Jackson, but where the heck are they?
Back to our real story…Marcy Playground opened the night with a half-hour of tunes, ending with their biggest hit, "Sex and Candy". I don't care who you are, if you liked music in the 90's, you got down to "Sex and Candy" at one point or another! With quick changes between bands, we were back sand up on our feet, rocking with Lit in no time! Lead singer, A. Jay Popoff jumps around the stage like he's 20 and puts on a terrific show, belting some of their hits, "Miserable", "I Am My Own Worst Enemy" and songs off their new album, like "MIss You Gone" from, "A View From The Bottom". After the next quick transition, we were back with the gin blossoms and lead vocalist, Robin Wilson, there time was used wisely as he sang hit after gin blossom hit "Til I Fall Away", "Allison Road", "Til I Hear It From You", "Follow You Down", and "Hey Jealousy". Wilson sings with the same emotion that he did in the 90's. Each transition had us listening to great songs, as well, such as Blind Melon's "No Rain" and "Walkin' On The Sun" by Smashmouth. They really covered all of their bases and ensured that we'd have a great time. Between sets, Marcy Playground and Lit signed autographs and posed with fans. Another 45-minute romp through the 90's with Sugar Ray had McGrath shaking his booty to every girls delight and hitting us with my favorite, "Every Morning", "Someday", "When It's Over" and of course, "Fly", which killed and had everyone dancing. McGrath is a born comedian and during Sugar Ray's set, they did a karaoke bit that was hilarious. They picked two guys out of the audience and helped them sing "Fight For Your Right (To Party)" and "I Gotta Feeling", they give people Five minutes of fame and I'm sure that it's awesome! You can definitely rock out from any seat in the house, but the front row gets all the perks, like tambourines used by Robin Wilson and one lucky girl caught Mark McGrath's sunglasses as they fell off his face and he told her to keep them!! The evening was filled with fun, dancing in the aisles, singing along to awesome songs, guitar pics and drum sticks thrown out into the audience! When Sugar Ray performed, I was having so much fun and I couldn't believe that after all of that, we still had Everclear to perform. It's the right amount of bands to have an enjoyable evening.
Unlike other summer shows and tours, five bands made for a great amount of time for each band, although a few minutes more for each would be good, but we had the curfew. Sugar Ray did a cover of a Ramones hit and Everclear was going to give us a taste os some earlier rock from Led Zeppelin, but had to move along to their finale because of the time frame. There was no real need for glitz and glam because we had true rockers who sang and really performed! Everclear is the final act and they brought it! Art Alexakis lead his band and us down the rabbit hole and we all loved it! They started with "Father of Mine" and there it was, that iconic voice, that you can immediately identify as Everclear! Their distinctive sound, mostly because of Art's gritty, rock-edged voice is still great live! All of the bands are "da bomb" live, but Art comes from an old school background of rock and really hits you with it! They performed "Summerland" for which the show is named and did some of their darker, true Everclear hits and not just the radio favs! Although, I have to admit that my heart was racing when he sang "Everything to Everyone" because I love it so much! But when it was time to close, they really gave it to us with, "I Will Buy You a New Life" and the gang all joined in A. Jay Popoff, Mark McGrath, Robin Wilson, and John Wozniak, along with bandmates from each group came back onstage to join in the fun! It was a great party and one that I will be attending again. They were testing the waters with this inaugural tour, but you can be sure they will be back with the sequel next year and I know I'll be there! There are still dates left for this summer so check out their site (below) to get your tix and join the party!
Overall Grade: A++, they guys know how to have a good time and share it with the crowd! And they all have great diction, especially for rockers!
Venue Grade: A, this is a summer show so, an outdoor venue, like The Filene Center is perfect, I just wish they didn't have the curfew!
Go to www.wolftrap.org and see the remainder of the summer season and the just announced season at The Barns
Definitely catch the Summerland Tour www.summerlandtour.net