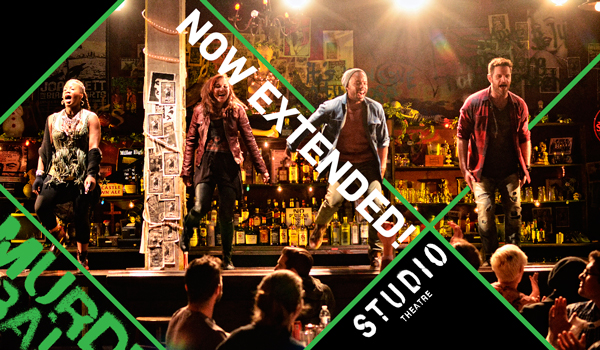 Murder Ballad conceived and with book by Julia Jordan. Music and lyrics by Juliana Nash. Directed by David Muse. Now through May 31, 2015

INFORMATION
Where: Studio Theatre's Stage 4, 1501 14th St NW, Washington, DC 20005
Dates: April 15—May 31, 2015
Performances: Wednesday–Thursday at 8pm; Friday–Saturday at 7pm and 10pm; Sunday at 7pm; Monday at 8pm
Bar: Doors open an hour before the show for the best seats and to enjoy full bar service. Last call is 10 minutes before show time. Bar open after show except for Friday and Saturday evenings.
Ticket Prices: $45-$80, all seats are general admission; reserved VIP seats with table service are available
Groups: Groups of 10 or more people save $5 per ticket. Call 202.232.7267 x361
ABOUT THE PLAY      
Sara's life is perfect—Upper West Side husband, daughter, and life—until her irresistible past blows back into her life in the form of an old flame, a dangerous passion, and a love triangle headed for ignition. An electric rock musical from Julia Jordan and indie rock singer/songwriter Juliana Nash.
GENERAL INFORMATION
Accessibility:  Studio's theatres are all wheelchair accessible; seats are available by reservation. Assistive listen devices are available for all shows at concessions. Call the Box Office at 202.332.3300 for more information.
Location:  1501 14th Street NW (northeast corner of 14th and P Streets).  
Parking:  
Studio has a parking partnership with Washington Plaza Hotel at 10 Thomas Circle NW, three blocks south of Studio; patrons who park at the hotel's parking garage can purchase a $13 voucher at concessions.
Street parking is limited; arrive early to increase your options.
Metro Stops: Red Line: Dupont Circle, Orange/Blue Lines: McPherson Square, and Green/Yellow Lines: U Street/Cardozo.
Contact Information: 
Tickets:  202.332.3300
Administration:  202.232.7267
Website:  studiotheatre.org
E–mail: info@studiotheatre.org