Strathmore Artist In Residence Nistha Raj: Hindustani Classical Music
2 min read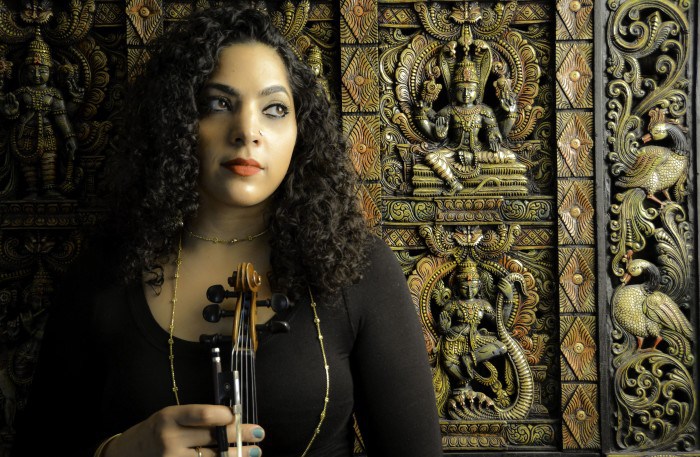 This was the Exit 1 debut album release concert for Hindustani violinist Nistha Raj, an album she has been working on the past year and a half. She's quickly growing a reputation as one of the areas most distinguished Hindustani music performers. Tonight her concert was held at the Mansion at Strathmore.
Hindustani classical music is very atmospheric, emanated was a sense of respectability and friendliness, the perfect atmosphere for collaborations. They shared sounds and techniques unique to their instruments, it was a collage native to both India and Washington DC featuring artist such as Wytold, Christyles Bacon, Elijah Balbed, Ethan Foote, Rob Coltun, Jomy George, Behzad Habibzai, Debu Nayak, Geoffrey Rohrbach and Rangashree Varadarajan, a fusion of Hindustani classical music along with jazz, rock, hip hop, folk and even flamenco guitar.
For the rhythm throughout the show, they switched between the tabla, mridangam, drums, human beatbox and spoons. The rhythm was one of the most enjoyable aspects of this concert. There were some extremely talented percussionist tonight that Nistha collaborated with. Debu Nayak's tabla playing is outstanding and multi-instrumentalist Jomy George is one one the quickest drummers I've ever heard. The Christyles Bacon beatboxing was entertaining and sounded just like drums when he wanted it to.
Having Wytold at the concert was awesome! His Hindustani cello playing on "Know Me" off his My Regards album is phenomenal.
Nistha dedicated a song "Ek Pyar Ka Nagma Hi" or "Melody of Love" to her late mother Neroo Raj. The melody was very gracious. I watched the Shor music video it was based from after hearing this song and it's very touching.
There are folk elements to Nistha's violin playing, instances when it sounds Appalachian. Both Hindustani music and blue grass have a fast tempo so I guess it's natural.
The pairing of Nistha Raj and Behzad Habibzai on guitar was great! His flamenco guitar added a gypsy rock element to the show. Nistha and Behzad are playing  another concert together "No Hay, Yahan" at the Intersections Festival Saturday March 8th at the Atlas Performing Arts Center. Debu Nayak's going to be playing on tabla as well; it's going to be a great concert!
Geoff Rohrbach played some stand out grand piano solos really adding to the experience of this event. The program and collaboration of artist at this Exit 1 album release concert was amazing! A record release is such a great occasion, as was this concert.