Sting & Peter Gabriel Rock Paper Scissors Tour comes to Verizon Center June 23
2 min read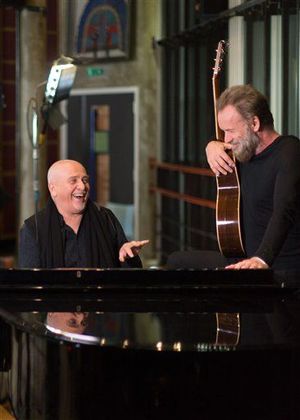 19 City Tour Kicks-off June 21st. Date Set for June 23 at Verizon Center
Two of music's most iconic artists – Sting and Peter Gabriel – will unite this summer for a once in a lifetime concert tour. Rock Paper Scissors, produced by Live Nation Global Touring, will visit select North American cities this June and July (complete itinerary follows). Tickets will go on sale starting January 25th and February 1st at www.livenation.com.
Having first toured together in the eighties for Amnesty International, Rock Paper Scissors will find Peter Gabriel and Sting performing both separately and together, playing their own songs as well as melding their bands to explore each other's most celebrated hits.  
"I'm very happy that we're taking the chance to experiment this way. I think people will be intrigued, I certainly am." Sting
"What intrigues me is that you get a good bunch of musicians together and interesting things will happen." Peter Gabriel
Tickets for Rock Paper Scissors will go on sale beginning January 25th. The artists' fans will have access to a pre-sale through their respective official websites, starting Wednesday, Jan. 20th (time frames vary). For complete tour and ticket information, VIP Packages and more visit:www.livenation.com, www.petergabriel.com and www.sting.com.
American Express® Card Members can purchase tickets in Washington before the general public beginning Thursday, Jan. 21 at 10 a.m. local through Sunday, Jan. 24 5 p.m. local  
For complete tour and ticketing information, visit:  www.livenation.com