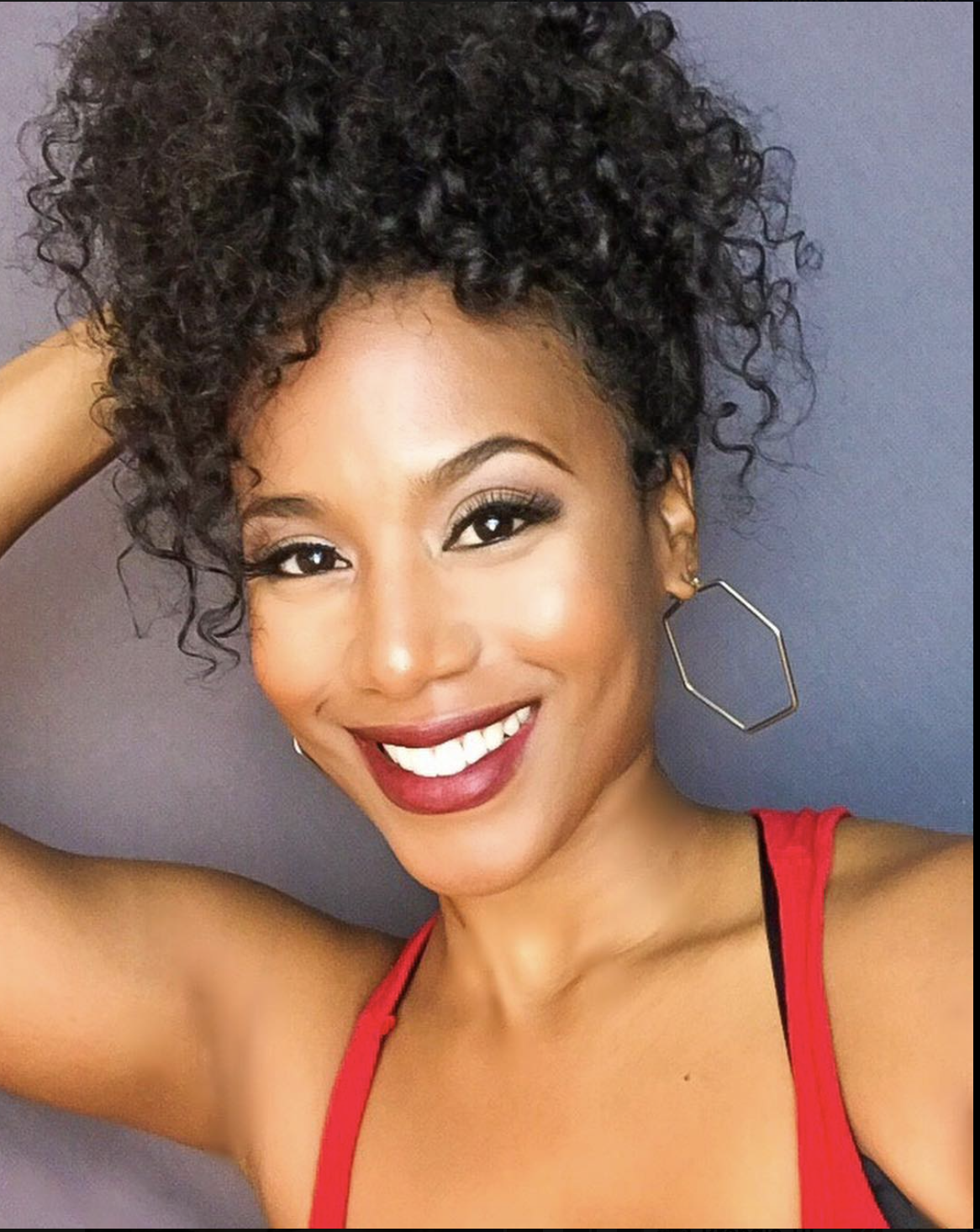 On today's edition of the INTERVUE, we're talking to the lead actress in the upcoming BETPlus TV series "Ruthless". Ruthless is a one-hour riveting story of a young woman who becomes entangled in a scandalous cult of powerful sex crazed fanatics. She must now play along until she can find a way to free herself from her daughter.
Here to talk about this new series is the wonderful Stephanie Charles
Stephanie, welcome to the INTERVUE!
Hey! Thank you for having me, thank you!
Every time I think of Ruthless, I am thinking of Ruthless People. I am thinking of the play. (we both laugh) For those of us who have no heard of this Ruthless, can you tell us what's it all about?
Ruthless is named after Ruth and is a spin-off of Tyler Perry's The Oval. You think about this underground crazy cult. My character, Sarah, is an FBI agent who goes undercover. He's been M.I.A. So, she takes matters into her own hands, that's my storyline with it. It's really gritty, dark, intense, full of drama and so fun to play!
It definitely is especially since it was not too long ago, I got to talk to the first family of The Oval and I fell in love with that series. Its wonderful to hear that we have a spin-off of the series.
Thank you, thank its so fun. You guys are going to really love it.
I cant wait to see it. It starts on BETPlus, so I am so excited!
I know, its so exciting! I think the first three episodes.
This is not your first rodeo with Tyler Perry. You were on the former comedy series The Paynes. What is it like to be part of the Tyler Perry epic empire?
It was so fun. Its great working with Cassie & Levan and the other cast members. My favorite part of being around them was the rehearsal part. I love working the actors and studying from them. It was just a great learning experience for me.
That's great. When I was reading your bio, I found that you were on an old NBC Teen series called City Guys and that was one of my favorite series growing up. (she laughs) that and Hang Time and Saved by the Bell: The New Class
You are going way back..
Yes, I am going way back.
You are putting my age out there. Wow… that was my first ever TV appearance. Its so crazy, you did your research. Go ahead now LOL
Now has your transition been from your first appearance on City Guys to where we are now with Ruthless?
Oh man, it's a long road because my intentions was divided between music & acting. For a little bit, music was my number one thing but I was in so many girl groups. Then I moved to New York for a little bit and we were signed to Universal Motown and that didn't work. The music industry was a hard industry. I realized that I will focus on acting and from there I came back in 2010. Its been a long long journey, a lot of self-work, learning and self-growth. There were a lot of lessons that had to be learned.
That's true but you know what they say "The longer the journey, the bigger the reward at the end of the day" and you have come along way.
Yes! Thank you, Yes. Its definitely worth it.
I saw that you caught the acting bug when you were twelve. Do you remember the moment that you realized that this was the career path for you?
I think the moment was probably when I started to believe I myself in the acting because I was really focused on music that I wasn't really sure if I can do it or not but I don't specifically remember the time.
Who were your influences and have you seen them in concert?
Oh yeah, Janet Jackson. When I saw her in concert, I was flipping out as a kid. You don't know how much I love me some Janet Jackson. In fact, I was in the same room with her one time. It was during the B2K concert with Omarion and Janet Jackson was right there and I could've easily hug her but I was a bit scared to talk to her. I was with my girl group and that whole night I was so excited to see Janet but I was too scared to walk up and talk to her.
Awww!
I wish I would have done it.  
I also noticed that you are a triple threat, you sung you danced, you're acting. You're like me except I am a reporter nowadays (laugh) What is it about the arts that motivates you?
Its how it makes me feel. Its something I go to when I'm down. It lifts me up. Nothing can compare to art that makes you feel, that makes you think. It educates you I a lot of ways. It its done right, you can learn a lot from art. I know a friend who has this program that uses music t teach kids how to do math. That's amazing! I know I learn better than way. Just sitting down, the regular old school way of teaching was very difficult to me but if you add something to it, to make it creative, you learn so much more. That's' what I love about the arts.
That's a pretty good answer since I too appreciate the arts.
For acting, I would never want to be a doctor but with acting I can explore that world.
Yes!
I feel that living that world and really believe in it, that's what amazing about it. (giggle) Being an artist
That is true and speaking of which, since you been in the game for a while and portrayed so many roles, what's your dream role?
I would like to be a Marvel or DC Comics type of superhero like Storm or another black superhero that's out there. Even if it's a villain. I think those villains are hella fun to play.
That's what I always hear. Actors always wanted to play villains. I have never played one yet. Its always a good guy or a buddy role for me.
You know I played my first villain role in a Lifetime movie last year and it aired earlier this year. It was so fun to play. It was the best, right!?!
Now you make me want to see the movie where you played the villain in. I am curious now. What's the name of this movie?
When we filmed, it was called Gaslit but I don't recall the new title. (Editor's note: the movie is Is My Daughter Really Dead?) I played Mary Cooper. It was fun because you didn't know if she was bad guy until the very end.
Let's go back to the Ruthless, tell us about the cast you worked with and because of the coronavirus, were you able to complete the season.  
You see, this is a different situation because of how Tyler Perry shoots. He doesn't shoot like regular Hollywood. For instance, we shot twenty-four episodes, it would normally take six months to shoot.
Right.
With him, we shot twenty four episodes in thirteen days.
Good lord!
We shot that in November. (laughs)
Wait… let me get this straight. Twenty-four episodes in thirteen days… wow!
In.. thirteen days. Going back to my castmates, who were amazing by the way, I love them. They are such amazing people. I am so blessed to be around such amazing talented people. We were grinding and we were supporting each other. We were like "Hey, lets rehearse this." And they were supportive of each other, we knocked it out and we celebrated like "We did it, y'all!" It was such a learning experience.
I am still trying to grasp at your very efficient timeframe. I was on a set long ago which took a week on a studio lot and a few weekends here and there to shoot pick-ups for a one hour show.  
(Giggles) He mastered it and it goes quick. We just have to be on our game. We did our thing and it was so rewarding after it was over.
I hope we get a season two of the Ruthless for it sounds exciting. See Stephanie in Ruthless on BETPlus