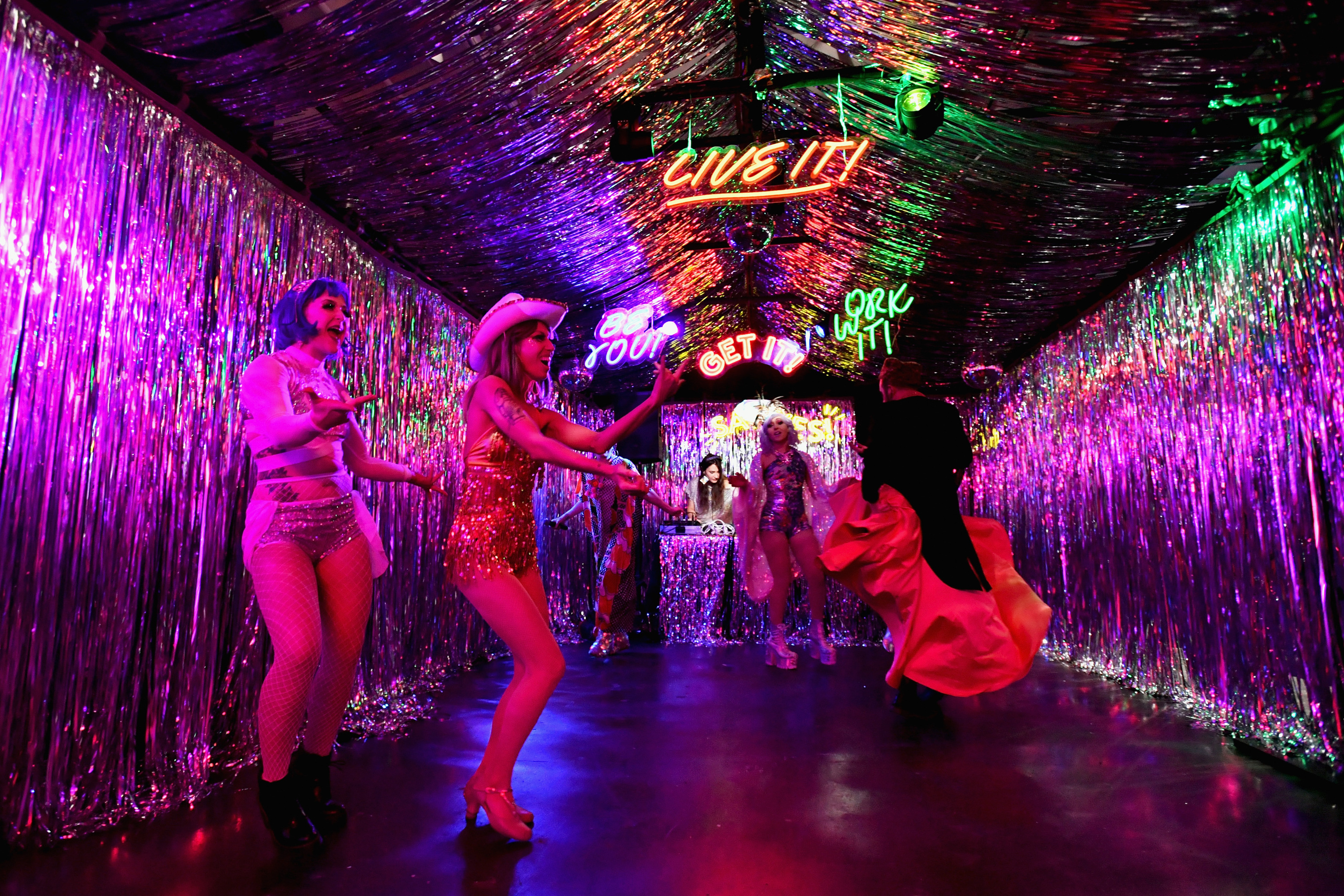 Imagine walking through a museum and seeing the most beautiful artwork ever made. You'd be in complete awe at the beauty and creativity of the artist. Now, imagine going to an event and seeing twenty-nine unique things in room after room of that same beauty and creativity.
From October 18th-27th, Washington, D.C. will welcome the popular exhibit 29Rooms, which features, as the name suggests, twenty-nine rooms with specific themes and designs that will make your jaw drop. I had the pleasure to speak with Olivia-Jene Fagon, 29Rooms' Associate Creative Director about the showing about the exhibit, the rooms themselves and the theme for this year.
What was the inspiration behind 29Rooms?
So, 29Rooms is what we call our festival of cause, culture, and creativity, and originally, we started about five years ago, and it came about as Refinery29's ten year anniversary of us, and we wanted an opportunity to celebrate all the amazing collaborators with Refinery29, so that was our fans, celebrities, non-profits, brands. And we were interested in activating or bringing something to life around New York Fashion Week because it's an incredibly exclusive time, and we wanted to bring something that was inclusive and we thought it could give back to our audience after ten years. So, it was a bit of an experiment, our namesake is Refinery29, so we'd love to give you 29 experiences in this event. Again, it's an idea of collaborating with key partners of the platform.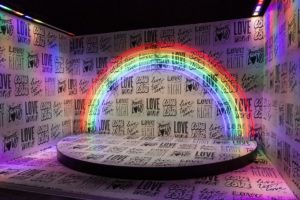 We have partnered with different collaborators for each of those different experiences. So, in our first year, we painted a room with Solange Knowles or Petra Collins, Disney. Drew Barrymore was our presenting host. We decided to take over a warehouse in Brooklyn, so we're based in New York. Put up these 29 experiences and they were artfully designed spaces similarly to our website, and then open it up to the public. So, it was a bit of an experiment at the time, but we wanted to welcome our audience in to feel and touch our brand physically, as we are a digital platform. So we opened, and we had six thousand people come through, which totally blew our minds. But you know, it's wild because we probably touched a hundred thousand people and expanded rapidly, taking it across the country, bringing new themes to life. It's really evolved since the first year that we did it.
This year's theme is Expand Your Reality. Can you tell us a little about that?
Every year, we always launch with a new theme and it's kind of a similar set up in that we have brand new experiences, a new roster of collaborators. So, we launched Expand Your Reality last year in New York. That theme's about unlocking our audiences' imagination, provoking thoughts, daring to be bigger. For us last year, we really wanted to be ambitious about revolving events. After four years, we got tons of audience feedback, there are more competitors and other exciting events in this space so we really want to challenge ourselves to really expand what the event was itself. So, we wanted to think about opportunities that herald interaction, probably wanted more theatrics and live programming.
So there were things like hands-on art workshops, re-imagined night club, experiences that are actually phone-less, which at the time because so many people are interested in the event that they want to capture it and share it out. We'd love to start being provocative at the time to start adding experiences where you weren't allowed to have your phone so you could be more present. And then also, opportunities to have guests engage with each other. We got a lot of feedback in audience surveys, but guests were super curious about who else was there at the event. And we often don't have time to interact with strangers so we want to think about experiences that brought guests closer to each other. So, that's kind of the hero that Expand Your Reality was and is.
What should people expect to see when they come to 29Rooms?
Well, across this tour they're going to see many different things. Again, it's kind of a menu of experiences. You will be seeing highlights from the tour that we started in September, so rooms created with artists and collaborators, celebrities, New York and L.A. A selection of those will be coming on the tour. And those experiences range from surreal dreamscape from Kali Uchis to a really cool geometric sculptural playground that we created with local artists. I think the local artists are something you definitely want to talk about. We always make it a point of before we tour the event, to make sure that at each tour stop, there are experiences we create in collaboration with artists who are local to that market.
So in D.C., for example, we're working with an artist called Trap Bob. She's local to D.C. and she's creating a billboard experience with us, so it's kind of oversized, beautiful, artful mural from the artists local to D.C. So, there's going to be an opportunity for guests to see experiences from Creative Fate—whom I've had contact with—also get a chance to see experiences from artists local to their city.
There will be opportunities for guests to step into rooms that are all about interacting with strangers, so there's a room called 29 Questions, which is super popular in New York and L.A. That was essentially a speed dating with strangers, but more about having a facilitated first encounter with a stranger. It's super meaningful. So, guests step into this space and are sat down opposite someone they've never met before and they're lead through a series of questions to get to know them.
There are experiences that we're calling Make Your Mark, sort of an art workshop experience where guests—it's very common in our audience. Most people are like, "when's the last time you picked up a paintbrush, sat down and got some paint and draw?" So that's a workshop experience that's lead by our staff and guests can actually come in and sit down to draw and paint. And then, there are these beautifully designed spaces. So, there's one room by Kali Uchis that's like a surreal dreamscape that we worked with her on, and that's a space that's very artful, very visually driven. So, there's a whole kind of spectrum of things you'll get to enjoy.
Have they been featured in different markets?
So, we've of course been several times in New York and L.A., and then last year we had a chance to bring it to San Francisco and Chicago, and we also hope to get back to Chicago for this tour as well. And also this year, what's exciting is that we're going to a handful of these cities, not just D.C., but Atlanta and Dallas, and then our first international market as well, Toronto. So, everyone's also very excited about that.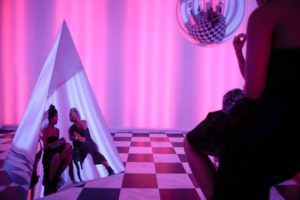 Can you tell us about the different rooms we'll see?
There are obviously so many of them, but I think some of the highlights are The Art Park, which is this kind of oversized geometrical sculpture playground that we created in collaboration with five different artists, each from the tour from one of the cities we'll be stopping by. We have Yvette Mayorga, from Chicago. Luka from Atlanta, Hanski from Toronto, we have Dan Lam from Dallas and then we have Trap Bob, who as I mentioned before is an amazing illustrator from the D.C. area. We are bringing a room that we did with an artist called Uzumaki Cepeda. She's a Bronx native and she works all in fur. Faux fur is her medium, and she's got an amazing, big personality, really colorful design aesthetic, and we worked with her to create a room called Teenage Bedroom, which like it's named, is recreated, colorful bedroom, which is based on her moments of childhood. So there's a Nintendo, there are posters from musicians that she likes. Guests will step inside, play Nintendo, lay on the bed and kind of step back into the mindset of what it was like to be in your teenage bedroom.
What is your favorite room out of all of the rooms?
I'm so close to so many of them. I love the Unbothered room. To me, that was so a representative of how we want people to feel in the space. It's very indicative of Refinery, as well. We're always about not only representing its voices but creating space for them, and that's a room that's very much lead by the black women that work at Refinery, and it's meant to be for the black women who come to the event as well. And they had such an emotional and strong reaction, both happy and then how images from that room, in particular, were shared out. People felt seen, very celebrated, they felt kind of as the point of the room was, there was a space for them within our venue. That's for every room we create. They don't really come to life until someone steps into it. I've seen how moved and excited all the women were who came to that room.
Mark your calendars for October 18th-27thand get ready to see the world through 29Rooms. Get your tickets while you can! For more information, go to www.29Rooms.com.