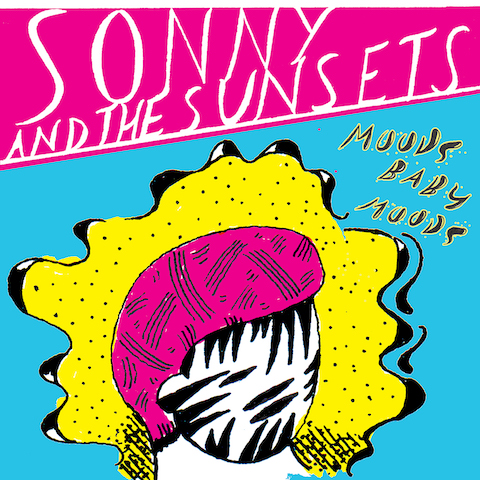 West coast band Sonny and the Sunsets has released a colorful and upbeat album called "Moods Baby Moods". Sounds like quite an album, doesn't it? If you like the album's title, then get ready to jump on to one wild musical ride. The band has been described as being "birthed from the sand, the surf and twilight campfires down in Ocean Beach". They certainly have the awesome rock and roll sound we want to hear while on the beach during the summer. Since it is summertime now, I think it's a good time to turn on the music and play it as loud as possible.
Let's start this party with "Watch Out For The Cream", a psychedelic track that will draw an excited crowd. "Moods" has a groovy sound and catchy lyrics. The synthesizer and guitar in "Modern Age" give this track the fun dance tune we all want to hear. Now, we've come to the interestingly titled "Well, But Strangely Hung Man". The drums and background vocals make this song fun and easy to remember. "Nightmares" is really an upbeat song with a sunny melody.
"Reject of the Lowest Planet" made me want to get up and dance. "White Cops on Trial" is Sonny's perspective on law enforcement. "Check Out" seems to be a combination of a spoken word and musical performance. It's not everyday you listen to a song like this. "Needs" is a soothing and hypnotic track. While it is a bit of a slow song, it still invites you to the dance floor to dance to the rhythmic beats.
"My Little Death" is a little slower in beat, but still easy to dance to. "Dead Meat On the Beach" has an eye-catching title, but the melody is truly a fun one. The guitars give off a wild energy that will leave you in a trance. Finally, we have "The Hospital Grounds at Night". Given the title, you might suddenly get a chill up your spine, but instead you are treated to an upbeat song about Sonny moving on to better things.
It's summertime, which means that it's time to pull out your bathing suit, your shades and your CD player. Make sure you have a copy of "Moods Baby Moods" by Sonny and The Sunsets on hand. It's the soundtrack of summertime fun and amazing memories will be made with this album.
Final Grade: A