Slightly Stoopid Announces "Everything is Awesome" National Summer Tour 2015
2 min read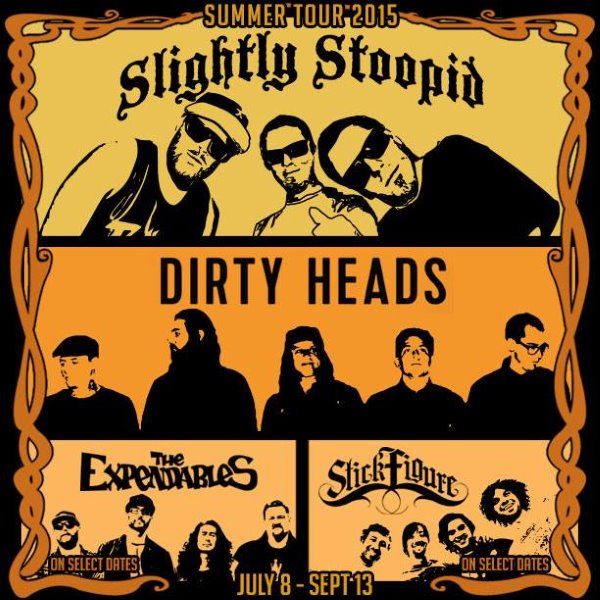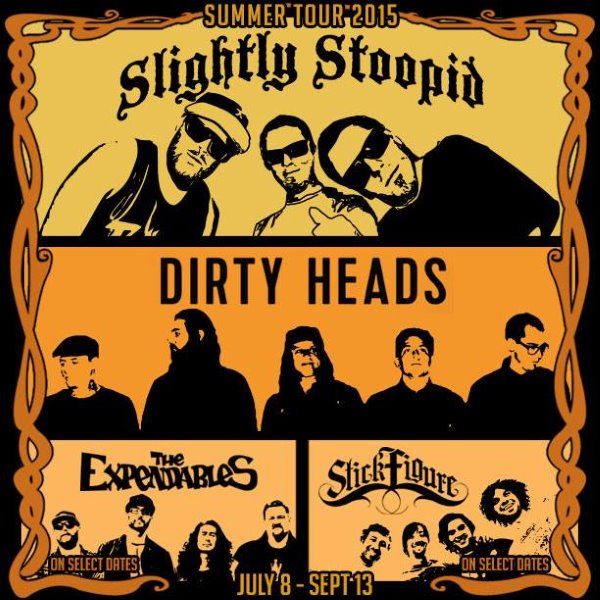 40+ Cities With Dirty Heads Plus The Expendables and Stick Figure On Select Dates
Slightly Stoopid have enlisted their friends and Cali cohorts Dirty Heads, The Expendables (on select dates) and Stick Figure (on select dates) for their "Everything Is Awesome" Summer 2015 tour.
Slightly Stoopid's annual summer trek will hit 40+ cities in select outdoor amphitheaters and theaters commencing July 8 in Simsbury, CT and ending September 19 in Del Mar, CA, with stops at premiere venues including Red Rocks Amphitheater in Morrison, CO, Pier 97 in New York City and The Santa Barbara Bowl in Santa Barbara, CA.
Slightly Stoopid will also be playing the festival circuit including Jungle Jam V in Jaco, Costa Rica next week, and this summer at LOCKN' Festival in Virginia, KAABOO in their hometown San Diego, with more to be announced soon.
The band has been off the road, working on studio projects in their San Diego recording studio, of which details are forthcoming. Stay tuned…..
Fan pre-sale tickets go on sale March 11 at 12PM PDT, with public on sale March 20. For more information or to purchase tickets visit http://www.slightlstoopid.com
TOUR DATES
7/08 Simsbury, CT – Performing Arts Center at Simsbury Meadows
Slightly Stoopid, Dirty Heads, The Expendables
7/09 Boston, MA – Blue Hills Bank Pavilion
Slightly Stoopid, Dirty Heads, The Expendables
7/10 Philadelphia, PA – Festival Pier at Penn's Landing
Slightly Stoopid, Dirty Heads, The Expendables
7/11 Asbury Park, NJ – The Stone Pony Summer Stage
Slightly Stoopid, Dirty Heads, The Expendables
7/15 New York, NY – JBL Live at Pier 97
Slightly Stoopid, Dirty Heads, The Expendables
7/16 Baltimore, MD – Pier 6 Pavilion
Slightly Stoopid, Dirty Heads, The Expendables
7/17 Raleigh, NC – Red Hat Amphitheater
Slightly Stoopid, Dirty Heads, The Expendables
7/18 Charleston, SC – Charleston Tea Plantation
Slightly Stoopid, Dirty Heads, The Expendables
7/23 St. Augustine, FL – St. Augustine Amphitheatre
Slightly Stoopid, Dirty Heads, Stick Figure
7/24 Cocoa, FL – Riverfront Park
Slightly Stoopid, Dirty Heads, Stick Figure
7/25 Boca Raton, FL – Sunset Cove Amphitheater
Slightly Stoopid, Dirty Heads, Stick Figure
7/26 St. Petersburg, FL – Vinoy Park
Slightly Stoopid, Dirty Heads, Stick Figure
8/01 Morrison, CO – Red Rocks Amphitheater
Slightly Stoopid, TBA, Stick Figure
8/05 Missoula, MT – Big Sky Brewery
Slightly Stoopid, Dirty Heads, Stick Figure
8/06 Redmond, WA – Marymoor Park
Slightly Stoopid, Dirty Heads, Stick Figure
8/08 Eugene, OR – Cuthbert Amphitheater
Slightly Stoopid, Dirty Heads, Stick Figure
8/12 Boise, ID – Idaho Botanical Gardens
Slightly Stoopid, Dirty Heads, Stick Figure
8/13 Lake Tahoe, NV – Harvey's Outdoor Arena
Slightly Stoopid, Dirty Heads, Stick Figure
8/16 Santa Barbara, CA – Santa Barbara Bowl
Slightly Stoopid, Dirty Heads, Stick Figure
8/20 Houston, TX – House of Blues
Slightly Stoopid, TBA, The Expendables
8/21 Dallas, TX – Southside Ballroom
Slightly Stoopid, TBA, The Expendables
8/22 New Braunfels, TX – Whitewater Amphitheater
Slightly Stoopid, Dirty Heads, The Expendables
8/23 Corpus Christi, TX – Concrete Street Pavilion
Slightly Stoopid, Dirty Heads, The Expendables
8/27 Des Moines, IA – Simon Estes Amphitheater
Slightly Stoopid, Dirty Heads, The Expendables
8/28 Kansas City, MO – Crossroads
Slightly Stoopid, Dirty Heads, The Expendables
**More Tour Dates Will Be Announced Soon
For more information, visit http://www.slightlystoopid.com