Sittin' At A Bar With REHAB
3 min read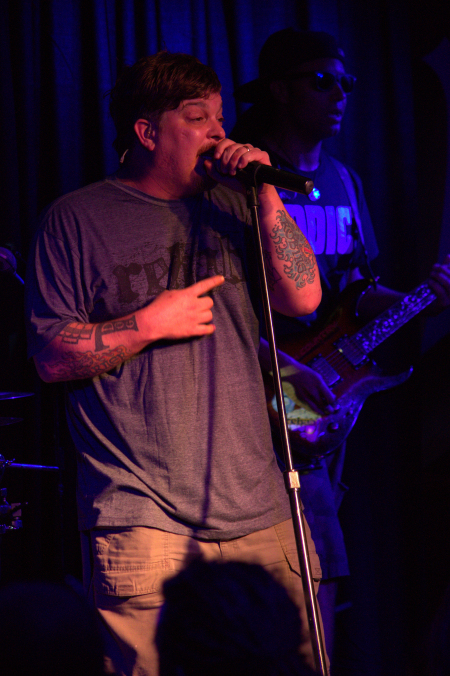 Alright, so I know you've heard the Osmond Family song "Little Bit Country", you know the words "I'm a little bit country, I'm a little bit rock n' roll"; right? Well that has nothing to do with REHAB, except I would describe them as a lot of bit country, a lot of bit hip hop and a lot of bit rock n' roll. This sort of country, rock n' roll hip hop mash up has been around for awhile but has been quickly gaining in popularity, take Blake Shelton for example and his song "Boys 'Round Here". I would consider REHAB one of the originals when it comes to articulating this form of music. Their big in the Atlanta scene working with artist such as Cee-Lo Green and Cody ChestnuTT, Sunday night they spat some madness at Rams Head On Stage in Annapolis.
REHAB is just one of those shows were if you don't have a drink in your hand, something isn't right. I've been stressing for some time now the difference between a studio band and a good live act. Don't get me wrong REHAB can definitely throw down in the studio but it's nothing compared to how they sound live. They performed a bunch of tracks off their "Graffiti the World" re-issued album. The song "We Live" sounded great! Like classic rock except with edgier lyrics.
That's the way I would best describe REHAB. There  southern classic rock, hip hop and country with edgier lyrics. I like the edginess, it adds a touch of humor and entertainment that boring old normal lyrics just don't have.
Whether it was Demun Jones flowing or Danny singing and flowing,it was on point. Speaking of on point; DJ Chris Crisis on the one's and two's had it rocking! You could hear him scratching under the live music and it went right with the rhythm. There are certain points during their concert where all the instruments and vocals collided and you had a fresh beat kicking from Chris Hood, Doyle wailing on guitar, Danny and Demun exchanging some tight rhymes and Chris Crisis with his records all wound up releasing some insanity, all at once.
What really got my blood circulating was when they played "Crazy People" off their Southern Discomfort album. Some other really good songs were "Lawnchair High" and of course "Bartender Song" which  was the theme of the evening. What a great drinking song! Everybody toasted and sang along. It was a awesome time and a great show!