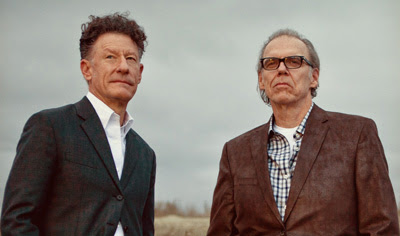 Two veteran singer-songwriters join forces for a unique acoustic performance when Lyle Lovett and John Hiatt come to the Music Center at Strathmore on Thursday, January 19, 2017 at 8 p.m.
This unplugged performance will feature the captivating storytelling that is a hallmark of these beloved musicians, as they traverse elements of country, Americana, folk, swing, and rock 'n' roll in an ambling exploration of their discographies. Lovett and Hiatt have toured together since 1989, bridging their solo careers with an undeniable chemistry, humorous banter, and the ability to riff off one another in an informal jam, in what Hiatt playfully calls "our little Smothers Brothers comedy show." For more information or to purchase tickets, call (301) 581-5100 or visit www.strathmore.org.
Singer, composer, and actor Lovett has broadened the definition of American music in a career that spans 14 albums. Coupled with his gift for storytelling, Lovett fuses elements of foundational American music, from country to jazz, gospel, and blues, in a convention-defying style. Since his self-titled debut in 1986, Lovett has evolved into one of music's most vibrant and iconic performers. A four-time Grammy winner, Lovett has also acted in film (Fear and Loathing in Las Vegas, Pret-a Porter), on television (Mad About You, Dharma & Greg), and even onstage, in Much Ado About Nothing.
Hiatt has always been a keen observer of life's flings and foibles. Usually mixed well together, Hiatt's insights and skills at sharing them have only sharpened over the years. He recently released his 22nd studio album, Terms of My Surrender, 40 years into his recording career. Along the way, his songs have attracted many other singers, such as Rosanne Cash ("Pink Bedroom") and, most famously, Bonnie Raitt for the hit version of "Thing Called Love."

Strathmore Presents
An Acoustic Evening with Lyle Lovett & John Hiatt
Thursday, January 19, 2017
8 p.m.
Tickets $55-$95
Music Center at Strathmore
5301 Tuckerman Lane
North Bethesda, MD 20852
For additional information or to purchase tickets, visit www.strathmore.org or call (301) 581-5100.