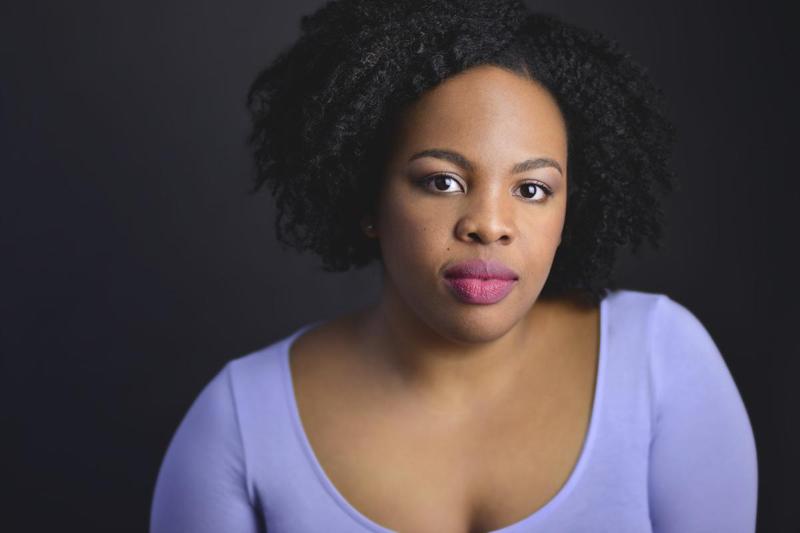 Welcome to the latest edition of the INTERVUE, Tony Award-Winning Musical BANDSTAND to Makes its DMV Premiere at D.C.'s National Theatre on March 3-8th It's 1945. As America's soldiers come home to ticker-tape parades and overjoyed families, Private First Class Donny Novitski, singer and songwriter, struggles to rebuild the life he left behind. When NBC announces a national competition to find the nation's next great musical superstars, Donny sees a lifeline for himself and some fellow veterans that gives them the purpose they so desperately need.
And here to talk with us all about the play is SHAUNICE ALEXANDER who plays Jean Ann Ryan in the musical. A Native New Yorker, she has been in productions such as Ragtime, Our Town, and From the Fire.
Shaunice, welcome to THE INTERVUE
Hello, thank you so much for having me.
Well it's great to talk to you especially since Bandstand is a well-known musical and Laura Osnes was in the Broadway production not too long ago. You're the first national tour and you're coming to the National Theatre in DC
Yes, we're so excited to be here in DC!
My first question is this your first time performing in our Nation's Capital?
Yes, it is.  It's been a long time coming!
What you looking forward to performing in DC and will have a chance to explore the city?
Oh, my goodness, yes! We are so excited. In every city that we go to, we're excited to meet the locals that work in the theatre because they let us know about the people in the city. They are so sweet, and they tell us about the places to eat and places to explore. We have a whole week there. So, that's rare for this tour. Even though it will be hectic, it still gives us plenty of time to explore, see the sights and the iconic statues.
I understand that Bandstand is your first national tour, what goes through your mind knowing that?
When I booked it, I was so excited. It's the time type of thing that you're never ready for. So, I messaged so many of friends who have been on tour and asked for some advice about things that I would see on the road and what to expect. It's really been such an incredible journey to see all these states that I have never been to. I mean this was my first time in Texas, it was my first time in DC. First time in Nebraska. I've never been, and I am doing what I love. I explore the place but also come back to that place for it seems like home because every place that we go to the theatre is the same. The crew is so incredible, and we can come to this place and share the story.
For those who have never heard the play, Tell us about your role of Jean Ann Ryan
Jean Ann, she is honestly, so much fun to play.  She's quirky and she takes command of her space. She is the radio host of the town. So, she is one of the first voices that you hear. It's incredible because in that time that was one of the main sources of communication. So, it's been great being the voice of the community an that's been the heart of the show. How we all come together in our own ways and then all together, she dances too. She does a little step. It's been very fun.
It's great that you are one of the first voices that you heard in the play. Can you give us a little taste of your radio voice for we got to hear it?
"This is Shaunice Alexander at (she laughs) coming to you from Michigan"
(Editor's Note As a former radio personality, she delivers) It's so over the top indeed
You mentioned that one of your special skills is brunching. What are your favorite brunch items, and have you found the perfect place to brunch?
Oh, my goodness, that is so funny. I love this question. My favorite brunch item I have to say honestly is Eggs Benedict & French Toast!
You picked two of my favorites!
Oh Boy, are you we are talking about New York or…
It can be both
One of my favorite NYC brunch places is on West 50th and on tour, we have been to so many brunch stops across the country that it has been a staple for us.
Well, the best brunch place I ever been to has closed not too long was The Front Page near Dupont Circle. They served the best mimosas, eggs, bacon and French toast I ever tasted.
I know 🙁 I need to start looking for one over there!
(laughs) So when did you realize that you wanted to be an actor?
So I started a theater program in Manhattan. Then I went to do community theater and then I went to school. After doing this for the last seventeen years, I knew that I was here to stay. I got the support of my family and friends. And following the careers of the people that I admire, I knew that I wanted to do this since fourth grade.
You are living the dream and I applaud you for doing this. Tell us more about your group Esnti?
Oh my gosh, its the three of us, my best friends. We grew up together in Greenville, New York. We gravitate towards one another in Middle School and been singing together ever since under the direction of our choir director, Shirley Crabbe. She kind of molded us into these singers that could not leave each other's side. Its been a musical transformation between the three of us. We have grown together and been so supported by our community in West Chester. We do gigs all over the place in the Tri-State area. You know weddings, baby dedications. We are always excited to sing with one another.
I wish you guys could perform down in the DC Area,
Of all the roles that you have played, what is the one role that you would love to play one day?
I would love to play Lady McBeth.
What is the one piece of advice you would give to anyone to follow their dream?
My number one piece of advice is to stay the course because a lot of times especially in this day and age with social media and other different media outlets, its so easy to see what everyone else is doing and they are successful and you could be your harshest critic. At the end of the day, we have to be our own biggest supporter. Make sure that you are being true to yourself as you pursue this because it can be really easy to lose yourself in the big day, the auditions and the constant rejections.
You can find Shaunice on Facebook @shaunicealexander and on Instagram @shaunicealexander and her website shaunicealexander.com
If you want to see Esnti, click here https://www.facebook.com/esntimusic
BANDSTAND will run Tuesday, March 3 through Sunday, March 8. The production is recommended for ages 13 and up.
Tuesday, Wednesday, and Thursday at 7:30pm
Friday and Saturday at 8pm
Saturday and Sunday matinees at 2pm
Sunday evening at 7:30pm
Tickets for BANDSTAND may be purchased at TheNationalDC.com, by calling 1-800-514-3849, or in person at the National Theatre Box Office (Monday-Friday from 12pm-6pm and two hours prior to every performance).