ShamrockFest 2015 Highlights
5 min read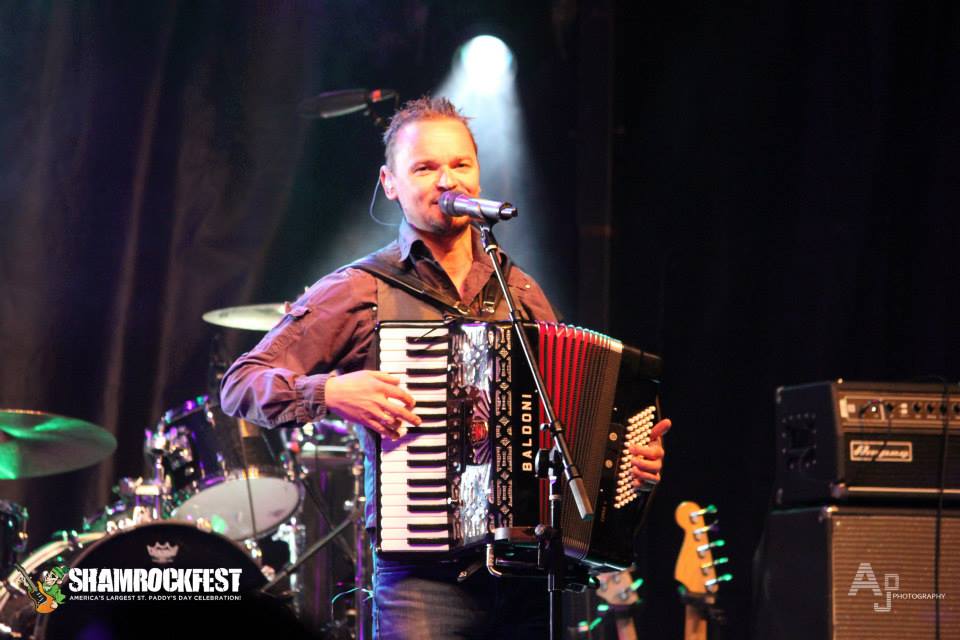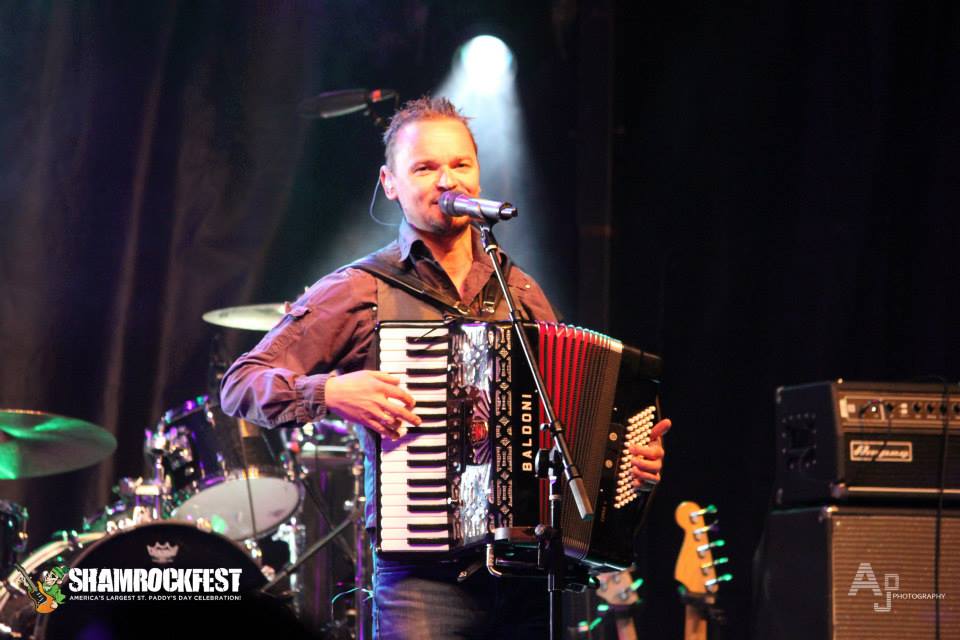 Saturday March 21st – 3p.m. – In Southeast DC lies a patch of land, the old RFK Stadium parking lot. It has always been one of my favorite DC concert venues. Whether it was HFStival, the Vans Warped Tour or ShamrockFest, something about that crumbling patch of warped asphalt and highway overpasses is magical. Enjoy it while it lasts. With DC United getting a new stadium at Buzzard Point in 2017, RFK Stadium will likely be demolished. I'd give it a few years at best before Shamrockfest has to pick up and move elsewhere. DC is pretty limited when it comes to large outdoor concert space but hopefully it stays in DC.
ShamrockFest has always been known best for three things, Saint Patrick's Day, Rock and Roll, and VIP bottomless beer. VIP Attendees 21 and older who fork over a little extra cash are given a bottomless beer cup that can be refilled endlessly. The problem was you likely spent all day waiting in line. This was never a problem before.
I've been to ShamrockFest's in years past where the beer cascaded from the beer trucks like golden waterfalls. This year the lines were longer than it was worth. If you got there early it was okay but by midday it was at least a thirty minute wait for one beer. And your waiting in line with some pretty agitated people calling out anybody attempting to cut to the front and even going as far as getting security. Three beers in over the course of four hours and I was done with it. I analyzed the situation and figured it out.
They put the VIP beer section in between the two main stages and it was a divided section at that. When I attended Shamrockfest in 2011 the VIP section was at the entrance. It was a huge lot separate from the rest of the festival. There weren't any lines at all and people were carting off beer in plastic cups as many as they can carry. I played beer pong all-day and participated in a 35-person game of flip cup. Great fun! This year was different. I can see what they were trying to do, have the VIP section closer to the music but the confined space and limited distribution turned into a problem. They made an announcement that they were extending the beer cut off by an hour and that you could get free beer from any vendor, but that still didn't do much for the lines. So this year if you attended ShamrockFest mainly for the bottomless beer, you were probably disappointed.
Hopefully the music more than made up for it. It was fantastic! Icewagon Flu got this going. They had a solid sound, good bass play. I may have initially overlooked this band but they sounded good live. A favorite was a cover of The Clash, Rock the Casbah. Another great band was The Bastard Bearded Irishmen. I really like rock and roll with violin and mandolin; Mutiny is my favorite song by them. Albannach was another great act. It's mostly all bagpipes and percussion so it's hard to distinguish their songs unless you're already familiar with them. The rhythm is very energetic and tribal. Nothing sounds more powerful than an amp'd up bagpipe. The Street Dogs get the award for best cover of the day. It was The Pogues, Dirty Old Town written by Shane MacGowan. I'm a big Shane MacGowan fan. In his DVD "If I Could Fall From Grace" Shane gets paid a fist full of cash after playing a gig and walks over and gives it to a homeless guy passed out on the sidewalk. Punk rock has always played an important role in Celtic music culture; Street Dogs kept that culture going.
Some notable DJ's were DJ James Nasty. He's a Baltimore mainstay pumping Baltimore style club music. It's very distinct, like an electronic thug factory. A little repetitive but it's made for dancing and it did the trick. DJ Flow provided a mix of dance tunes and classic rock; the crowd was definitely into it. DJ Chris Styles kept it going just like he has for over a decade. The Electric Isle were it was happening, a good pit stop in between bands. For some people it's the highlight of the festival. The sound was good considering it was an open tent and not inside a club. It's a great place to spend a portion of your day.
The band Gaelic Storm was interesting, led by Patrick Murphy on accordion they have a blend of not just traditional Irish and Celtic music but also folk and rock. They caught my attention just because I'm a big fan of the hyper accordion. Hearing it coupled with Kiana Weber on fiddle was fun. I like hearing amplified violins and accordions and cellos and bagpipes and horns and instruments of those sorts. Instruments like that you normally hear them acoustically as is. When they're amplified it really brings out their potential.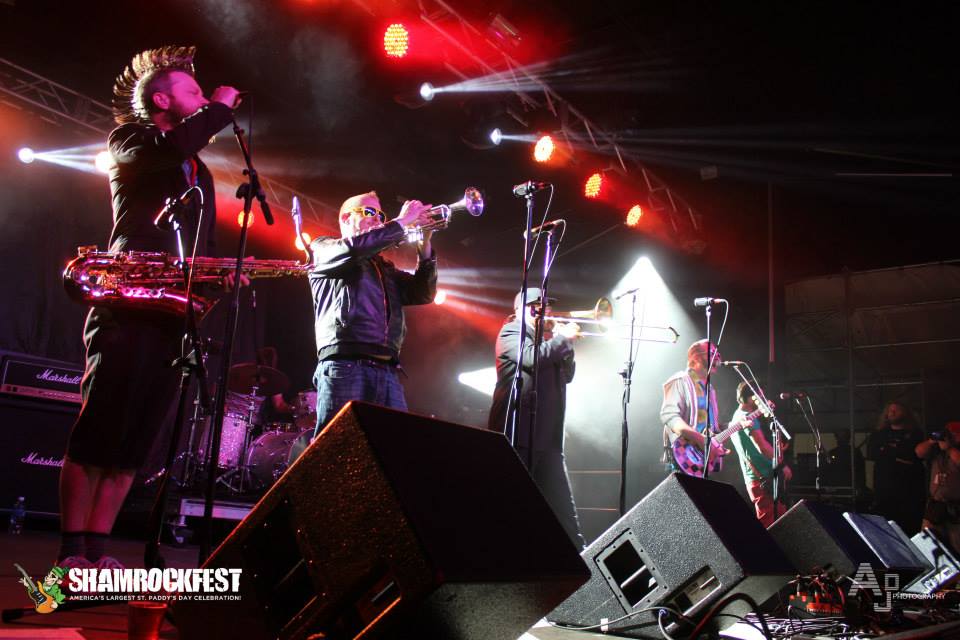 Speaking of horns the next band Reel Big Fish definitely had a good horns section. Like I said listening to amplified horns is exciting! Reel Big Fish has been at it for decades. I always liked their albums "Everything Sucks," and "Turn the Radio Off" but one of their more recent releases "Candy Coated Fury" has made it on to the playlist. Their sound hasn't faltered or changed. I don't know what else to say other than they're the greatest ska band ever. I always liked ska, the sound reminds me of Dick Dale surf guitar with horns. It's not exactly Cootie Williams and Tricky Sam Nanton, but they have a great big live sound that's incredibly fun to listen too. Reel Big Fish closed out with "Beer," it was a memorable set.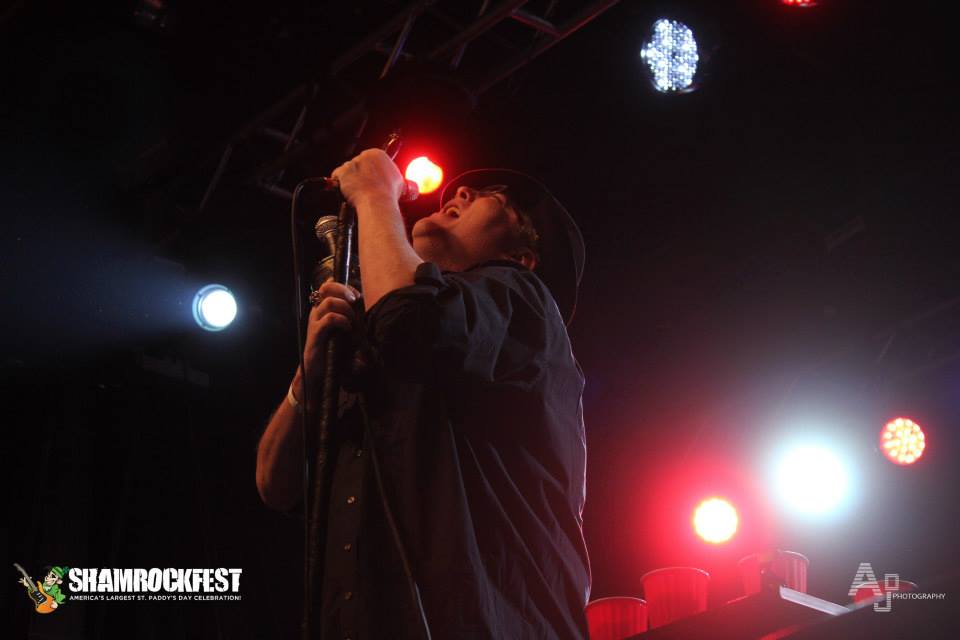 Blues Traveler headlined Shamrockfest. It was a long day but they were worth the wait. John Popper just has this aura when he's playing harmonica. They played a Sublime cover "What I Got" which was unexpected. Another great cover was La Grange by ZZ Top. That songs perfect to jam out on with guitar and harmonica. I pretty sure they played Mountain Cry off of the Travelers and Thieves album. It's pretty much a Stevie Ray Vaughan blues jam session. I'd say John Popper is Stevie Ray Vaughan on harmonica. That's a big compliment but it holds up. Blues Traveler also played their songs "Hook," and Run-Around" those songs always get every bodies attention. It's feel good music, quite the opposite of blues but blues in spirit.
This was a great music festival! Aside from the long beer lines it was a great time. The people, the culture, the music were all fantastic. It's a different experience than any other music festival in the area, something to look forward to for years to come.