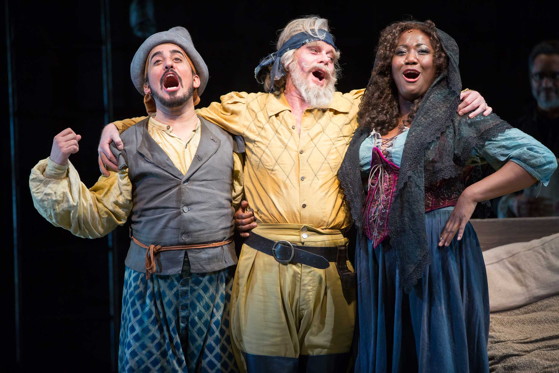 The Shakespeare Theatre Company announces an extension of its current production of Man of La Mancha, book by Dale Wasserman, lyrics by Joe Darion, and composed by Mitch Leigh. The production is directed by Associate Artistic Director Alan Paul, winner of the 2014 Helen Hayes Award for Best Resident Director of a Musical for STC's A Funny Thing Happened on the Way to the Forum. Man of La Mancha now runs through Sunday, May 3, 2015, at Sidney Harman Hall (610 F Street NW).
Since March 17, Man of La Mancha has delighted audiences and critics alike in this raw and powerful production. The Washington Post  says, "there is muscle in La Mancha, and [Paul] flexes it with a balanced, sturdy-voiced ensemble," calling the singing "sumptuous." The production features acclaimed Australian actor Anthony Warlow as Don Quixote, Amber Iman as Aldonza, and Nehal Joshi as Sancho.
A story of hope and idealism rises from the darkness and despair of a prison cell in Man of La Mancha, carried aloft by some of the most familiar and moving songs of the American theatre. As Miguel de Cervantes presents his tale of knight errant Don Quixote, his journey comes alive in a play-within-the-play, featuring loyal friends, troubled maidens, giant monsters, and brave knights. Don Quixote's quest—filled with humor and poignancy in equal measure—dares everyone to dream "The Impossible Dream."
WHEN:            Extension performances will be:
Tuesday, April 28 at 7:30 p.m.
Wednesday, April 29 at 7:30 p.m.
Thursday, April 30 at 8:00 p.m.
Friday, May 1 at 8:00 p.m.
Saturday, May 2 at 2:00 & 8:00 p.m.
Sunday, May 3 at 2:00 & 7:30 p.m.
  * This production contains violent and adult situations. Recommended for mature audiences.
TICKETS:      ShakespeareTheatre.org, 202.547.1122