Seraphic Fire to Present Three Concerts in Washington DC in 2015-16
2 min read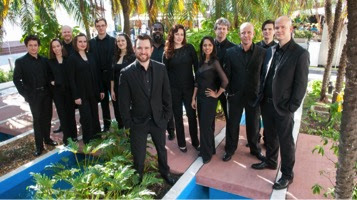 The two-time GRAMMY-nominated 
Seraphic Fire
 known for historically-informed interpretations and world-class vocalists, brings its "crystalline artistry" (Gramophone) and dynamic concert experiences to Washington, D.C.
Audiences in Washington, D.C. will be formally introduced to one of the nation's finest chamber ensembles when the Miami-based Seraphic Fire brings three of its programs to St. Paul's Episcopal – K Street during the 2015-16 season. For fourteen spectacular seasons, Seraphic Fire – led by founder and artistic director Patrick Dupré Quigley – has been burning up the Sunshine State, fulfilling their mission to present high-quality performances of under-performed music with cultural significance. Now thanks to generous underwriting from their South Florida supporters, Seraphic Fire's flames are spreading nationwide as they expand their touring this year to the country's most prominent cultural capitals: Washington, D.C., Philadelphia and New York City for a series of three free concerts in each city.
Seraphic Fire will open their Washington D.C. series at St. Paul's Episcopal – K Street on November 10th, with Handel's monumental Coronation Anthems composed in 1727 for King George II and Queen Caroline of England. Continuing in the Royal vein, Seraphic Fire will complete this program with Marc Antoine Charpentier's triumphant Te Deum. For this performance, the singers of Seraphic Fire will be joined by the lauded New York-based period instrument ensemble, The Sebastians.  Praised by The New York Times for their "energetic, youthful, vigorous performing style," and South Florida Classical Review for their "superb musicianship," the Sebastians bring baroque and classical expertise and immaculate execution to make Seraphic Fire performances even more unique, cohesive and impressive.
After an overwhelming response to its 2012 performances of Mozart's Requiem using Greg Spear's post-minimalist completion of the work (commissioned by Seraphic Fire), the ensemble will present a command repeat presentation of Mozart's signature opus on February 16, 2016.
On April 19, 2016, Seraphic Fire will close their inaugural Washington, D.C. season with Brahms' German Requiem in Brahms' 1869 arrangement for two pianos, choir and soloists. The ensemble performed the work on their 2012 GRAMMY nominated recording, praised by the Miami Herald for "luminous, well-blended singing and masterly direction." Filled with life and hope, the Brahms Requiem showcases Seraphic Fire at its best.
According to Founder and Artistic Director Patrick Dupré Quigley, "Seraphic Fire doesn't just perform a concert; instead, we create experiences.  We help people reach across time and space to touch the fabric of a different era, a different people."
For more information about Seraphic Fire's Northeast tours, please visit: http://www.seraphicfire.org/performances/northeast-performances.