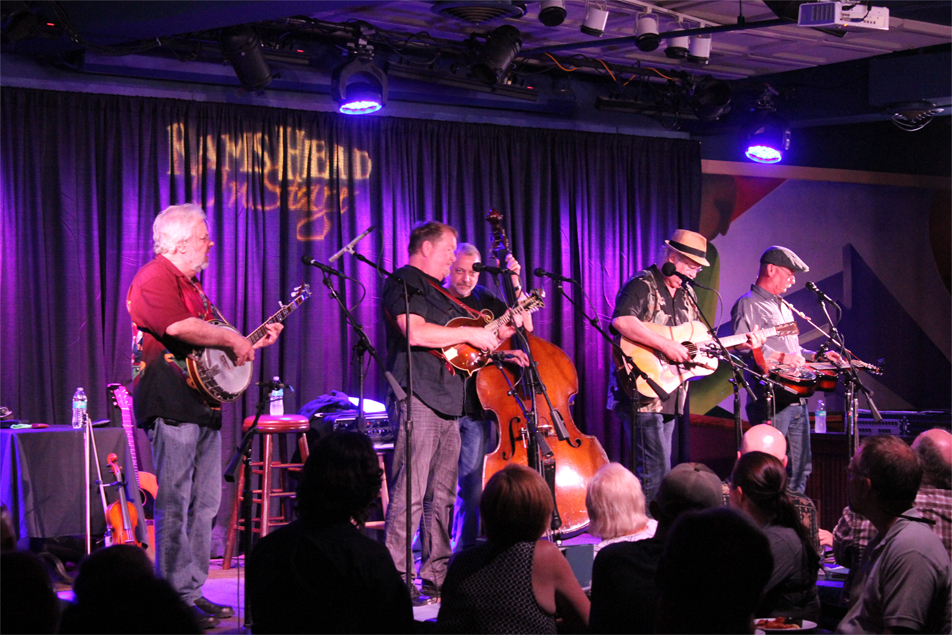 The Seldom Scene made an appearance at Rams Head On Stage in Annapolis Friday night. The string band quintet started making bluegrass music in 1971.
The Seldom Scene are a local bluegrass staple. They were formed in Bethesda Maryland as a side gig to their full-time jobs. They actually made a pact not to tour too often or venture far outside of Maryland. If they did it was only seldom. This is the philosophy that's helped the band stay active for over 45 years! To be seldom seen. Normally regulars at The Birchmere, in Alexandria The Seldom Scene also frequent local bluegrass festivals and taverns. Due to popular demand, they perform on a routine basis.
The tri-state region Maryland, Washington D.C. and Virginia is prominent for harvesting some of the best bluegrass talents in the world. Some legendary acts include The Stoneman Family Band, Dr. Ralph Stanley and the Clinch Mountain Boys and Lightning Fingers Roy Clark. Some considered the late John Duffey former Seldom Scene vocalist and mandolin player the greatest tenor in bluegrass history. During that time The Seldom Scene was right there helping to grow the local tradition. They formed in 1971 right before the popularity of bluegrass began to soar. Despite the increase in demand, The Seldom Scene kept to their pact.
The only remaining original member Ben Eldridge retired last January. Instrumentalist Rickie Simpkins replaced him on banjo. I know Rickie as an Artist in Residence mentor at The Strathmore Music Center. I saw him perform with cellist Wytold Lebing and Christylez Bacon. The Seldom Scenes current line-up includes Lou Reid on mandolin and vocals, Dudley Connell on guitar and vocals, Ronnie Simpkins on upright bass and vocals, Fred Travers on dobro and vocals, and Rickie Simpkins on banjo and vocals.
What's great about listing to The Seldom Scene is the harmony. They're like a barbershop quartet and sound great just acapella. Fred Travers has a baritone singing voice that mixes well with the other singers. Their library includes originals like the Grammy nominated album Scenechronized and old classics. My personal favorite is "Rider" from the Act III album. When they performed rider it was energizing! The up-tempo instrumentation livened up the atmosphere. It sounded like rock n roll! Lou Reid has a spectacular mandolin solo that will leave you in awe. I love up-tempo bluegrass and The Seldom Scene are great at kicking it up a notch.
This was a fun concert. I recommend having some Blue Moon with your bluegrass. Or at lease an IPA. The Seldom Scene performed great! They have a core of fans that love them and have enjoyed seeing them perform for years. That really makes the concert enjoyable, feeling like you're a part of something special.