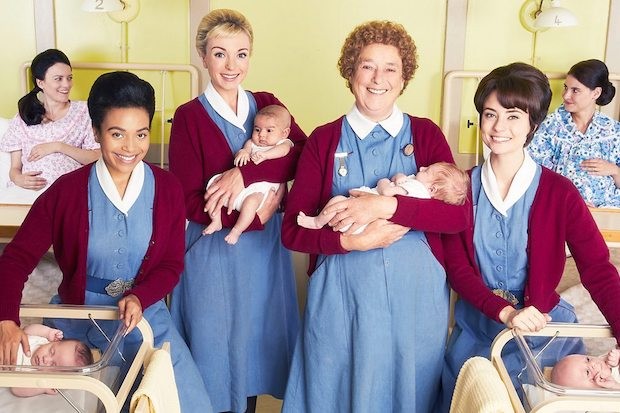 PBS announced today that the beloved British drama CALL THE MIDWIFE will return for its 10th season Sundays, October 3- November 14, 2021 at 8:00 p.m. ET on PBS stations (check local listings). The seven-part series, commissioned in partnership with the BBC, which follows the nurses, midwives and nuns from Nonnatus House in London's East End, will air as part of PBS's Sunday night drama lineup and will stream nationally on PBS.org and the PBS Video App. Following the season finale, and in honor of the 10th season, a celebratory compilation episode, "Special Delivery," will air on November 21.
Season 10 opens in the year 1966 at a trying time for the midwives. But there is excitement too as the women's rights movement intensifies. With Trixie's (Helen George) help, Sister Julienne (Jenny Agutter) is determined to steer Nonnatus House out of its financial quandary. Dr. Turner (Stephen McGann) deals with an array of difficult cases, including a former soldier involved in nuclear test explosions.
Meanwhile, Sister Monica Joan (Judy Parfitt) experiences a crisis of faith, and Sister Frances (Ella Bruccoleri) realizes she needs to be a little less spiritual to really connect with the local women. Nonnatus House also welcomes four new pupil midwives, including Nancy Corrigan (Megan Cusack), who makes quite an impression. There are some interesting challenges ahead, as well as great celebrations when England wins the World Cup.
"PBS is thrilled to bring the landmark tenth season of CALL THE MIDWIFE to its passionate fanbase in the U.S.," says Maria Bruno Ruiz, Vice President of Program Scheduling for PBS. "The series has become a Sunday night staple to viewers over the last decade thanks to the talent and creativity of the many women behind and in front of the camera, who've continued to find thoughtful ways to tell important stories about birth, death, love and community."
"Over the past 10 years it has been an honor to see how adored the show is by audiences around the world, thanks to the talented Heidi Thomas and the brilliant work of our cast and crew," says Pippa Harris, Executive Producer for Neal Street Productions." We are excited for viewers across the pond to be swept up in the moving storylines of Nonnatus House and embrace much loved characters and welcome new ones too."
To celebrate the series' 10th anniversary, Weldon Owen will release A Labour of Love: Ten Years of Call The Midwife on November 2, 2021. Written by Stephen McGann, who plays Dr. Patrick Turner on the series, the book explores the moving and personal story of CALL THE MIDWIFE as told by the cast and crew.
CALL THE MIDWIFE will be available for streaming concurrent with broadcast on all station-branded PBS platforms, including PBS.org and the PBS Video App, available on iOS, Android, Roku streaming devices, Apple TV, Android TV, Amazon Fire TV, Samsung Smart TV, Chromecast and VIZIO. PBS station members can stream Season 10 early via PBS Passport on a weekly basis starting September 3. For more information about PBS Passport, visit the PBS Passport FAQ website