Sarah Chang Rocks Vivaldi's Four Seasons
2 min read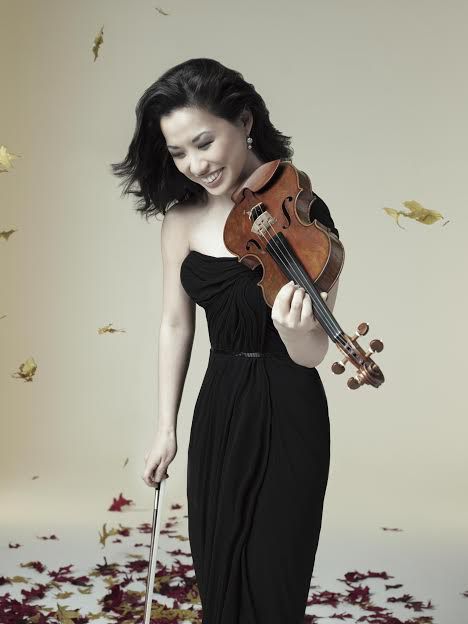 The National Philharmonic Orchestra conducted by Piotr Gajewski welcomed acclaimed violinist Sarah Chang Saturday night at The Music Center at Strathmore. It was the first of a pair concerts held at Strathmore this weekend. The program consisted of Antonio Vivaldi's Four Seasons and Metamorphosen by Richard Strauss.
Everybody had a little spring in their step. The evening breeze coming through the pedestrian walkway was like air conditioning and Strathmore was lit with activity. One of the world's best violinists, Sarah Chang would be leading an NPO all strings ensemble through one of the most recognizable violin leads in the classical repertoire, Vivaldi's Four Seasons.
The opening piece, Richard Strauss's Metamorphosen, was performed with just the National Philharmonic. It's an adagio written as a memorandum to the destruction of Munich after the Second World War. Knowing the nature of the piece you couldn't help but envision scenes of Europe in ruins. As an elegy, this number is beautiful and calming. Dark tones dramatically pluck at your heart strings. Having it paired with Vivaldi's Four Seasons was like a representation of cycles in life – endings and beginnings, a metaphysical transition.
Post intermission brought out Sarah Chang to perform Vivaldi, which was a stark contrast to the first part of the program. Four Seasons today is still as modern and popular and exciting as it was when it was written 300 years ago; it really has stood the test of time. Sarah was enthusiastically greeted wearing an elegant emerald gown, shimmering in the light. Her dress color matched the first season she performed, Spring. Spring in and of itself is a magnificent piece, full of such recognizable melodies and tones with which anybody can identify. Sarah Chang completely enveloped its resplendent nature. She vigorously led the NPO with a series of passionate gestures. The communication between her and the orchestra was interesting; she stood right beside Piotr, complementing his tempo and his conducting.
The sound she can produce with her violin is incredible! It's incomparable to anything I can think of or describe. Yes it is violin, but the intricate sound aesthetics really capture you. It's like you lose your place in time. It sounded different from any recording I've ever heard of Vivaldi's Four Seasons. The tone she can produce from her violin is exquisite!
Four Seasons has a very baroque style and emphasizes fantastic solo instrumentation, almost like a predecessor to jazz and rock-n-roll.  Sarah Chang undoubtedly executed it masterfully. Every movement from every season was sensational! Whenever there was any break in music the audience couldn't wait to applaud. Sarah Chang truly is one of the world's best violinists and a magnificent performer!