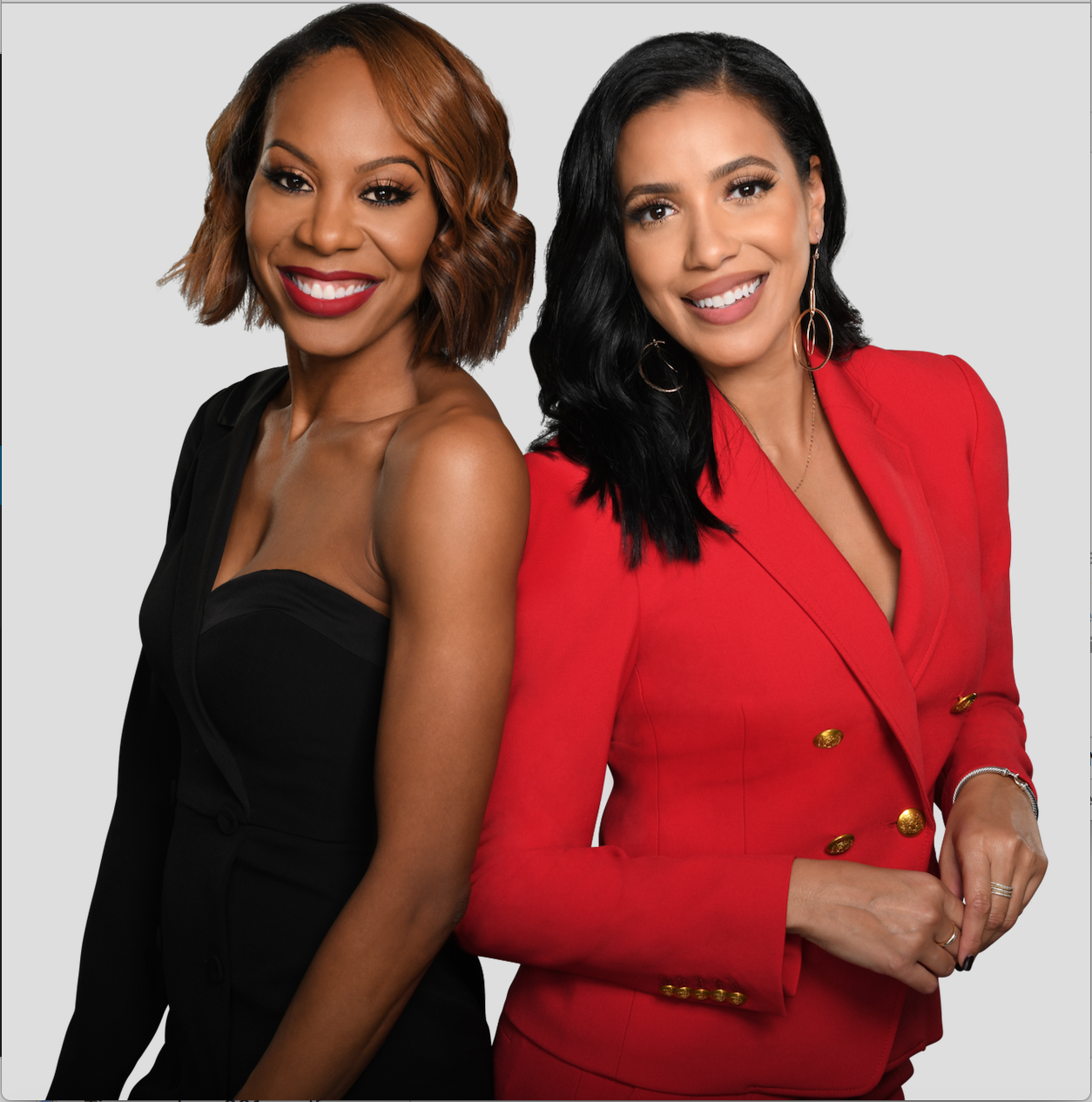 On this edition of THE INTERVUE, I am talking to the two hosts of the new Entertainment News program, Central Ave. Olympian Sanya Richards-Ross & 106 & Park alum Julissa Bermudez! The two women have made television history as the first women of color to host a television entertainment news magazine that's worth watching!
Central Ave is the new nationally syndicated entertainment analysis show, from Debmar-Mercury and Will Packer will return to highlight diverse and important stories within and beyond the entertainment and pop culture realms.
You can watch it in DC on WDCA Sat 6 & 630 & Sun 730p
How did the wonderful new entertainment news show Central Ave have come about?
Sanya Richards-Ross (SR-R): Well the Executive Producers are the incredible Will Packer and Monique Chenault, who was the first black female showrunner over at Insider and they thought that something was missing in this space. Entertainment news magazine shows have looked like the same thing for over thirty years. So Will & Monique wanted to put something new into this space. They wanted to be diverse and authentic. So, we are not just diverse in front of the camera with Julissa and I being the first two women of color but we are also extremely diverse behind the camera. I believe that makes this show so rich and enjoyable because we deep dive topics. We have our daily meetings where we talk about what's going on. Everybody shares their perspective and the team goes back and then puts together this incredible show. When you watch it, you feel entertained also you're being educated. You're learning something about a topic which we believe that you care about. Hopefully, when you finish watching the show, you feel like "Man, I have seen, heard " and it's just a beautiful thing and it so awesome to be part of this.
I agree, it feels like a breath of fresh air, to be honest with you especially growing up watching Entertainment Tonight, Extra. It's different, it's vibrant! You both have made history by being the first women of color to host an entertainment newsmagazine on television. How does that feel to make history like that?
Julissa Bermudez (JB): Thank you to you, your friends, and your family because we need those viewers. We need you to watch it. We are so appreciative that you mentioned that just how outright different it is to the shows that have been around for so long that you mentioned are great but the fact that Sanya and I have the opportunity and this platform in 2020 especially and going into a new year also. It's really special that we really never thought that we make history. It's crazy to think that we are the first women of color to the point that those shows have been around for so long but we take full responsibility. We are honored to be in these roles.
We want to represent to the best of our abilities and we want to put out a great show and we need people to watch. At the end of the day, it's show business. We don't just want to be the first, we want to hopefully let other young women of color and young girls and men of color to continue to do this and continue to be on shows that are successful that can be around for many, many seasons where people can feel represented in a way that is unique, different and very special.
It's a lot but we are happy to tackle it. We are happy to be and hopefully, people will watch this show and come away with "Man, this is great!" We have newness every week. We are just getting better and better. Our stories are growing in such a way Dean that you have no idea. I think people are going to going to find this Central Ave show that they could relate to and connect to for a long time.
I have a great good idea since I have been doing my magazine for eleven years.
LB: You know what's up!
(all laughs)
It changes every time and it's a great segue to my next question. We just had an election and finally declared a winner. News travels fast even within a blink of an eye. How do you determine what can we look forward to with the next news program? You're on two times a week and there's a lot of ground to cover but you have to pick the right stories.
Well, we are very grateful to have an amazing team with Will and Monique at the helm. They have so many experiences. We have our daily calls, a daybook so we go over everything that's trending. We throw a million things out that everybody shares and what they are excited about. What I admire the most is how Monique's brain works. We say something and the way she peels back the layers of this story and she thinks about how has this story's been told, what are people saying about it? What can we add? How can we put that Central Ave spin on the story to make it feel more meaningful to the viewers? She is so thoughtful about that.
You know, we follow her lead, and every week she does such a great job at pinpointing a story that hasn't been told the way that we can tell the story. As you said it's a hard job for the news is always changing. People are infatuated with something that lasted a few days and it's gone in an instant. Our team is always challenging her and throwing out new things. I am really proud of the things that she disseminates a story and breaks it down and makes it so unique and does a fantastic job every week.
That's great to hear. Even though you are both wonderful hosts, you both come from unique backgrounds. Julissa, you came from the world of sports while Sanya you came from 106 & Park. What was the moment you realize that when you two are on the set, you gel so well with each other that you say "This is my partner, I trust her with my life. We are going to make this show, the best show out there.". I want to start with you, Julissa!
JB: Well, I have to step my game up because I am standing next to an Olympic gold medalist.
I know right, that's a tough act to follow.
JB: Ah, Hello! You know she's got gold medals and things that I don't know even know. How do I step up? How do I follow this? I think the leadership and the teamwork in being an athlete definitely is starting to rub off of me from my way of sizing me up, coming in, ready to be on point, and giving it out best. I feel that our chemistry has actually grown because we started this Central Ave journey together from the audition room to where we are today on set Season 1. I think that it has definitely helped and it's something that you cannot fake & pretends to have chemistry. We hope the viewers get to see this genuine bond between us especially being women that we get along and we're on the same page. We had so many great moments that I'm trying to think of one particular. Do you have one Sanya?
SR-R: Yes, I do and I feel like Julissa doesn't give herself enough credit. I thank you guys so much for that but Julissa has been doing this for so long that there's an ease and it's so natural for her. I have to tell you that I remember this. The very first day that we were paired together, I was doing this for the first time. I have never auditioned before. I have never hosted a show. So what they did is that was seven of us there and they rotated us out. And when Julissa was the last person that I auditioned with, she was so professional yet so natural that she brought that out of me too right because one of the things that I remember Monique had told me is that they wanted somebody who wasn't like overtrained.
There was somebody else who had a little stiffness but Julissa came into the room there was that professionalism but this relaxed and authentic energy. She brought that out of me and we actually stood together the longest. They asked us to do an additional scene. I told my mom when I came out that "If I do get this gig, I think I will get it with Julissa because we stayed in longer and when they asked the question, I feel that I don't have so much to put on and I can drop my shoulders and really be myself.
As Julissa said, "We put in work." We are both so appreciative of this opportunity. I feel because we are both in that space. It makes us feel that no matter what's going on, we are going to in together. We are a team. We just keep becoming better friends and it shows up on camera which I absolutely love.
I have a follow-up question for you Sanya, now that you have seven episodes under your belt, do you feel the newness is still there with getting used to hosting or you know what "I got this!"
SR-R: That's right, Dean. I wish that…
(laughs)
JB: You know; she is like (looks around) where do I stand.
(all of us were laughing at this point)
SR-R: You know it's so funny because they will say "Action!" and I'm like literally feel that my heart is beating out of my chest and I am saying that "You got this". Standing next to Julissa and she has this natural comfortability on stage that helps a lot but I am still working on this. There are days that I am very confident and very comfortable. Other days, where I had to calm my nerves but I think that as an athlete I feel that I have grown accustomed to it. My heart was beating fast and I am doing something that I love. I feel alive and I can do this. I've learned that nerves are not a bad thing. They are a good thing that fuels you forward. So I embrace them but I would like to say that I would like to say Dean that "Lights, camera, action" every day but not yet almost!
JB: Half the time, I don't even know what I am doing Dean when the camera goes on. The fact that she thinks I am so professional is great. That's why I have to turn on the blazers you know
(we are laughing)
I know the feeling. One of the big stories we had this week was the loss of Alex Trebek. This is an off the wall question: If each of you had competed on Jeopardy! what would be your best category?
JB: What is Global Studies?
Why Global studies?
JB: Because it's the subject that I did best in school. I am always fascinated by when we were traveling so much, once upon a time if you can remember that, but when we were allowed to go to other places. Even when I traveled within the United States whether it was doing local hosting at malls throughout the country, I am always fascinated by people, how they got to where they are, and how they settled where they are. It was always something that I was into.
SR: What is sports? I would dominate it when it comes to knowing the people in sports and knowing what it takes to be great in sports. If I were on Jeopardy, I would kill it in that category.
Mine would be movies or Star Trek since I am a fan of Star Trek. In fact, I was in a Trek fan film. What one piece of advice would you give to our readers to never give up on their dreams?
SR-R: People would always say that you have to know exactly what you do next and you have to map things out. I don't believe that. I believe that as long as you are constantly doing your best and working towards your goals. You never know who's watching. You never know who is holding a door open for you. I would have never put Central Ave on my vision board. I didn't know it was happening but what I did know is that if I was working hard and was believing in myself then great things would happen. I would say regardless of circumstances or your current situation just keep doing the hard work. Whether it's researching that path that you want to go down. When I was competing, I was doing 1000 sit-ups every single day. I was putting in the work that I knew was necessary to be the best. You know what that work looks like for you. So keep doing it because you never know who's working behind the scenes and God is always working on your behalf. Never ever give up. You know, look at Joe Biden and Kamala Harris, they are once again, great examples. Joe is the oldest president we ever had. He was Vice President. He's lost campaigns and yet he came out running. Keep on working & always, always believe in yourself.
JB: Yes, to all of that! Honestly, you're going to get a million and one "No's". Oh but that one "Yes". You never know when that's gonna be and that's why you can't take yourself out of the game & count yourself out because you just never know. I would have never thought in a million years that I would be doing a show like Central Ave. If I would have given up, Wil & Monique would have never seen me. It's a matter of continuing to go and taking the lessons from all the "no's" and applying them to that one "yes".
Be sure to catch Sanya and Julissa as they bring Central Ave every weekend! For more information about the show or to find out where you can see it – go to centralavetv.com