Sandro Silva And Oliver Twizt Mixmash At Ultra Bar
2 min read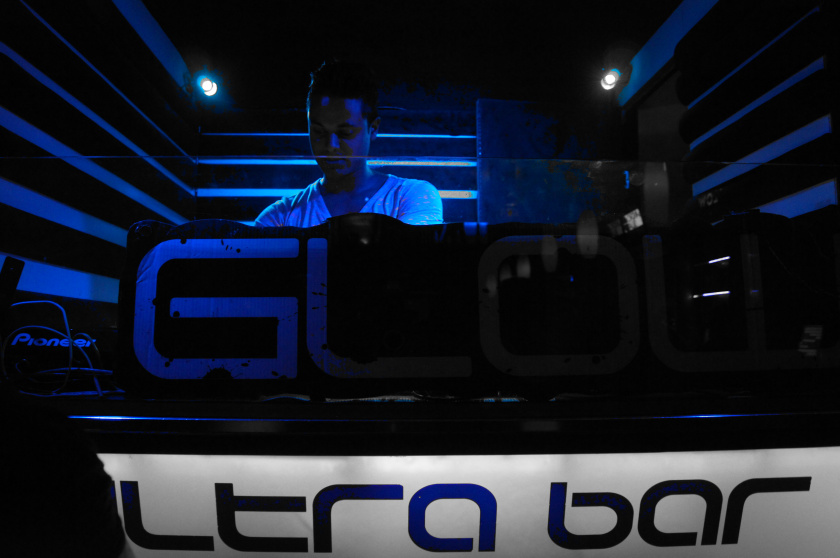 The Dutch record label Mixmash Records has been firing it up as of late releasing chart topping tracks such as 'Turbulence' by Laidback Luke & Steve Aoki featuring Lil' Jon. Tonight, two of some of the labels top hitters Sandro Silva and Oliver Twizt lit up the Glow Room at Ultra Bar. EDM fans crowded the dance floor getting down to a pulsating mix of trap, electro house and hip hop.
The night started with some deep house provided by local DJ, Seba Yuri. The melodic beats were a chill tone setter. His music is very atmospheric, his Seven One Seven mix echoes cheers; toast to the nights eve. A good way to get things started. Look out for his Midnight Marauder (Original Mix) making waves on SoundCloud.
The walls moved with projected animations, equalized graphics jolted to the rhythm. Giant mirrors opposite each end of the dance floor created an infinite party. The crowd that assembled was young, hip and ready to move. The excitement grew, you could sense the Oliver Twizt set approaching with the fog rolling in.
Oliver Twizt is on his way up, maddecent.com quoted David Guetta as saying "I like Oliver Twizt; it's gangster!" With his mix of rave, electro and ghettopop things can get a little crazy. His trap remixes are also on the rise, tracks like "3 Chainz," and "Money Makin" the colab with Dillon Francis and A-Trak are creating buzz. The electrohouse Sandro Silva mix "Gladiator" has dance floors bumping. Oliver Twizt definitely throws down; he hits the slickest beats straight out of Gangsterdam.
It was early Friday morning when Sandro Silva hit the decks. The audience was still juiced from the Oliver Twizt set and Sandro Silva had no problem keeping the vibe going. A heavy mix of electro, house and dance radiated through the bar. His music has an industrial feel. It fits good with his hip hop mixes. His Dirty Dutch hit "Mach-5" has thug appeal. It sounds like a "Ayo Technology" mixmash. Other great tracks include "Puna" a hit that turns up the volume and keeps the club crankin. It's just been released on Spinnin' Records. Whether he's hitting hard with nasty electro house or toning it down with some progressive Sandro Silva lights up the dance floor.
The Dutch DJs definitely made there presence felt. The Glow Room was bumping all night long. In addition was also some parties going down in The Vault downstairs with a mix of Trap and Moombahton brought to you by Starchill and Domino FX and the Rave Room upstairs had some mad drum and bass pumping. I had a chance to catch some of Fringe's set; it was on point. The production as a whole was great; Panorama Productions always seems to be right where the action is. You have to see it to believe it. For info on upcoming events just visit www.clubglow.com