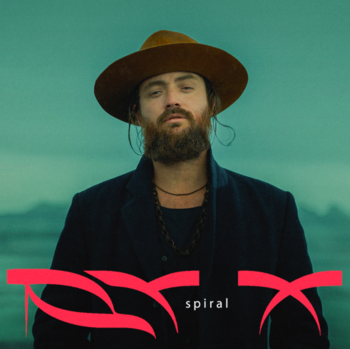 RY X releases the next single entitled 'Spiral' from his forthcoming album Blood Moon, out June 17th on BMG with physical formats released August 26th. The album is set to introduce new devotees to the work of the acclaimed singer, songwriter, and alternative producer, and reconnect RY X with the huge fanbase who adored the high drama, philosophical introspection and enigmatic style that he established with his previous sets, Dawn and Unfurl.

Constantly adding to his career total of 900 million+ streams, 'Spiral' sees RY X extending his flair for crafting cinematic soundscapes that unfold in surprising fashion. Initially its pulse-like beat is minimalistic to the point of being ethereal, but the sound slowly grows in stature: adding austere keys and his inimitable hushed whisper of a vocal. And then it unleashes its tension with the release of glitchy drum patterns and darkly looming synths, his still understated voice pushed to the forefront of the mix.

RY X wrote 'Spiral' with Niklas Paschburg, who also contributed strings and keys to the track. Paschburg has previously released two acclaimed albums of meditative, melancholy moods for the post-classical label 7K!. The song was then mixed by Nathan Boddy (James Blake, London Grammar).


The accompanying video contrasts the malleable human movement of its two lead dancers with the static permanence of the architecture that surrounds them. Emphasizing control and precision, the choreography is also an expression of the feeling that 'Spiral' evokes. The setting is Cuadra San Cristóbal, located on the outskirts of Mexico City, which was built in 1968 by the architect Luis Barragán. His design elements – geometric structures, earthy tones and the calming ambience of water – evoke feelings of serenity, solitude and a marriage of simplicity and sophistication that very naturally complements RY X's music. The video was directed by Rob Woodcox, and produced by Constanza Pérez and Ana Cardona.

'Spiral' positions the upcoming 'Blood Moon' album as RY X's most personal, profound and organic collection to date. It finds RY X experimenting with new sonic palettes and fresh production innovative, all of which complements the open honesty and emotional impact that he is renowned for. His words discuss the dynamics of relationship, extending that core theme into wider explorations of spirit, self, and growth.

Throughout the process, RY X would work by day and into the night. He would recharge at sunset by trekking into the Santa Monica Mountains from his studio in Topanga. That creative solitude is at one with the ambience of the songs, a feeling reiterated as RY X wrote, produced and performed everything that is hard on the record.

'Blood Moon' is available to pre-order here. It will be released on digital, CD (available exclusively via RY X's official store), standard colored vinyl, and limited edition smokey vinyl (which will only be available from the official store, and key indie record shops).

RY X will be touring internationally throughout the second half of 2022, with a mixture of rescheduled shows and newly confirmed dates. In the UK, he will play two special outdoor Communion Presents: RY X shows at Home Farm, Hertfordshire this July before returning in March 2023 to play two SOLD OUT nights at London's historic Roundhouse with the London Philharmonic Orchestra. His US shows are below. Please see his website for ticket details and a list of all other performances.

More info on pre-sales and public on sale at ry-x.com

Tour Dates:
Sep. 22 – Chicago, IL – Thalia Hall
Sep. 23 – Detroit, MI – Russell Industrial Center
Sep. 24 – Toronto, ON – Phoenix Concert Theater
Sep 25 – Montreal, QC – Corona Theater
Sep. 28 – Boston, MA – The Royale (Seated)
Sep. 29 – Washington DC – Sixth & I
Sep. 30 – Tivoli, NY – Kaatsbaan Cultural Park (Indoor)
Oct. 1 – New York, NY – Webster Hall
Oct 2 – Philadelphia, PA – Union Transfer (Seated)
Oct. 4 – Boulder, CO – Boulder Theatre