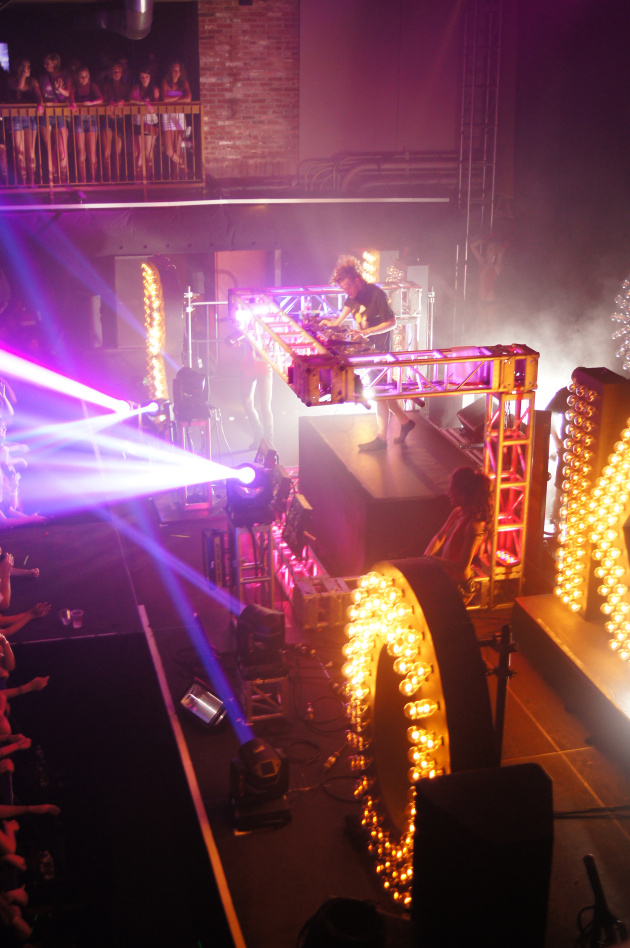 Dubstep has officially landed in the U.S. from the U.K. and I wouldn't exactly call it Beatlemania but there is a resonance protruding from these speakers that's hard to pass up. Rusko headlining at Rams Head Live is even harder to pass up. So grab your best dancing sneakers and let's go party.
I was standing amidst throngs of break dance crazed teenagers and young adults. Nodding and bobbing my head I thought to myself this show is pretty good. Getting involved amongst the audience was relatively easy all you had to do was look around and it was perpetual motion. Rusko took the stage in high intensity aerobic style jumping and clapping. That perpetual motion turned into all out enthusiasm. People were doing everything from break dancing, and jumping, to twirling glow sticks and making out. I tried not to get lost in the ambience so I could accurately diagnose the sound but it was hard not to. From what I heard sounded great. Rusko has an exceptional¬ ability to take all his most recognizable tunes like "Somebody to Love", "Hold On", "Lez Go", and "Woo Boost" and accurately remix them live to perfection.
You don't get the same show twice because he's always remixing his own work. I should know I saw him six months prior perform at the 9:30 club and all those songs were mixed and sounded completely different. Except "Woo Boost" that will always stay the same. The technical skills were there, he would aggressively head bang while cross fading right on cue. He made excellent usage of his modulator and pitch knobs matching the pitch to the modulations proficiently. The only gripe I might have is his on the mic hype. He did it very frequently, and it was loud and overbearing. The most overbearing feature of the night though had to be the bass. Dubstep is pretty much defined by its breaks and bass drops and there was no shortage. Deep pounding tickle your fancy bass. I mean when the whole building rattles you can literally feel and see the music.
Rusko is one to catch and one to remember. I'll never forget his stage arrangement. Giant letters spelling his name lit by bright rounds bulbs (he takes those things everywhere he goes, pretty cool). I'm trying to make it my personal obligation to see this guy whenever he comes to town it's too much fun. I'm grading the overall experience, I'm sure Rusko doesn't need a star next to his name to know he's on to something good.
Grade: A++