The Washington National Opera (WNO) opened its 2018-2019 season with a new production of Giuseppe Verdi's ever-popular and moving romantic opera, La traviata. Up until the opening night, my familiarity with La traviata was pretty much restricted to what I saw in the highly emotive scene of the famous 1990 Hollywood blockbuster romantic comedy, Pretty Woman, when Julia Roberts' character Vivian goes to the opera for the first time, and is so touched by Verdi's La traviata, that she is moved to tears.
As a newcomer to the classic Italian opera scene, WNO Artistic Director Francesca Zambello's rendition of this famous opera has made me a firm believer in the repertoire and left me completely hooked and with an appetite for more of this genre.
The season's opening night was full of anticipation and elegance. The excitement was palpable and the air was richly infused with hope-filled arias. Artistic Director Zambello's La traviata is epoch – a truly beautifully produced portrayal of a tragically heart-wrenching and longing love story.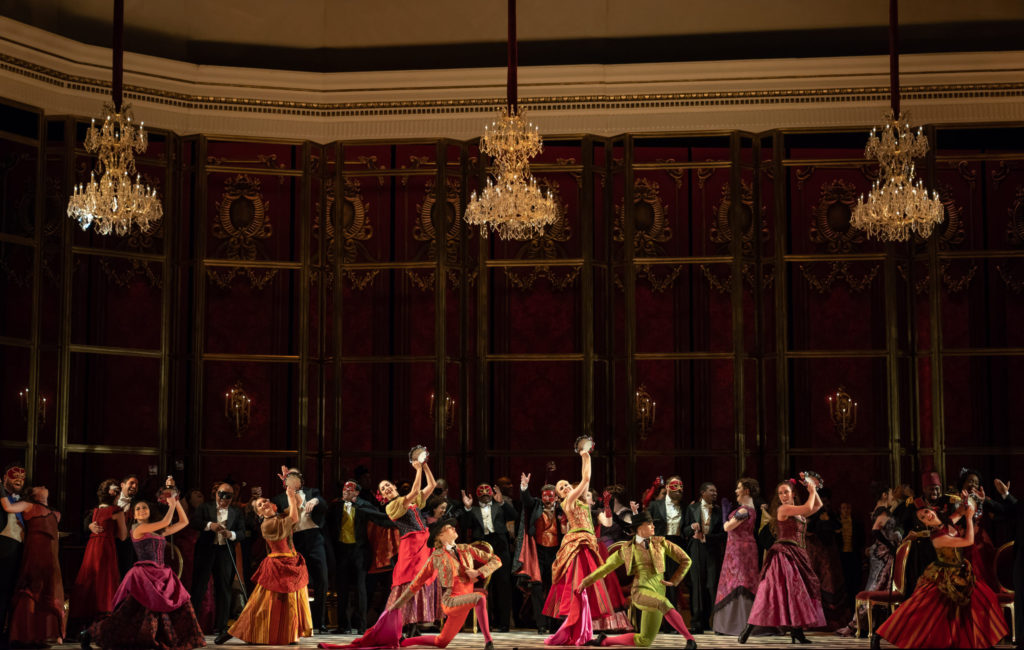 The set. The costumes. The makeup. The lighting. The lyrics. All of these are to be commended in this stunning new production. However, what most moved me was the growing emotional power of the strings section of the Washington National Opera Orchestra throughout the night's performance. At one point, I literally felt the string instruments were a vital force and character in and of itself during the second act of the night.
The beautiful intensity of artistry brought to stage by Zambello and her creative team is a true tour de force. Jess Goldstein's regal and colorful costumes in Peter Davison's smart new set are the perfect pairing for a more modern take on this classic tale.
Standout performances in the opening night's main cast included Domingo-Cafritz Young Artist Program alumnus Deborah Nansteel (Flora Bervoix), current Domingo-Cafritz Young Artist Program participant Alexandria Shiner (Annina), and soprano Venera Gimadieva (Violetta Valery) hailing from Moscow's Bolshoi Theatre. Gimadieva's WNO debut as the ill-fated Violetta was downright convincing. I can with confidence say she fully embodied the duality of joy and tragedy that often accompanies the vulnerabilities of a heart deep in love.
Violetta's death scene was absolutely breathtaking. Gimadieva masterfully communicated with all of her being the ache and pain of a tragic love death quite beautifully. My very being felt Violetta's tragic death scene so viscerally that I (and many others in the audience) gasped as silently as we could in our seats. I gripped my friend's arms next to me to hold back the tears that welled up in my eyes and the grief that was aching to come out of my throat. The best of Gimadieva's acting was experienced in that very last scene. Truly the best death scene I've ever experienced.
So it is with this that I leave you. If you want to feel alive and all of the emotions that one could ever feel in a span of three hours, run, don't walk to see the Washington National Opera's  La traviata this season at The John F. Kennedy Center for the Performing Arts. La traviata is playing through October 21 in the Opera House. For tickets and information, visit here. For more information on the WNO's upcoming programming, visit here.