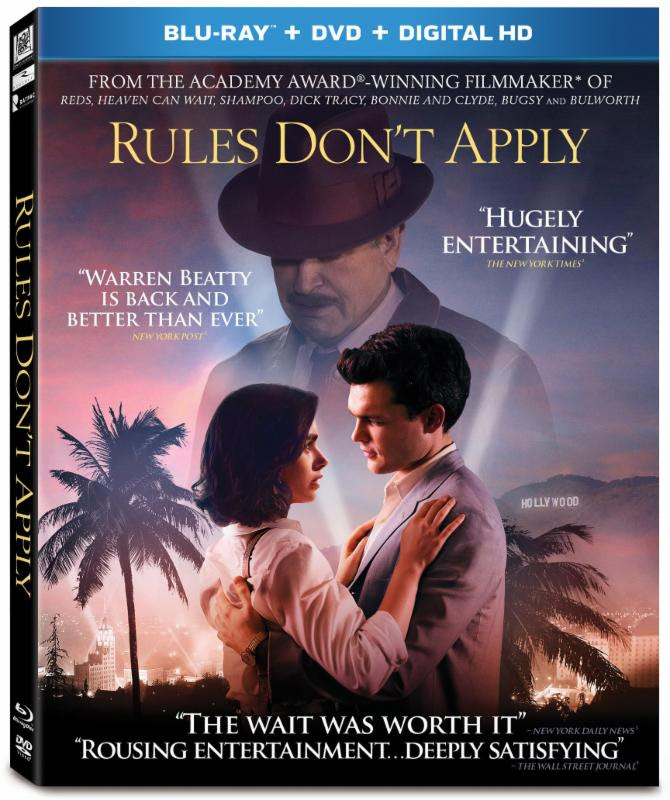 OSCAR Winner* "Warren Beatty is back and better than ever" (Kyle Smith, New York Post) in this unconventional love story set in 1950s Hollywood when RULES DON'T APPLY arrives on Digital HD February 14 and on Blu-ray & DVD February 28. This burgeoning romance that was years in the making reflects on Beatty's own upbringing and arrival in Tinseltown at a time of societal change and features remarkable performances from one of the most incredible casts ever assembled.
It's Hollywood, 1958. An aspiring young actress, songwriter, beauty queen and devout Baptist virgin, Marla Mabrey (Lily Collins), and her young, ambitious, deeply religious Methodist chauffeur, Frank Forbes (Alden Ehrenreich), both struggle with the absurd eccentricities of the wildly unpredictable billionaire they work for, Howard Hughes (Warren Beatty). Their attraction to eachother not only puts their religious convictions to the test, but also defies Hughes' #1 rule: no employee is allowed to have any relationship whatsoever with a contract actress. Hughes' behavior draws them both deeper into his bizarre world, and their lives are changed. Written and directed by Beatty (with a story by Beatty and Bo Goldman), RULES DON'T APPLY also stars Annette Bening, Matthew Broderick, Alec Baldwin, Candice Bergen, Ed Harris, Oliver Platt and Martin Sheen.
The Blu-ray and DVD includes a look at the making of Beatty's passion project including interviews with Bening, Broderick, Collins, Ehrenreich and more talking about the accomplished director along with a music video of the film's titular song.