Roberson is still the King of Neo Soul
2 min read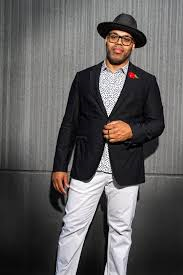 On Saturday July 15th, Eric Roberson brought his signature style to a sold out crowd at Bethesda Blues & Jazz Supper Club. Next to New Edition, Eric Roberson is the only other artist I make sure to see whenever he's in town.  I've had the pleasure of seeing Mr. Roberson live ten times in the last nine years and he never disappoints.
Despite a late start and a broken AC unit, Roberson graced the stage as a true professional. Opening with the fan favorite "Been in Love", Roberson transitioned into a R&B freestyle, where he sung about the heat in the building to let the audience know he could feel their pain. Throughout the night, Roberson, who has written for the likes of Will Smith, Jill Scott, 112 and Charlie Wilson, performed songs from his ten album catalog with a set list that included "Borrow You", "Dealing", "Mark On Me" and his signature cover of The Notorious B.I.G. classic "Big Poppa".
Roberson also took the time to inform the audience of his music trilogy "Earth, "Wind" and "Fire". "Earth" focuses on self-empowerment and the songs he performed from the album ("Million Dollars" & Superman") both came across great with the audience. "Million Dollars" is a song about not needing money to be happy, while "Superman" is an uplifting song about Black Boy Joy.
Roberson then made his way to sing the "Wind album", which is about love.  "Wind" will be released to the public this coming Friday July 21st, and having heard the album myself, I can assure it's some of Roberson's best work. Roberson decided to introduce the audience to the lead single "Love Her" and one of my top songs of the year, the Will Downing duet, "Lyrics of Pleasure". "Love Her" is a mid-tempo track with a neo soul groove, while "Lyrics of Pleasure" is a sexy slow jam, that's for the lovers. While Roberson didn't perform any material from "Fire", he did mention he envisions the album as his "What's Going On" album, in the sense that it will focus on issues ranging from our current President to police brutality and last but not least, social status.
No Eric Roberson show is complete without Roberson making up a song with words suggested from the audience.  As Roberson closed out the show, he made up a song combining words such cupcake, machete and autopsy. One would think it would be humorous, but Roberson always succeeds with his signature songs on the fly.
Eric Roberson is still, without a doubt, one of the best LIVE performer's I've had the pleasure of seeing live as an avid concert goer. With smooth vocals and a passion for his audience, Roberson continues to shine as one of the best performers of his generation.
Final Grade A+