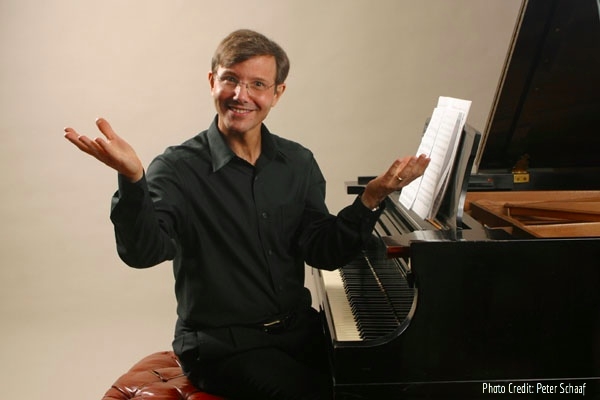 December 14th at 6:00pm for second of four presentations
Acclaimed composer, conductor, presenter, and commentator to host conversation and performance of Copland's Appalachian Spring Suite with the Curtis 20/21 Ensemble
Characterized by his unique ability to create an "aha" moment for his audiences and collaborators, whatever their level of musical sophistication or naiveté, Rob Kapilow has brought the joy and wonder of classical music to audiences of all ages and backgrounds for over 20 years. Kapilow's work brings music into people's lives, opening new ears to musical experiences and helping people to listen actively rather than just hear. This is the second in a series of four presentations of What Makes It Great?in Washington Performing Arts' 2014/15 season, reflecting its commitment to lifelong learning.
"Robert Kapilow is a born teacher," said the Boston Globe, "an enthusiast who can think on his feet, a 110 percent believer in the project at hand … It's a cheering thought that this kind of missionary enterprise did not pass from this earth with Leonard Bernstein. Robert Kapilow is awfully good at what he does. We need him."
---
Who: What Makes it Great? with Rob Kapilow Curtis 20/21 Ensemble
Where: Smithsonian Institution National Museum of Natural History Baird Auditorium
When:         Sunday, December 14 at 6pm
Program:    Copland Appalachian Spring Suite
Tickets:       $20, available at washingtonperformingarts.org or by calling (202) 785-9727.
---
For the December 14 What Makes It Great? presentation, Kapilow will first unpack and explore Aaron Copland's Appalachian Spring Suite with the audience and the Curtis 20/21 Ensemble. The ensemble then performs the piece in its entirety. Flexible in size and scope, the Curtis 20/21 Ensemble performs a wide range of music from the 20th and 21st centuries, including works by Curtis students and alumni. The ensemble has appeared at major U.S. venues such as the Kennedy Center, Carnegie Hall, and Miller Theatre, as well as internationally. The Curtis 20/21 Ensemble collaborates with some of today's most prominent artists, including Charles Dutoit, eighth blackbird, and Matthias Pintscher. It has presented portrait concerts of iconic composers-in-residence, including John Corigliano, George Crumb, Krzysztof Penderecki, and Steven Stucky, among others. The Curtis 20/21 Ensemble is led by artistic director David Ludwig. Following the performance, Kapilow closes the presentation with a Q&A session with the audience and the Curtis 20/21 Ensemble.
What Makes It Great? debuted on NPR's Performance Today in 1997, and with its accessible ten-minute format, it quickly attracted a wide base of fans and followers. Snowballing in popularity, it developed into a full-length concert evening and was soon snapped up by presenters looking to build new audiences. What Makes It Great? has sold out regular subscription series in places as diverse as Kansas City, MO and Cerritos, CA, as well as at New York's Lincoln Center, the Celebrity Series of Boston, Washington Performing Arts in Washington, D.C., and the National Gallery of Canada.
Washington Performing Arts and The Smithsonian Associates will host two additional presentations of What Makes It Great? with Rob Kapilow at Baird Auditorium as part of Washington Performing Arts' 2014-15 season:
March 29, 2015

 – Mozart's Symphony No. 40 in G Minor, KV550 with the Peabody Chamber Orchestra

April 26, 2015

 – Songs of Stephen Sondheim with Michael Winther and Sally Wilfert.