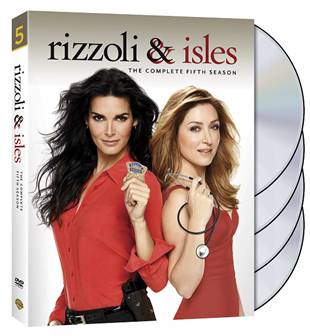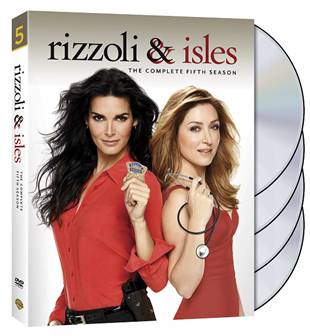 Four-Disc Set Includes All 18 Episodes from the Show's Fifth Season Plus Never-Before-Seen Bonus Material
Get set for another exciting season of the chartbusting, suspenseful hit cable series Rizzoli & Isles, with Warner Bros. Home Entertainment's (WBHE) release of Rizzoli & Isles: The Complete Fifth Season, available June 9, 2015. Angie Harmon (Law & Order) and Sasha Alexander (NCIS) return to solve Boston's most complex murder cases in the fifth season DVD release of TNT's top-rated series. This must-own release will feature all 18 season five episodes, plus never-before-seen extras.
Rizzoli & Isles: The Complete Fifth Season will be released in time for the series' sixth season premiere on TNT. This title will retail for $39.98 SRP. Order due date has been set for May 5, 2015.
Based on the best-selling crime thriller books by Tess Gerritsen and executive produced by Jan Nash (Without a Trace), Rizzoli & Isles focuses on tough-as-nails Boston police detective Jane Rizzoli (Harmon), who has an uncompromisingly brash and beautiful bull-in-a-china-shop approach to both cases and life, and the brilliant medical examiner from a privileged background, Dr. Maura Isles (Alexander), who may be the best-dressed science nerd in New England. Together they are close friends and complete opposites who solve some of Boston's most notorious crimes.
In Rizzoli & Isles: The Complete Fifth Season, Jane and Maura continue to work together to solve the city's most puzzling cases, including, investigating the murder of a mother who is killed while jogging in a park and, when a seller of rare books is killed, Jane and Maura are drawn into the world of Keltic writings as they investigate his murder. The team's detective skills are also put to the test when they discover the mummified remains of a woman, and Jane and Maura investigate the death of a man who died suspiciously in a bathtub filled with ice during a heat wave. Season five is loaded with several more exciting new cases and action-packed adventures no Rizzoli & Isles fan will want to miss.
In its fifth season, Rizzoli & Isles remains a top ratings performer, delivering over 8 million Total Viewers per episode and ranking as the #1 scripted drama on Basic Cable season to-date among Total Viewers and as the #1 series on TNT.*
"Rizzoli & Isles offers the perfect blend of thrilling police procedural and moving family drama. At the heart of it all is Jane and Maura's extraordinary friendship, which drives the show and is one of the reasons this series stands out from many other crime shows on TV today," said Rosemary Markson, WBHE Senior Vice President, TV Brand Management and Retail Marketing. She added, "We are delighted to release another captivating new season of this outstanding series on DVD."
In addition to Harmon and Alexander, the series stars Jordan Bridges (Rushlights, Mona Lisa Smile) as Frankie Rizzoli Jr., Jane's younger brother who is now following in her footsteps as a detective; with Bruce McGill (Lincoln, Law Abiding Citizen) as the seasoned and lovable Detective Vince Korsak, Rizzoli's former partner who was initially hurt to find Jane partnered with Frost; and Lorraine Bracco (The Sopranos) as Jane's nosy but warm-hearted mother, Angela Rizzoli, who moved into Maura's guesthouse after her recent divorce and works at the coffee shop inside the Boston Police Department.
DVD SPECIAL FEATURES
• Stepping Through the Stunt: The Burden of Proof Bridge Sequence featurette
• Gag Reel
• Deleted scenes