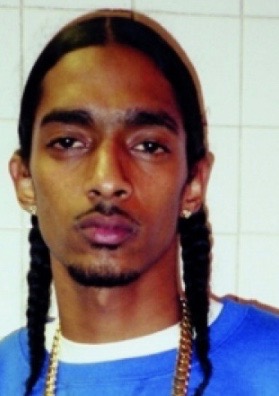 As a 33-year-old Black woman who has spent time immersed in South Central Los Angeles, I find it awe-inspiring how authentic and loyal Ermias Asghedom (known to the world as Grammy-nominated rapper Nipsey Hussle) remained to his community. Or shall I say to our community. Any community that is Black is part of the Black community at large, in my book. To try to separate the two is fallacious.
Nipsey knew the risk of being a revolutionary and wanting to evoke change. He was ahead of his time, just like Tupac Shakur, MLK, and Malcolm X. All fearless warriors with the mission to uplift the downtrodden and communities with a history of violence. Nipsey knew love, he knew fatherhood, he was a man who had a strong sense of self, family and wealth. But he still had a hard-charging passion for Black people to recover from continuing oppression.
He, like Tupac, knew he had enemies. One of Nipsey's last tweets read "Having strong enemies is a blessing." Nipsey knew that when you are on the brink of making a change that can create a paradigm shift, can change the world, you may very well risk losing your life.
Rappers like Tupac and Nipsey had courage under fire. They both died with community embedded in their hearts and minds and left us with music to remind us to be revolutionaries in our communities.
The recent GQ cover shoot featuring Nipsey and the love of his life, gorgeous actress Lauren London, detailed how committed he and the mother of his child, Kross, were to the South Central L.A. community. Every shot was on a popular street or well-known part of Leimert Park. I remember admiring the fact that two rich, intellectual and talented people would pay homage to L.A. in this way. That was not a typical "Hollywood" photo shoot. It was symbolic of how down to earth the couple was. It has been reported that Nipsey would walk around South Central L.A. in areas known for heavy gang violence wearing expensive jewelry and without security. Hussle wanted to send the message "I am a normal man and I will not be afraid of the community I love." That is real POWER.
In fact, he even owned The Marathon Clothing in Crenshaw, where he was gunned down in broad daylight by assailant Eric Holder, who remains in custody.
That Sunday afternoon, Nipsey was headed to his clothing store with good intentions. But he was fatally shot six times and took his last breath in the community he was trying to save. This reminds us of the 1990s when gang violence and Black-on-Black crime was at an all-time high in L.A. and Black bodies were turning up daily. That's the deeper issue here — senseless violence cutting our Black kings' lives short before they even have a chance to truly bud in this world. Movies like "Boyz n the Hood" and "Menace to Society" are not just cautionary tales. These movies are our Black princes' and kings' nightmares, the world where many of them still live.
What can we do? Follow the example of men like Nipsey and Tupac and Dr. Martin Luther King, Jr. Have a voice, show up for our community, fearlessly lead using our gifts and expertise. Do more than just show a post on social media — put our boots on ground in our communities. We can all do SOMETHING. Nipsey was a phenomenal example of leadership. We need more Black leaders who see the pain and want to heal.
It is a blow to the chest, the heart, to the Black community when we know that another diamond in the rough, someone who was trying to make us all shine, was stolen from us like a theft in the night, never allowed to fully impact us as a living, breathing, gifted human being. It hurts!
Most of us who are playing Nipsey's playlist on YouTube and seeking timelines saturated with his images on social media, we stare into space and think about what could've been. I think it's important to reflect that he always honored what was important to him, which included love for his family, his community, and his art — music.  Nipsey's legacy will be powerful for generations to come. His son Kross will stand on the shoulders of a giant.
There is now a petition in L.A. to honor the late rapper by replacing Crenshaw and Slauson with his name. I, for one, would love to one-day drive past Nipsey Hussle Blvd. in Los Angeles. It would be a permanent reminder that we must fight to end senseless bloodshed in our communities.