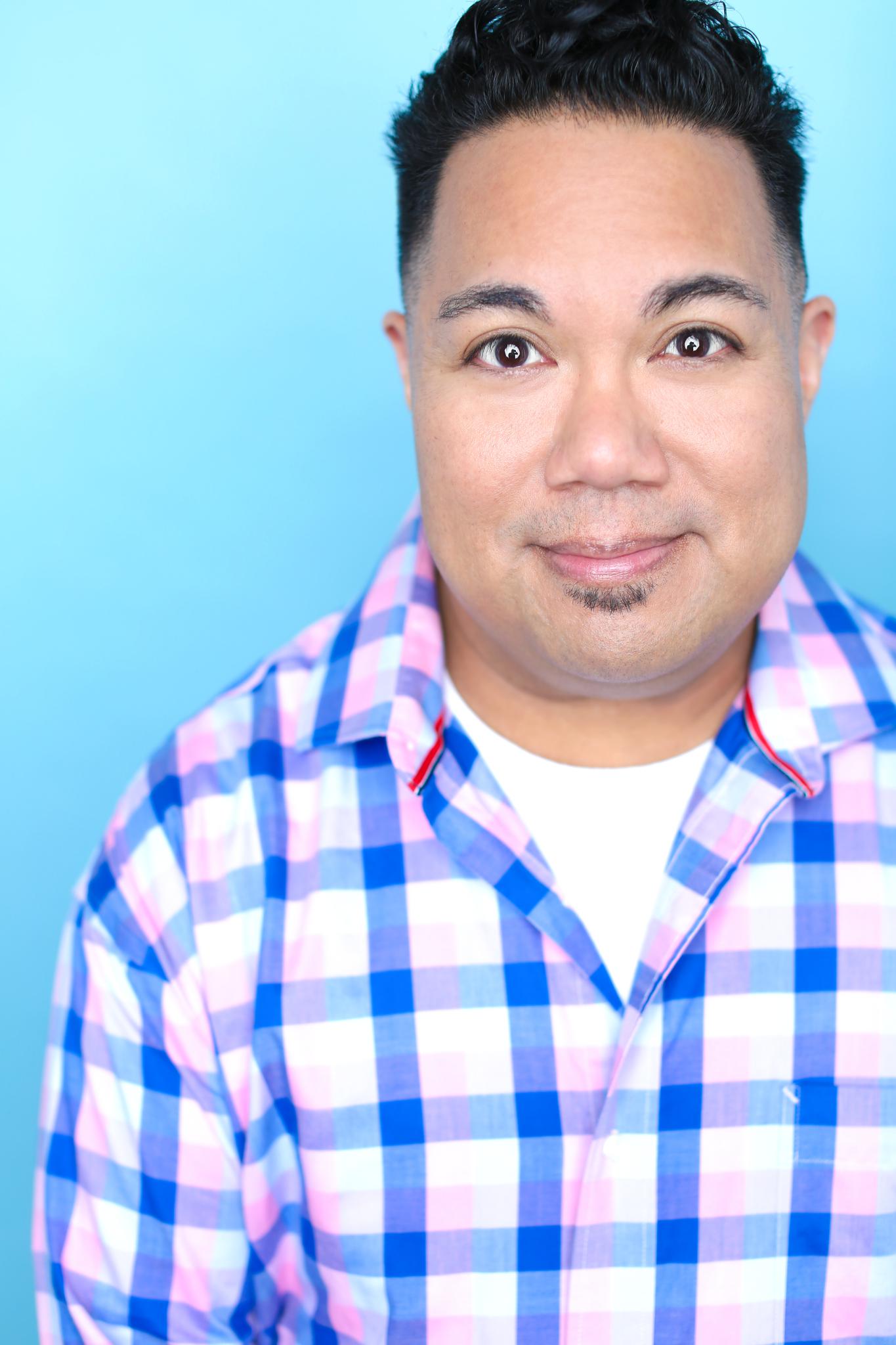 On this edition of THE INTERVUE, we will show you the world of the upcoming Disney musical. (Yes, my friends, this is the second interview for a Disney musical this week!) This time, we are heading to the land of Agrabah for Disney's Aladdin which is heading to the Hippodrome Theatre in Baltimore starting TONIGHT! I recently talked to L.A. based actor Reggie De Leon who plays "Iago" with the touring cast. If you're a fan of the CBS sitcom Mom, he plays "Paul", sous chef to Chef Rudy. In addition, he was in Disney's Frozen Live. Now let's get the inside scoop of this amazing musical from the Reggie point of view!
How were you interested in being cast for the role of Iago for Aladdin: The Musical?
Oh, great question! I was a huge fan of the animated feature growing up.
I had this film on VHS, which for the kids out there is a very obsolete way of watching movies back in the day. (laughs)
Oh yeah!
And (laughs) I pretty much wore my VHS tape out with this film because it was one of my favorites. And when they developed into a stage musical on Broadway, I had a number of friends go and see the show and they would message me and say "oh my goodness! The actor who's playing Iago on Broadway looks just like you!" And I said, "oh, you've gotta be kidding me!" I like to think I'm kind of unique looking.
(laughs)
But (laughs) apparently not, because when I looked up Don Darryl Rivera—he's an amazing actor who originated the role on Broadway, Iago.
I was like, "you're right, people! I've found my doppelganger!" Because of our likeness, and people would remark also on our comic sensibilities, how similar they were. They said, "you need to audition whenever they're doing the tour." And that's exactly what I did, and here I am today!
From what I read in your bio, this is not your first Disney rodeo. You were actually also in Disney's Frozen Live in the Hyperion Theater, playing the Duke of Weselton. What is it to you about Disney films that excite you and attract you?
Oh, gosh. There's nothing like them, you know? You hear Disney doing something, you automatically know it's gonna be just a fantastic movie/film/production, whatever it is. It's going to be filled with so much heart, storytelling, it's going to be unlike any other, a family friendly piece. For somebody who's a little older than myself, it harkens back to my childhood, just all those wonderful memories created just by watching Disney films. I grew up very close to Disneyland, so I went to the park a lot with my parents as a child. So, it just represents everything that is wonderful and good and wholesome and entertaining.
Well, that's great to hear. So, what was it like working with this amazing cast since I got a taste of it not too long ago at the Kennedy Center and I hear you guys are coming to the Baltimore area.
Oh, our cast is amazing! I've been lucky enough to be with the tour off and on from the beginning when we opened in April 2017 in Chicago. There are still a number of original cast members with the tour, which is a testament to how wonderful of a job it's been. We've got people who been on Broadway multiple times.
Really, really incredibly talented professionals who are at the top of their game. I really consider it an honor to go to work with these people and…wow! I look around and I'm performing with these people onstage. It's really incredible.
It definitely is incredible. So, is this your first time performing in Charm City, Baltimore?
Yes, I've actually never been to Baltimore before. Ever. So I'm very excited. It was one of the cities on the itinerary and I was like, "yeah, I can't wait to go there."
So I've gotta ask, why can't you wait to do in Charm City?
(laughs) Well, I hear there's good eating in Baltimore. I am a foodie and I love to eat food. I love crabs.
Ohh, yes! (laughs)
I'm very excited to try the culinary scene in Baltimore, and I know this is cheesy, but I really love the show Hairspray. So, (laughs) I hear the song Good Morning, Baltimore when I think about it.
(laughs) Absolutely. I definitely agree with you. Every time Hairspray—the original—Baltimore's where it's at. So, I have to say that before you leave Baltimore, you must have crab cakes! Do not leave Baltimore without tasting that crab.
Oh, trust me. I think it's going to be a daily occurrence while we're there in those three weeks. (laughs)
(laughs) Well, since you mentioned moments ago that you're in Mom, which I had the pleasure of meeting Allison, about a year ago at the National Memorial Day Concert. What is it like to work with the cast, and for those who do not know your role, tell us about your role in Mom.
Oh, ok. Great! Yeah, I've been lucky enough to play this recurring character of Paul on the CBS sitcom Mom— Thursday, 9 pm.
(laughs)
I basically play the sous chef to French Stewart's Chef Rudy. So basically, anytime there's a scene taking place in the kitchen, I'm usually standing next to French Stewart and whispering something in his ear or doing something ridiculous. The precedent that's been set in the show from the beginning is that I just don't speak.
Wow!
So, it's really fun to play a character who has to express himself solely though facial reactions and gestures and things like that. So it's just been a lot of fun to do and one of my favorite jobs hands down. Next to Aladdin of course. So yeah, I've been lucky enough to be on the show for my twenty-first episode.
Nice! Twenty-first episode, that's great!
Yeah! It's been renewed for two more seasons, so I'm hoping, crossing fingers that I'll get to make a couple more appearances in the next two seasons to come!
Absolutely, and many can say you are the Teller to…the Penn and Teller of Mom, in this case. (laughs)
Yeah, absolutely. I've definitely been compared to him many times.
DR & RDL: (laugh)
And it's just really fun. They're a wonderful cast, amazing crew. And I get to go back and work there. It's such an honor and pleasure. You know, I've mentioned Allison Janney, who is a national treasure.
Anna Faris, is wonderful. Just the loveliest, loveliest human being. I'm always treated like family when I'm there. Treasure every moment I get to step up there with those folks.
When did you realize that acting was going to be your passion and 'this is my career, I'm going to own it?'
You know, that' s great question, because growing up, I didn't see myself represented in media. I always watched television and it was hard to find people who looked like myself. So I didn't think it was a realistic possibility to make a career as an actor, but I had to give it back to Disney. Disney gave me my first professional acting job when I was hired to play one of the dwarfs in the Snow White: An Enchanting Musical. (laughs)
(laughs)
At the Disneyland Theater. And that was my first job. I was twenty-eight at the time, but I was able to make a living as a performer and I haven't stopped since, so, I've been very very lucky to find work and as long as people keep hiring me, I'm going to keep doing it, because there's nothing else I'd rather do in the world.
Absolutely! For those who have always wanted to become an actor, first, this is two-part question. What was the audition process like for going for a role in Aladdin? 
Ok! Yeah, great question. So, I actually initially auditioned for the show when they were looking for Broadway replacements.
Actor's Equity, which is the professional name for Stage Actors of America, they're mandated to hold these auditions, even if nobody is leaving the show. So I went in as a potential Broadway replacement. I didn't get it because Don Darryl Rivera is still there and he's playing the role, six years later. Which I applaud; he's an amazing guy. I hope he stays with the show forever but when they were casting the tour, I must have made some sort of impression because the casting director called my agent and said, "hey, we're now going to launch a tour of the show. We'd like for Reggie to come back in." And I should mention when I auditioned for Broadway replacement, it was in my hometown of L.A. So, I just drove there. For the tour audition, I had to fly to New York.
Wow!
I said, "ok." I had to pay for my own flight and everything, put myself up, but it was something I was willing to do because I wanted the job. Fast forward it two weeks later and I get invited to a call back. And I said, "gee, it's really hard on the pocketbook to keep flying out there and stuff. I wonder if Disney would be willing to fly me out?" And when they agreed to do that and I was telling my friends and  I was like "hey, you know this is really exciting! Disney's flying me out to New York for a final call back for Iago in Aladdin." They were like, "oh, you're going to get the job." I was like, "ok, that's very presumptuous of you, but sure!"
DR & RDL: (laugh)
It kind of gave me some confidence when they said that because I guess it's not a typical thing. It's not a normal occurrence for producers to fly potential talent out, but they did and I met with the associate director on a Friday. They put me up for the whole weekend in this wonderful hotel in Times Square. I got to have a great weekend in New York. Monday was the final call back, Monday evening. And it was for the entire panel, I mean; everyone was there. And there was a table of like, fifteen people and it was like I was doing a cabaret. It was so many people. I've never seen so many people at an audition before. They were lovely and so welcoming and made me feel very comfortable, which was great. So, I went in, I did the scene a couple of times, did the song, I left. I was back home from L.A the next day.
And the day after that, I received the offer to play Iago on the national tour.
How did you prepare for Iago? Since we know in the movie he was portrayed by Gilbert Gottfried and then there's the Broadway version. Did you watch a little bit of the film? The Broadway show? Did you bring some of your unique talent into it? Tell us about that.
Gilbert Gottfried's performance of Iago is definitely engraved into my brain. I just adored him and his performance. In preparation for my initial audition in New York, I went and saw the show because I had never seen it, and was definitely impacted by Don Darryl Rivera's performance. He's wonderful and if you haven't had a chance to see him in the role yet, I highly encourage you to do so, because he's fantastic. I kind of just took elements of both their performances and also just kind of my own personal take on it and that's kind of what you see on stage today. (laughs)
If anyone was to follow in your footsteps to become an actor—whether it's on Broadway; whether it's on television, and also in your case, animation since you're also in Paw Patrol—what advice would you give them?
I'd just say that if it's something you really want to do, like there's just this aching, burning desire in your soul to express yourself onstage, on film or whatever, find every opportunity you can to do so. I have nobody in my family in the business. I knew nobody who did this as a living, and I just kind of kept looking for opportunities to perform, you know? I started out in a performing group when I was a kid and then I picked up—back in the day, there was this thing called…well, actually it still exists, I should say. It's called Backstage, but back then it was Backstage West, which was the West Coast version.
I would get that publication every week. I would comb through all the casting notices and audition for everything. Even if I wasn't right for it, I would just go. I didn't care.
That's good. I like your spirit.
Yeah! I mean, well I always think, "you're not the casting director. You shouldn't decide if you're right for something or not."
DR & RDL: (laugh)
Just go and let them do their job, you know what I'm saying?
Exactly.
Yeah, I mean sometimes they may think outside the box or how they make bold casting choices. It's always good to just be there as an option. For the thousand "no's" you're going to get, you'll get one "yes." So, I approach auditioning as a joy. It's a chance to perform and that's what I live to do. And if that's what you live to do, then I just encourage you to do that, and keep auditioning and performing whenever you can.
Indeed, we shall!
See Reggie in Disney's Aladdin starting tonight at the Hippodrome Theatre! Tickets are now available and you can purchase online at https://baltimore.broadway.com/  at the theatre Box Office or by calling 410-837-7400