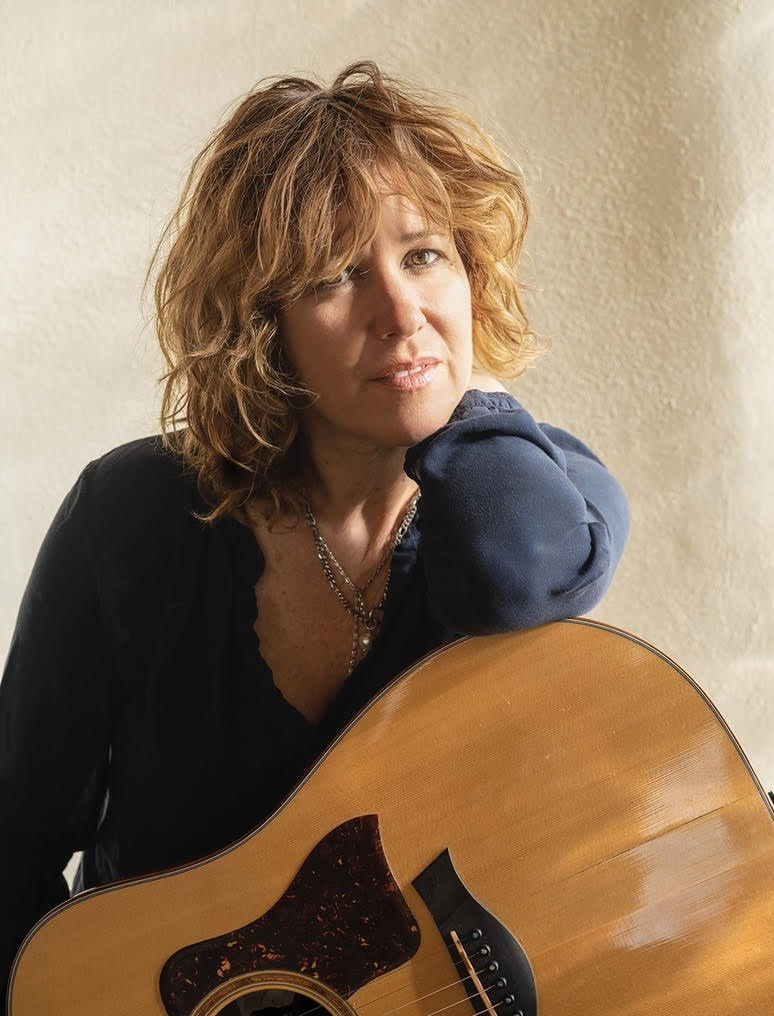 Hello friends and welcome to THE INTERVUE, Music Edition. In this edition, I recently talked to an amazing singer/songwriter who recently released the music video to the title track of her latest album Here. I tell you when you hear and see this music video, you will feel elated and wrapped inside joy that it transports you to your happy place.
My friends, we all have our guest today, Rebecca Blasband, to thank for these wonderful feels in this April INTERVUE!
Let's start things off by telling us the genesis of your new music video for the single Here which is also the name of your album. What's the story behind the title track?
The story behind the album is that it's a collaboration with John Lennon in spirit and it's a remarkable story. The friendship and really my mentorship with him is documented in the songs which we wrote over nine years. HERE was the final song and it wrapped everything up. The album is about the shared human experience. The song Here sums that all up. "What does it take to be forgotten? What does it take to be known again?" John was and is a wonderful guy- not just an icon. He showed me a kind of tenderness that I'm not sure he's reputed for, but that was his essence.
When did you realize your love of music?
I loved music from day one. My father had a great jazz and classical collection. My grandmother was one of the first women to attend Juilliard for classical piano. For my fifth birthday, I got a Ray Charles record that I'd play on my little plastic turntable and that's when I fell in love with rhythm and blues, rock n' roll naturally followed. When I started writing songs I got into folk music, Suzanne Vega, Tim Buckley, Bob Dylan, Francoise Hardy, etc. I liked the way stories are told through folk music and I tend to be more lyrically driven.
I can totally pick up that John Lennon vibe in both the lyrics and the melody of how you are singing Here. This by far is one of my favorite tracks. What other songs would you recommend for a first-time listener?
Thank you.  I think there's a song for everyone. My personal favorite is Long Distance Love Affair because it was the first song we wrote together, and I was so blown away by it and what was happening. It was one of the most moving experiences of my life. And it's a beautiful song, if I may say so. Danny (producer) and I decided to keep that one spare and dreamy. We shut off the click track and just played. People rarely give credit to the producer of an album and my producer, Danny Uzilevsky, brought the songs to life. He was an architect. He understood the album completely as a concept and he knew the kind of musicianship it needed. He was an excellent collaborator. The album sounds simple as far as production, but it's not easy to be that simple and that good. It's not simple at all.
The music video for Here is amazing, love the colors, nature, the cinematography. Where was it filmed and did you choose the locations?
The video was shot entirely on location in Southampton and Montauk, NY. It was directed by Danielle Faraldo who is one of my best friends. We've known each other since The Real World in 1992 as she was one of the producers. She then went off to edit and direct at ABC and won an Emmy or two. She knew all about the Lennon story and my experience of writing over those many years, so she was excited to direct the HERE video.
Geir Magnusson, the director of photography, lives in Southampton so they found the locations together. The two of them did an amazing job, I agree.
When did you realize your love of music?
I always loved music. And I always wrote poetry or stories growing up. I played the piano for a while. I really got into music as a dancer. But at 21 years old I picked up a guitar and put my lyrical poetry to a couple of chords and all the lights switched on. I thought YES I want to do this. I also had some big-time encouragement from some great people. 
Who are your musical influences?
The influences change and shift. Right now, I'm listening to Leon Bridges who I adore completely. And I'm in a Willie Nelson, Graham Parsons, Kris Kristofferson, Waylon Jennings phase, can't stop listening to their older tunes. My biggest influence was Bob Dylan. I listened to more Bob when I was first songwriting, than I did Lennon, as far as the music titans. As far as new music, I tend to get hooked on songs rather than artists. But I like to listen to the whole album, so this "single" culture is a drag. I like to hear where an album starts and ends up. I'll always listen to anything Shelby Lynne puts out, she's prolific and always good. Honestly, there are too many to name. But if I hear a great tune, I'll listen to it repeatedly, almost ad nauseum. I love jazz too – Marquis Hill is incredible. 
I read that your first demo was produced by the late great Adam Schlesinger, whom we lost last year due to complications of COVID-19. What was it like working with him back in the day?
Adam was my friend first and a producer second. That came along a bit later as an add-on. We were in the music scene together in the Village – East and West. We were quite close and spent the better part of four years together and remained friends over the years. He taught me a lot about songwriting. He was seriously bright and talented, but it wasn't something I thought about every moment. In the studio, he didn't mess around, even while we were having fun. He was professional from the start. We laughed a lot, that was the best. He was one of those friends I grew up with and it's still a difficult loss.
One of the quotes that I have noticed when it comes to you is "We are all TARGETS until there is PEACE" What does this quote mean to you personally?
It is quite multilayered and actually very personal in its genesis. John was shot, you remember? And we have this serious problem of targeting people in our society – whether it's with a gun, or character assassination, or the new neuro-toxin dart. As long as we act out in violence to diminish another person or idea, we simply make ourselves vulnerable to the same thing. We have mass karma of too much violence, and it stops people from loving and seeing clearly. It's an endless cycle that we have to break. What are we so afraid of? We kill so many of our own, so many of our geniuses.
Which do you find easier: singing, songwriting it, or both?
I like both and I like that they come together. Some start with guitar and lyrics and other start with a song.
What do you like to do when you are not in the studio recording?
I'm incredibly boring. I'm a book nerd. I like Scandinavian and French crime series on television. I love hanging out with my dogs, going for long hikes on the mesa here in Northern New Mexico. I write other things. I wrote a memoir last year and I'm working on a book of poetry. I also love being lazy these days because I traveled so much in the past few years. That is the one good thing out of all of this.
Are you looking forward to touring once the pandemic ends?
Yes, if it's the right tour, absolutely.
What advice would you give to future singers/songwriters?
If you want to make a living at it then become a good craftsperson and don't regret the crap you'll be asked to write. If you want to be more of an artist, find another line of work along with it and go for it.  That's how I did it and I'd do it all over again the same way.
If our readers want to follow you on social media, where can they find you?
Instagram and YouTube.
You can also check out Rebecca' music on https://www.beckyblasband.com/
Listen/Watch: