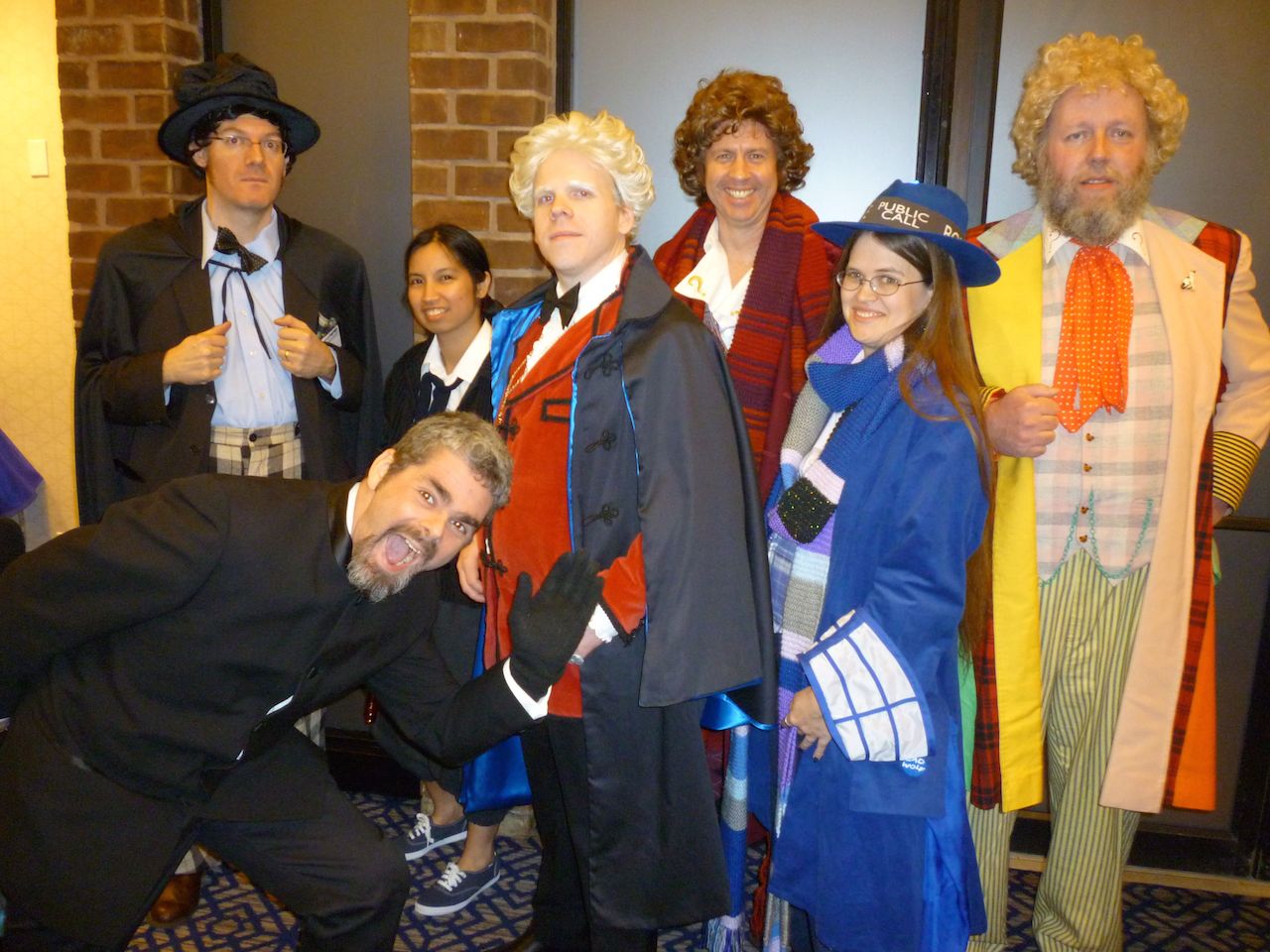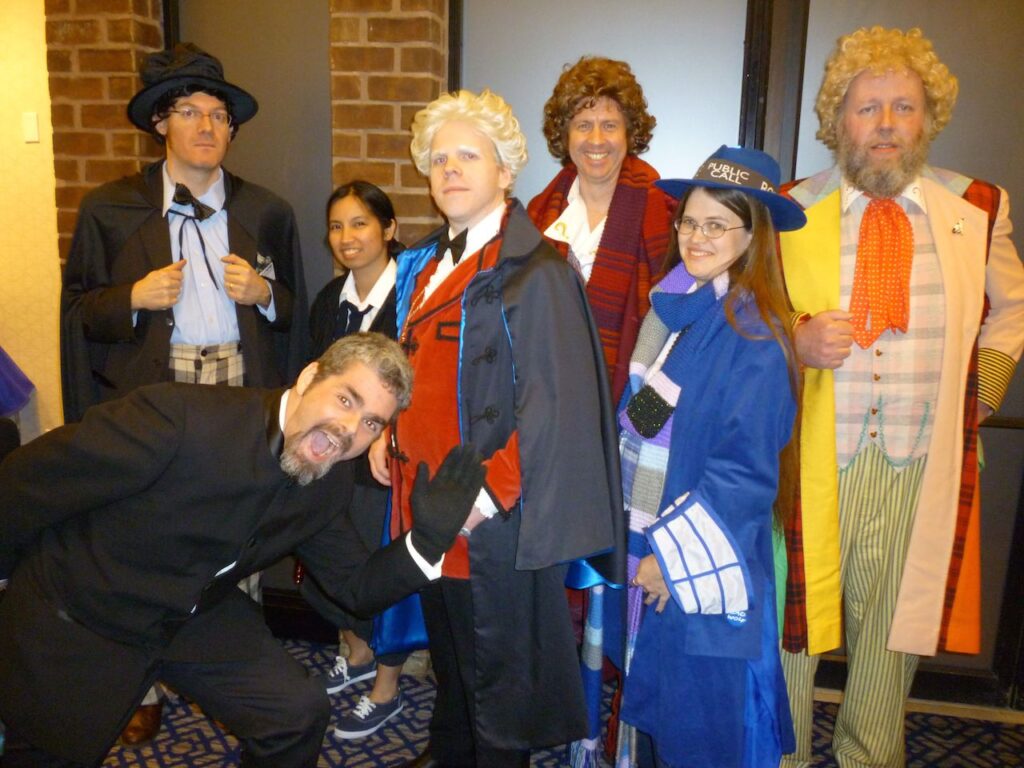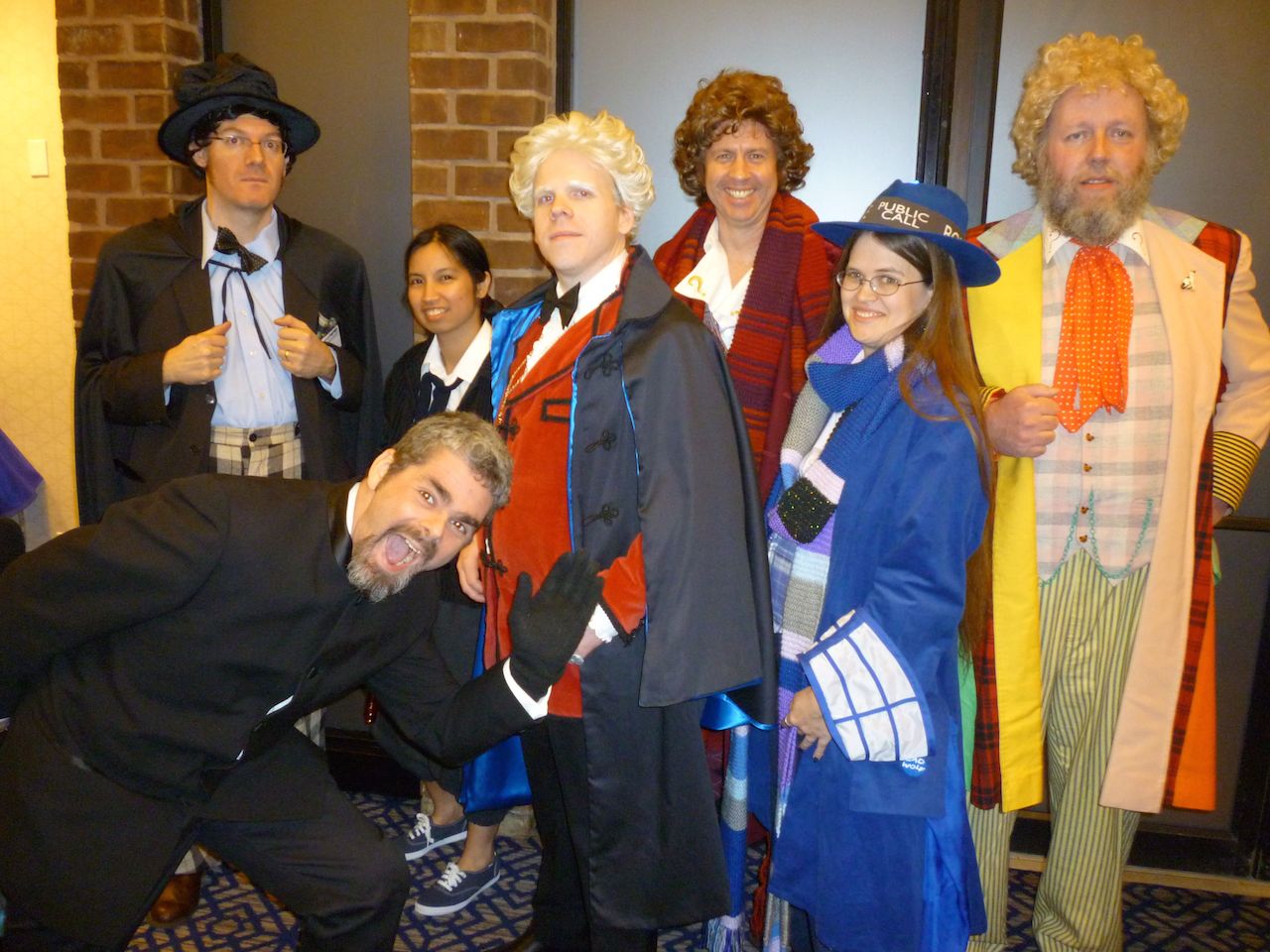 Next, I visited the Dealers Room which had some amazing items. In addition to the usual t-shirts and BBC licensed souvenirs were some wonderful art pieces as well. My favorite was definitely the Doctor Who Leather Journals crafted by Danielle Gunter at Red Falcon. I was also very impressed by the artist Kelsey Wailes who created the beautiful drawing of Tom Baker (which was for sale with his autograph), along with one of the Convention t-shirts.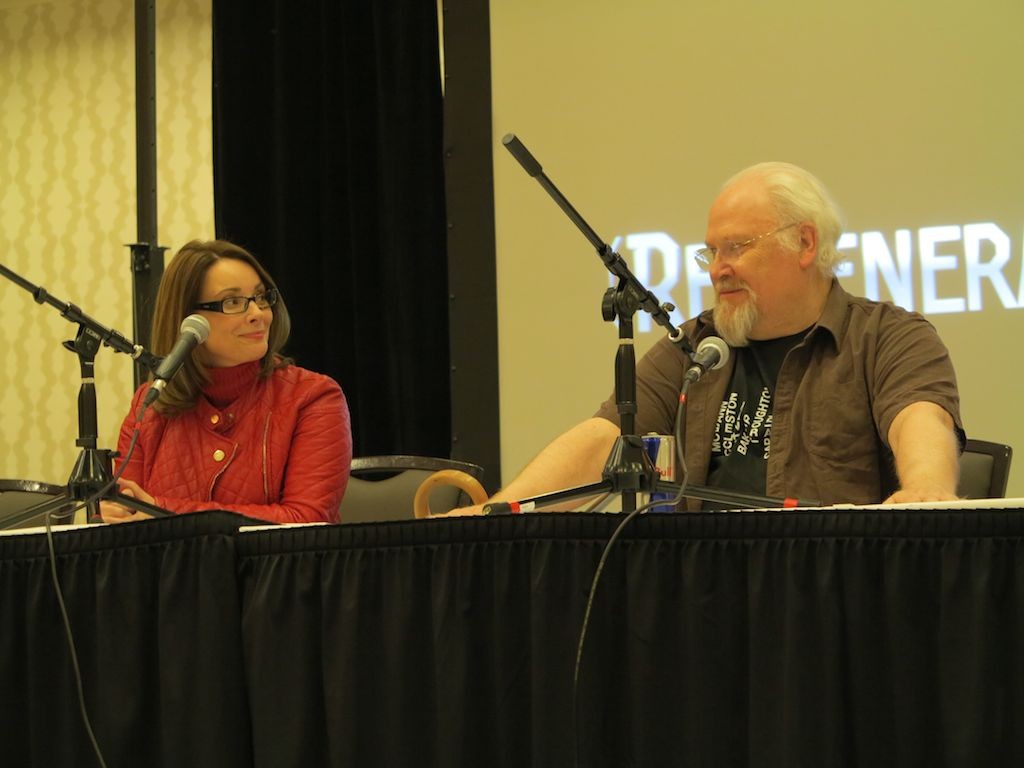 I asked a few of the Convention Guests what they thought of the (Re) Generation Who Convention. Colin Baker said, "its run by some lovely people who are doing it for love. Putting a convention on is a sure fire way to lose a lot of money, so they should be applauded. This is their first event and it's wonderful. They are very brave and they are lovely people." Nev Fountain said "As a first con, it's very well run and amazingly well attended. I think it's going to run for years. As this is a need in this part of the country I think it can join Chicago TARDIS and Gallifrey One as a main stay in the U.S. Doctor Who Convention scene."
Other enjoyable panels featured Colin Baker (the 6th Doctor) and Sylvester McCoy (the 7th Doctor). I have always found both actors to be very charming. They are both very gracious and one can tell that they are happy to share a stage and joyously tease each other as old friends. Both reminisced about the show and how long they had known each other. The whole cast seemed to be one big happy family. I was surprised to learn that Colin Baker had actually been flat-mates with Patrick Toughton's son. (I found this almost as entertaining as when I had learned years ago that the 10th Doctor married the 5th Doctor's daughter.) Colin had said that he had worked in the theater with Louise Jameson. I loved all of the stories they told. Doctor Who in the old days was well known for making children hide behind the couch when the monsters appeared. Sylvester McCoy said that "I used to hide behind the couch, but that was when I was on". The panel was quite entertaining.
Deborah Watling had a Panel paying tribute to the 2nd Doctor, Patrick Troughton. She said that she and Frazier used to climb in the Daleks and have Dalek races. She admits to still missing Patrick Troughton to this day. She told the audience that she keeps a picture of him in her kitchen and sometimes nods at it and says "good morning." When she first saw Matt Smith she thought he reminded her of him.
One of my favorite panels however, had to be when Patricia Quinn got up and sang the theme to "The Rocky Horror Picture Show" with Cat Smith. She told some wonderful stories of introducing the film at Prince Albert Hall. She enjoys being asked to introduce the show at venues. She said that it is the longest running theater show ever. Patricia Quinn was also in Doctor Who appearing as Belazs with the 7th Doctor in the episode "Dragonfire." She also appears as Queen Angvia in the Big Finish audio drama production of "Bang-Bang-a-Boom, which is also set during the time of the That's 7th Doctor." Patricia happily spoke of her time spent on Doctor Who. However, I most enjoyed when she got up on stage to sing "Time Warp" with Hannah Harkness (who performs with Philadelphia's "Rocky Horror Picture Show" cast) and Cat Smith. They were additionally joined on stage by a group of four belly dancing TARDIS's (Antipode). I was laughing so hard that it completely made my night!
My evening was spent playing "Gallifrey Squares". Costumed convention attendees had been asked to be in the various squares to provide humorous and snide (PG-13 rated) comments while players faced off in a tic-tac-toe game. It was a lot of fun. I especially enjoyed the fact that the game was hand crafted with poster board and post-it-notes, and did not need to be high tech to work. All who attended quite enjoyed the game. There were more musical performances, panels, videos and a Dance Party to attend throughout the evening. I do wish the dance party would have started before midnight, as this reporter turned in to a pumpkin shortly after.
I was surprised on Sunday to run in to friends I made years earlier at other conventions that had joined the con for one day. (Re) Generation Who was reeling in attendees. Sunday's panels did not disappoint. Available options included Fan Videos, Fan Art, Writing, Collecting and Sightseeing Abroad. Other evening Panels included Acting for Audio, Toymaking and Drawing, Mad Libs, Podcasts and Building a Weeping Angel. There was even a Teen Meet Up Session for teens to meet other teenaged fans. I was very impressed by the variety of panels that were provided. There was also a game room.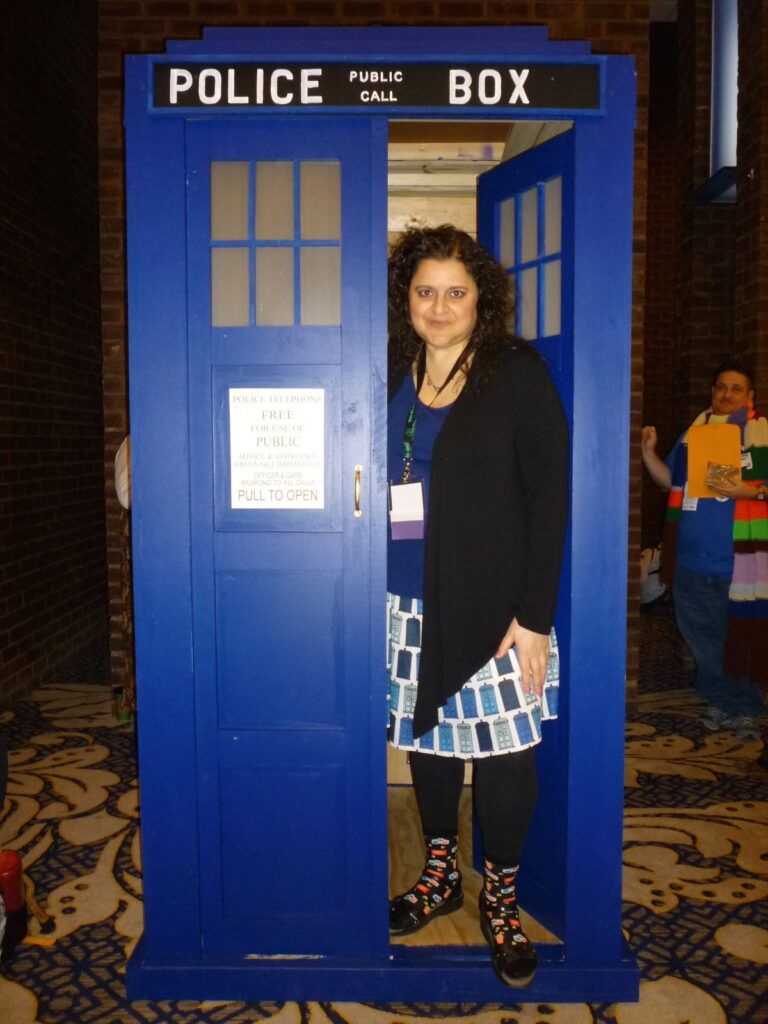 Although this convention did not have an opening or closing ceremony, they did have a feedback panel at the end. I didn't necessarily miss the ceremonies, as often guests would leave arrive late or leave early and miss it anyway at other conventions. I found this first (Re) Generation Who convention to be incredibly well organized. There was something for everyone. I hope this convention continues, as the East Coast needs a great Doctor Who convention like this. I highly recommend all Doctor Who fans to attend next year!