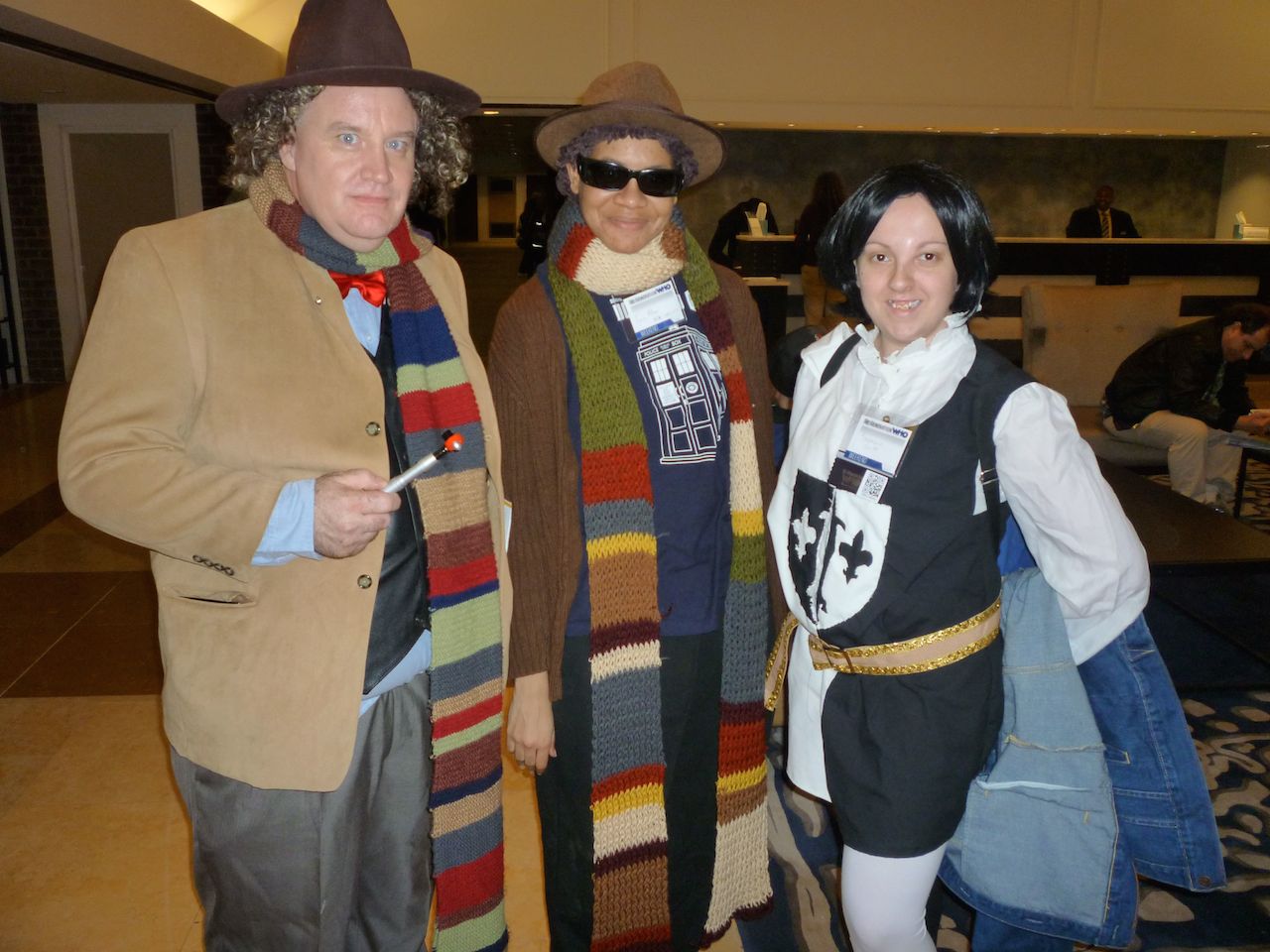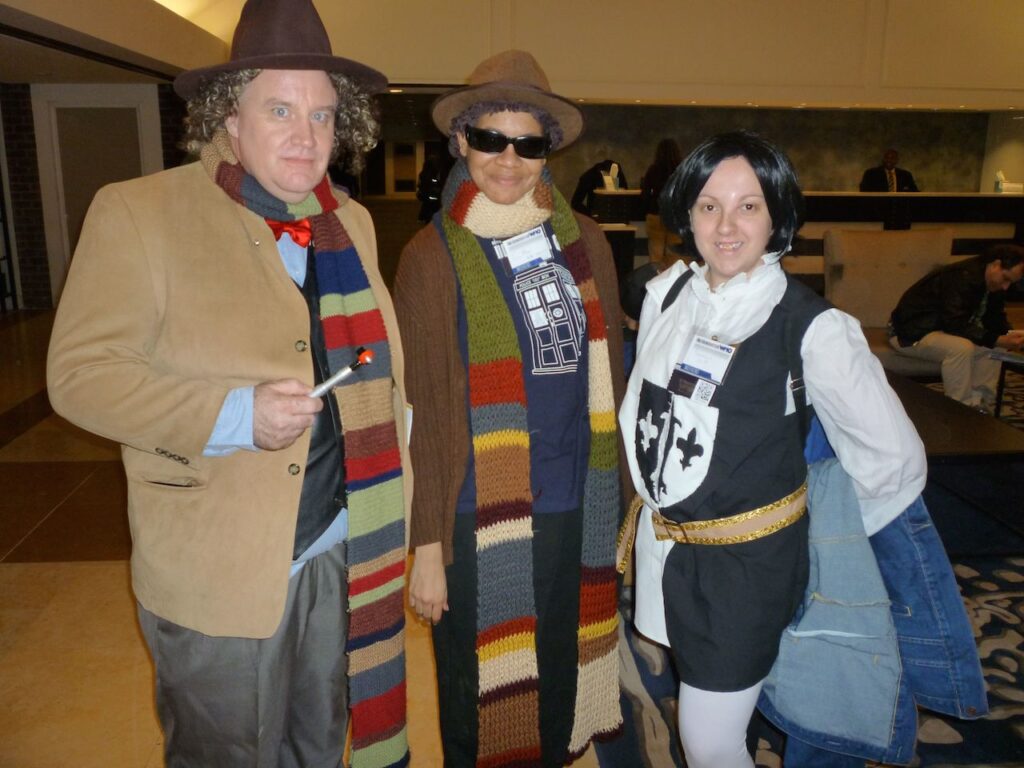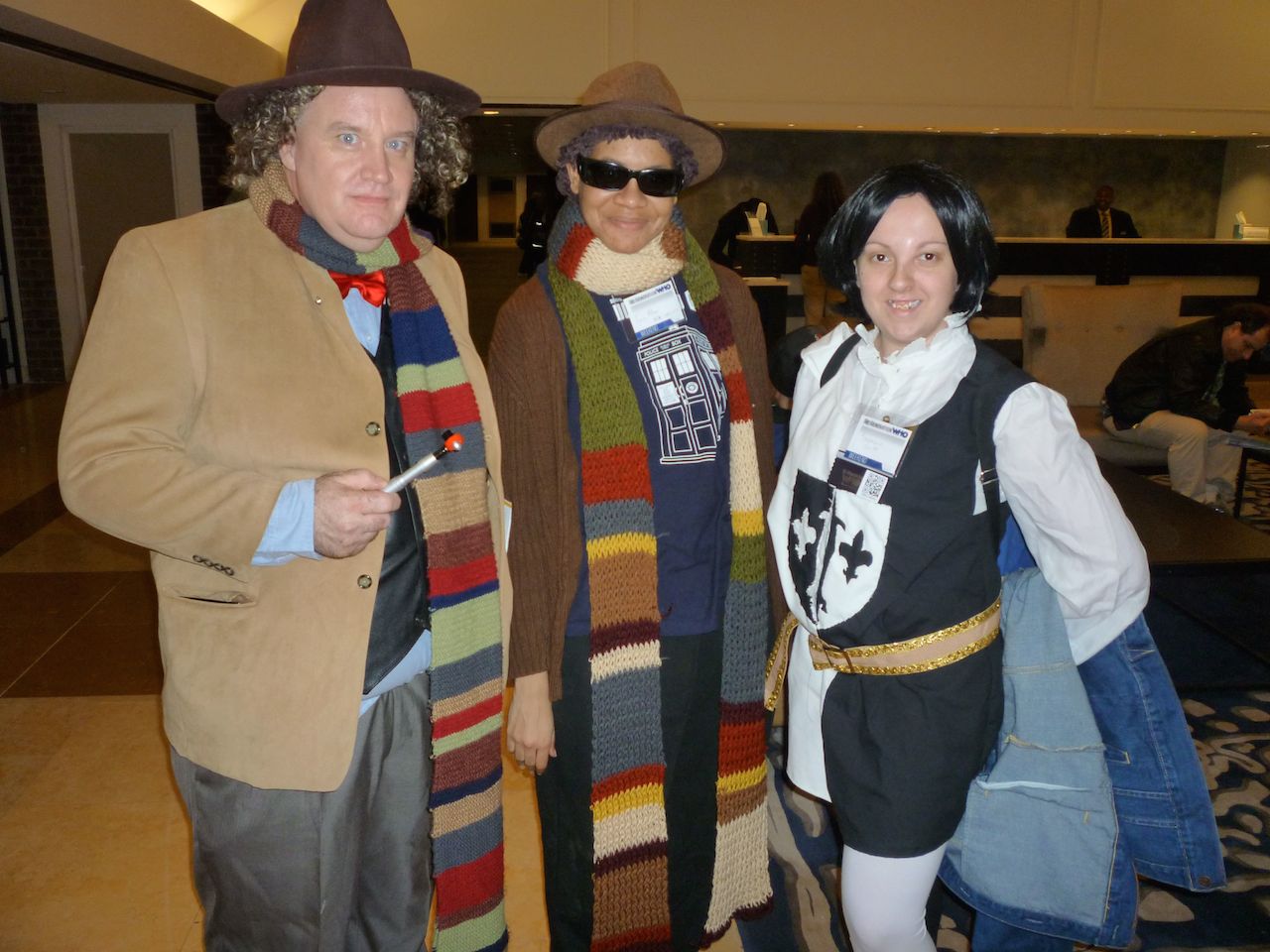 I was flattered to be asked to review the new Doctor Who Convention, (Re) Generation Who from March 27-29, 2015 in Hunt Valley, MD. I have been teased by friends that I am quite the "con-noisseur", which deemed me to be perfect for this assignment. I have attended many Doctor Who Conventions over the years including all of the Chicago TARDIS conventions, most of the Gallifrey One Conventions, several Visions Conventions and even a Doctor Who convention in London and Massachusetts. (Amongst other non-Who related Cons as well). Therefore, I took my assignment very seriously.
My Convention experience began with a lovely train trip from Washington, DC where I sat chatting with a fellow convention attendee from the U.K. We swapped many stories as we traveled in great anticipation of the new convention. Although this was the first Doctor Who convention run by Oni Hartstein and her staff, they had run several other conventions and had a great deal of convention running experience behind them. This convention did not disappoint.
After checking in to my room and securing my convention badge, I decided to walk around to check out the artwork and dealers that lined the hallway. I was greeted by a friendly Stephanie Manfre who was giving massages to convention-goers. I decided to save that pleasure for Sunday to insure that I had properly worn myself out enjoying the con first.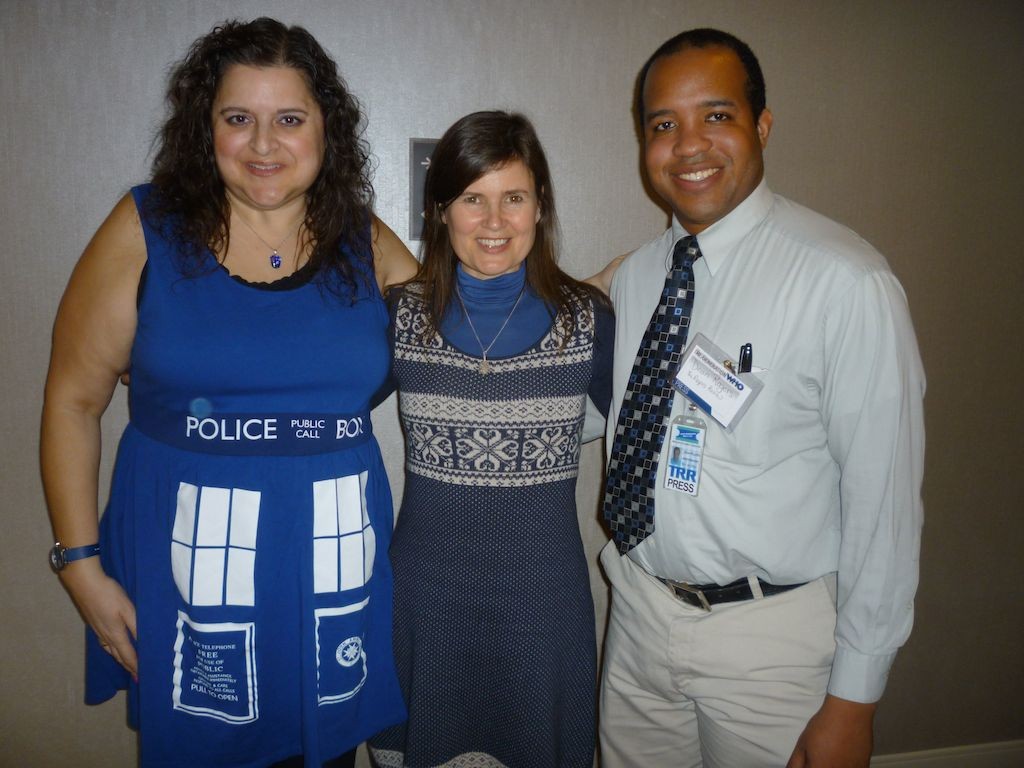 I did have a few press perks which The Rogers Revue will share with its readers. I was able to attain some wonderful interviews with Colin Spaull and Patricia Quinn. My associate and I also were able to secure some wonderful photos which will also be posted on line for fans of the magazine.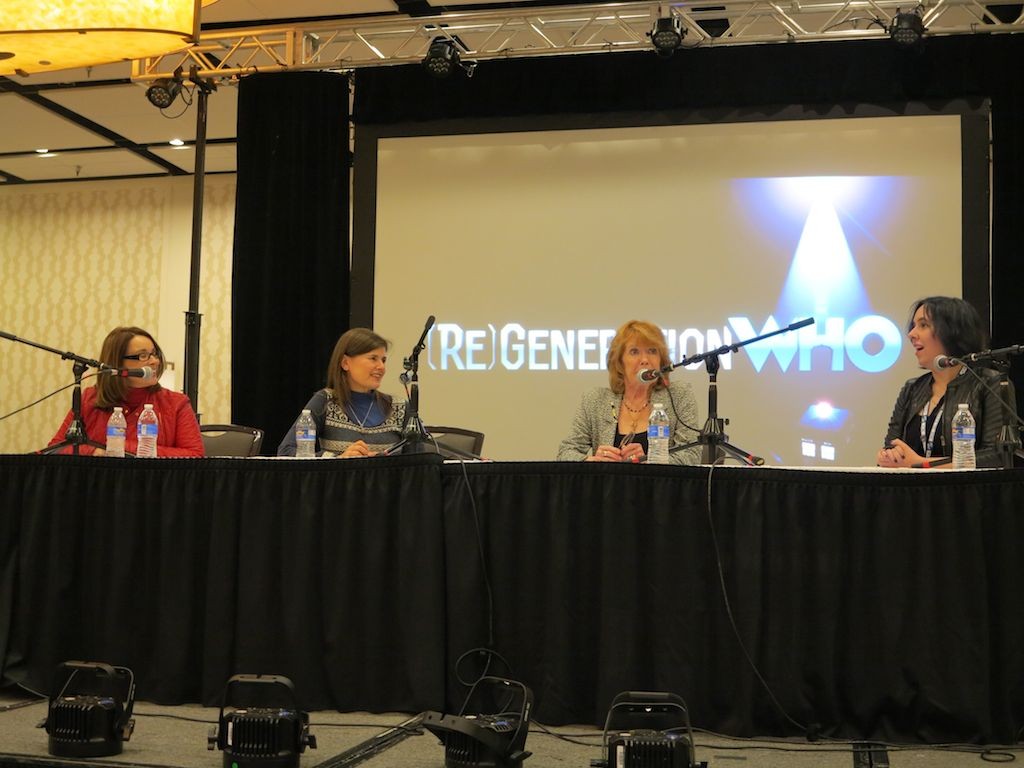 I then happily went to view the panels. I found the "Companion Panel" (with speakers Sophie Aldred (who played the 7th Doctor's companion, Ace), Nicola Bryant (who played Peri with the 5th & 6th Doctor) and (the 2nd doctor's companion, Victoria) played by actress Deborah Watling to be particularly funny. When they were asked to introduce themselves, Sophie decided to introduce herself to be Louise Jameson (who played Leela, the warrior, who was the 4th doctors companion), so Nicola introduced herself to be Sophie. This created a huge laugh from the audience who knew better.
Sophie then did an impression of herself on the show. She ran down the aisle and borrowed an "Ace" jacket from an audience member, ran back to the stage, jumped on the table and then crawled under it. She then grabbed an umbrella from another audience member and imitated hitting a "bad guy" in the show. She also threw a water bottle to simulate one of her explosives in the show. It was quite exciting. I didn't know where she got that energy, but, it was surely appreciated by the audience. Out outlet has posted this video on the website.
Nicola was quite funny when she announced that they would be wheeling her in to Big Finish when she was in her 80's to still play Peri. She did this impression in her best "little old lady" voice. Doing voices was not new to Nicola, as she had played an American companion on Doctor Who. Nicola told us an amusing story of how the BBC wanted her fans to really think that she was American so she had to "do the best acting of her life" in real life during interviews to keep up the appearance her first year on the show. Deborah told a humorous story of how several BBC employees informed her of when some of her lost episodes were found. Each of them told her not to tell anyone so she didn't. Five months later she phoned Frazier Hines (who also performed with the 2nd Doctor) to ask him if he was going to the viewing, only to discover that no one had told him. She had apparently kept the secret too well.
I spent my evening in the bar with several other convention attendees. One of the things that made this convention fun was the fact that the actors in the original shows are always much more accessible. I saw them hanging out in the bar with each other and the fans. One fan was telling me that Patricia Quinn had even walked up to her and asked to share her table for dinner. The family-like atmosphere reminded me of the first few years at Chicago TARDIS and Gallifrey One when we would hang out in the bar with the actors. I should rephrase that actually to say that the actors would hang out with the fans. It was all very casual and I was grateful to see such wonderful interactions.
The Con offered many late night activities. Friday night featured a Cosplay Show where those fans in costume could show off their finest. I happily walked around to view some wonderful costumes. Folks were friendly and welcoming and happily posed for pictures. Other late night performances included a Comedy Performance by Hannah Harkness and a Music Performance by Cat Smith. Unfortunately I had tuckered myself out before the performances but I did hear that they were wonderful. Kudos to the convention staff for getting some professional entertainment.
Saturday morning was the "pièces de résistance". The Con had managed to secure Tom Baker (who played the 4th Doctor) to join the convention via Skype. Mr. Baker had not been to an American convention in years. Fans began lining up at 9am for Mr. Baker's 11:30am panel. I interviewed a few fans in line to see if Mr. Baker was what drew them to the convention. Stephen Segal said "It would have been hard to resist coming to the 1st regional Doctor Who Convention, but the Tom Baker Skype appearance is really what sealed the deal". Joanna Dionne said "I came primarily because a friend is the chef who is cooking brunch (tea) with the Doctor, so we came for that and the Skype interview with Tom Baker who was my 1st Doctor. You never forget your 1st Doctor."
Being there via Skype was pure genius. (Re)Generation Who had collected questions for Mr. Baker in advance. They then read the questions and named the attendee who had asked the question. "I am a great source of benevolently silly things" Mr. Baker replied when asked about the Jelly Babies he enjoyed offering to villains to try to make peace. My favorite quote from Mr. Baker was "I may have hung up the scarf, but, I never stopped being Doctor Who. I am Doctor Who." The whole thing was very organized. Seating was done in order of the tier each Con attendee had purchased. My only disappointment with the convention was that one had to be in a certain tier to attend the "Tea with the Doctor" event on Sunday morning. I liked the idea of "tea" as it was different than the usual "brunch" that other conventions have been doing. However, it would have been nice to be able to purchase a separate ticket for that without having to purchase everything that a VIP ticket entailed.
Click here to continue Part II of the (Re) Generation Who Revue…