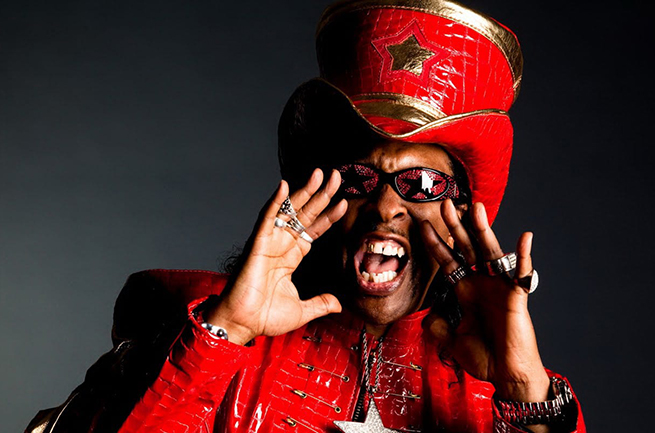 Rams Head Promotions announces Bootsy Collins at Maryland Hall for Creative Arts in Annapolis, Maryland on Sunday, August 20th. Tickets on sale Wednesday, March 22nd at 10am.

SHOW DETAILS
Sunday, August 20
Doors: 7pm  Show: 8pm
$65 – $75
FOR TICKETS:
Rams Head On Stage Box Office at 33 West Street, Annapolis, MD (410) 268-4545
Bootsy Collins is the man who put bass in your face – the original funk 'n' roll wild child, the Godzilla-toned high minister of the all-powerful "one," a sly dog who – with his trademark psychedelic stovepipe, knee-high platform boots, and star-studded bass guitars – makes the Cat in the Hat look tame. Inspired by Jimi Hendrix and tutored by no less an authority on the big beat than James Brown, Collins has stomped his way through the last 40 years of music history and lived the high life. He has been inducted into the Rock and Roll Hall of Fame along with the other members of Parliament-Funkadelic.
Having collaborated with scores of artists, including Ice Cube, Steve Jordan, Bernie Worrell, Bela Fleck, George Duke, and Buckethead, and contributed to numerous classic recordings like Deee-Lite's "Groove is in the Heart," Fatboy Slim's "Weapon of Choice" (for which he won a Grammy Award), and cuts by Snoop Dogg, the Red Hot Chili Peppers, Eddie Kramer, Buddy Miles, and more, what has Collins learned over the course of his career? "What all of this – my music, my life – is about, is liberty," Collins explains. "It's about pursuing the sounds and ideas and things that you believe in and that you feel. The best music urges you to open your mind and your heart and take a bigger look at the world and what you can bring to it."
Bootsy will be performing many of the P-Funk Classics as well as his own solo hits including:
I'd Rather Be With You
Ahh… The Name is Bootsy, Baby!
BOOTZILLA
P.Funk (Wants to Get Funked Up)
Stretchin' Out (In a Rubber Band)
Flashlight…..And many more