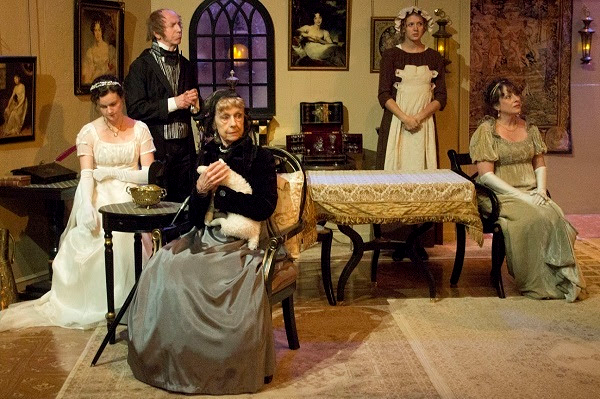 Quotidian Theatre Company announces its 17th season, which includes a fresh take on an international classic, a modern comedy from a Tony award-winning playwright, and an early work from the company's favorite dramatist.
Quotidian's mission is to find truth and beauty in the everyday, presenting plays in an understated and impressionistic style, relying on piercingly truthful acting and no-frills storytelling. By providing realistic situations and dialogue, the company lets audiences witness events as if over a backyard fence or through an open window, thus illuminating the depth and dignity of ordinary human experience.
Running October 24 – November 23, 2014 at QTC is "Hedda Gabler", Henrik Ibsen's classic portrayal of a woman trapped by society's standards. The production will feature a new adaptation that updates the play's action to a time of sexual revolution and political turmoil: 1963 Georgetown in Washington, D.C. Michael Avolio, director of this season's critically acclaimed and bestselling Quotidian production of "The Iceman Cometh", will helm "Hedda Gabler".
Ever since the company's surprise hit "The Mollusc" in 2008, QTC subscribers have been eager for more Quotidian comedy. April 17 – May 17, 2015, Quotidian will stage "Lettice and Lovage", a delightful play that focuses on two mismatched women as written by Peter Shaffer, playwright of the Tony award-winning drama "Amadeus" and the hilarious farce "Black Comedy". The production will be directed by Louis Pangaro and will feature Quotidian favorites Jane Squier Bruns and Leah Mazade.
Closing out Quotidian's 2014-2015 season, QTC artistic director and co-founder Jack Sbarbori will direct his eighth Conor McPherson play — "This Lime Tree Bower" is a three-person storytelling drama in the vein of the playwright's "Port Authority" and Brian Friel's "Faith Healer", both of which have been seen on Quotidian's stage. Running July 10 – August 9, 2015, "This Lime Tree Bower" is one of McPherson's earliest works and will compliment the company's hotly-selling US premiere production of "The Veil", one of McPherson's newest plays, which was also directed by Sbarbori and closes next weekend.
Patrons who subscribe to Quotidian's 17th season before October 31 will see all three plays for $60, saving as much as $30 on regular ticket prices. Subscribers also enjoy reserved seats for any performance upon request. Further details can be found at the company's website, quotidiantheatre.org.