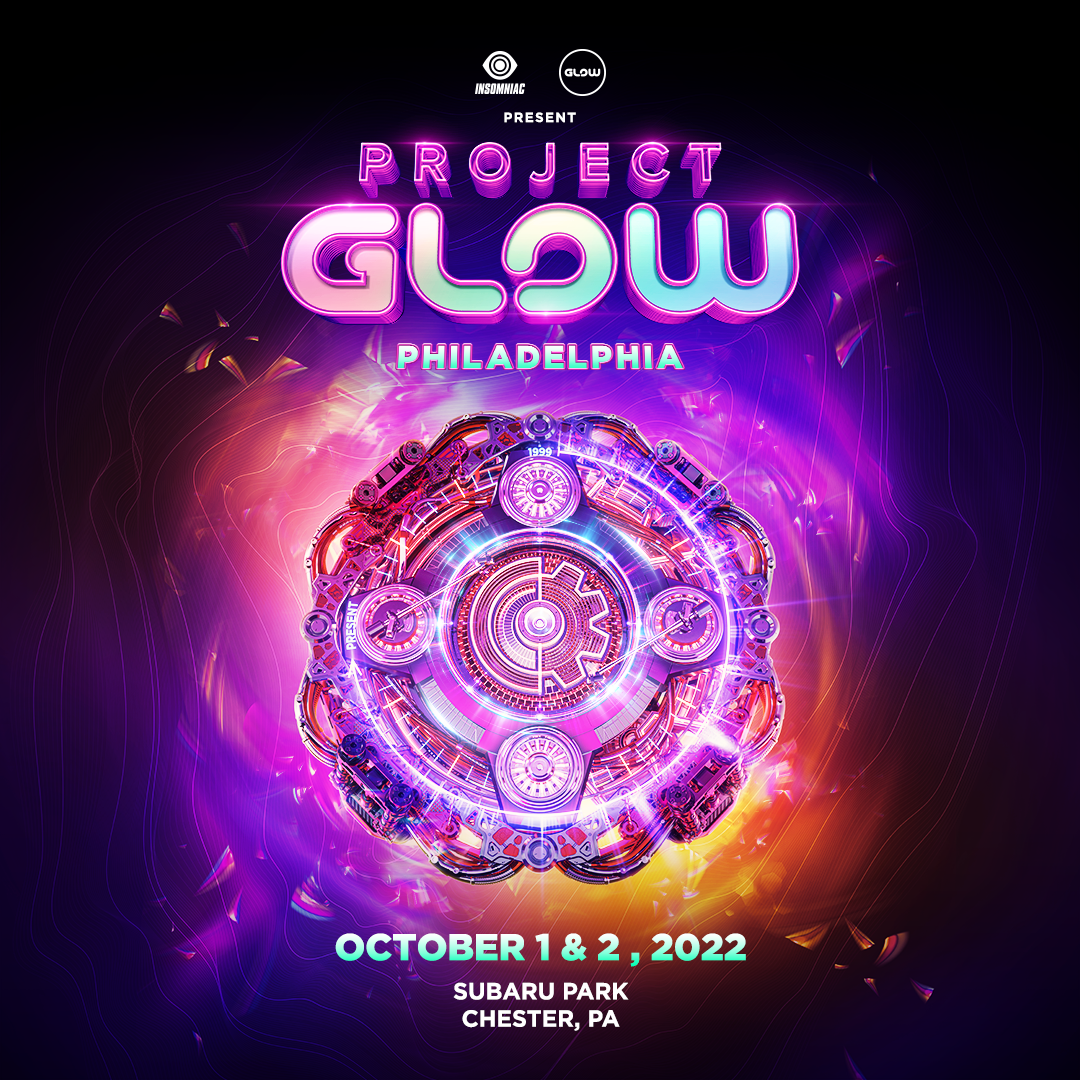 Over the weekend, Insomniac and Club Glow's inaugural Project Glow Festival had a monumental debut, marking the first-ever dance music festival to be held in Washington, D.C.. More than 40,000 attendees explored the transformed RFK Festival Grounds for two days to celebrate 20 years of dance music culture. A colorful spectacle of three neon-lit stages and a lineup of more than 65 music acts, each with a rich history to the city and Club Glow, created the outdoor Spring affair against the picturesque backdrop of the Anacostia River. During a surprise reveal with posters and flyers posted all throughout the Project Glow DC festival grounds, the second edition of Project Glow will transform Subaru Park just outside Philadelphia, PA on Saturday, October 1 and Sunday, October 2. Tickets to Project Glow Philadelphia are on sale this Friday, May 6 at 10 a.m. ET at ProjectGlowFest.com.

Upon entering into the vibrant atmosphere of Project Glow, The Eternal Stage and The Pulse Stage were on full display. Where the timelessness of sound reverberated, the 111 foot wide structure of The Eternal Stage was decorated by more than 150 lights, 10 flame units, and a sea of confetti raining over the crowd. The mechanical gears represented in the stage design and the Project Glow artwork depict the continuation of dance culture's sound and time since the 90's. Specially curated with a roster of artists significant to Washington D.C.'s music scene over the years, The Eternal Stage showcased incredible artists like Above & Beyond, who first performed at a Club Glow event back in 2007, and Martin Garrix, who debuted at Club Glow's Echostage back in 2015 following the release of "Animals", his first of many award-winning tracks. In a fitting performance, the first artist to ever play at Echostage during its 2012 grand opening, Roberto Gonzalez, kicked off Project Glow in an early first day appearance.

The Pulse Stage created an immersive, 360 degree music experience through a sea of LED lights and video towers positioned within the audience, while Diplo's Higher Ground and Insomniac Records each brought their signature style and house music sounds to the stage. John Summit, Walker & Royce, Meduza, Noizu, MK b2b Sonny Fodera and more brought high-energy performances. Within Unity Square, the festival's central hub for socialization and refreshments, the BoomBox Art Car showcased the spotlight on the local region's best up-and-coming talent.

Project Glow also partnered with homegrown nonprofit organizations GOODProjects and DC Vote to contribute to the surrounding community. DC Vote's interactive art piece prompted festival goers to add their own color to a black and white stretched canvas and create art, all in the name of DC Statehood, which will now permanently live on display at Echostage. GOODProjects and Project Glow brought volunteers together who helped with neighborhood clean-ups, prepared garden beds for planting, and other activities during the week leading up to the festival, with GOODProjects information also on full display for attendees to learn more about their services.

Welcoming those from up and down the East Coast to experience the electronic community that's been built in the District, dance music culture has been embedded into Washington, D.C. for more than 20 years. Recognizing the connection to Philadelphia and all of those that have traveled over the years to the world's #1 nightlife venue, Echostage, as well as Project Glow Festival this past weekend, Philadelphia is the perfect spot to sit atop the expansion list for Insomniac and Club Glow. With plenty of new surprises, attractions, and a monstrous lineup of dance music artists awaiting fans in Philly, tickets for the October 1-2, 2022 festival are on sale this Friday, May 6 at 10 a.m. ET at ProjectGlowFest.com.

Home to Major League Soccer's Philadelphia Union team, Project Glow's next edition will transform the festival grounds outside the state-of-the-art Subaru Park stadium alongside the Delaware River Bank. Conveniently located next to the Commodore Barry Bridge, Project Glow Philadelphia is easily accessible from neighboring New Jersey and comes to enrich the Northeast's live entertainment offerings.

Follow Project GLOW on Facebook, Twitter, and Instagram or visit www.projectglowfest.com. For additional information about Insomniac, please visit www.insomniac.com. For additional information about Club Glow, please visit www.clubglow.com.