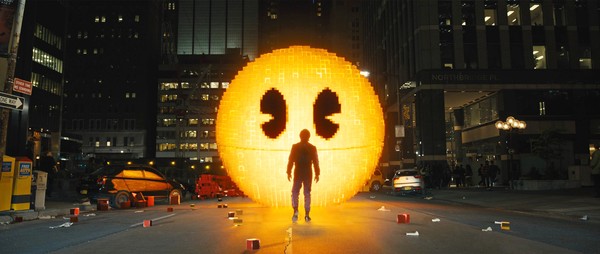 If your time is split evenly between longing for the past and lamenting about the present, then you need to see Pixels, a delightfully silly trip down memory lane that the whole family can enjoy.
The film opens with the 1982 World Video Game Championship. Sam Brennan, buoyed by the support of his friend Will Cooper and "Wonderkid" Ludlow Lamansoff, is ready to become the King of the Arcade because he knows the patterns behind the games. He is soon thwarted by Eddie, a child who is inexplicably accompanied by scantily-clad models, and Donkey Kong, a game that did not follow the patterns Sam knew how to beat. Sam loses the game, his confidence and his future. Pretty dramatic consequences, but this is a film straight out of the era of our childhoods. There is no room for subtlety!
As adults, Cooper (Kevin James) is the President of the United States and Brennan (Adam Sandler) is a depressed cable guy who gets to visit the White House because they are still best friends. Brenner soon gets to do more than just wander through life after a military base gets attacked by a real-life video game. It turns out that the footage of the 1982 championship games which was sent out into space by NASA was mistaken for a declaration of war and really pissed the aliens off. The only people who can save the planet are video game nerds Brennan, Cooper, a grown-up Ludlow (Josh Gad) and a military commander with a name straight out of a video game (Violet Van Patten) is played with perfect wry wit by Michelle Monaghan).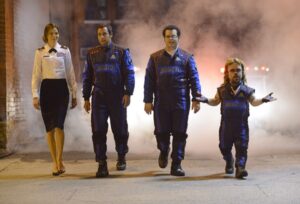 Pixels is a nostalgia fest in more ways than one. Hopefully this marks the return of family movies that do not concern themselves too much with plot holes. It's a film about video games attacking the world, not a spy thriller, so there is no need for every detail of the story to fit into a realistic timeline or be bound by the laws of reality. It also reminds us of the days when Adam Sandler movies were inventive and irreverent instead of idiotic. This movie improves upon the old Sandler magic with excellent casting and more attention to character development. Peter Dinklage's performance as the grown-up Eddie Plant steals every scene and could justify a sequel on its own. Violet Van Patten is allowed to actually fall for Brennan instead of the typical "impossibly attractive woman is already in love with Sandler's loser character" tripe that the audience is expected to eat. The exception to this rule is that Jane Krakowski is cast as the First Lady and she barely says a word. She doesn't even make funny faces. This woman is one of the most hilarious people onscreen and she doesn't get a single laugh in an Adam Sandler movie. That still bothers me. Writers: she deserved better.
It is not a perfect film by any means, but it is a welcome addition to the summer lineup and to Sandler's resumé, which has ranged from lackluster to WTF recently. I enjoyed the special effects, the old pop culture references and the brightly colored game characters from years gone by. Please go see it for yourself and let us know what you think. Tip: skip the 3D and feel free to leave once the credits start.
Final Grade: B