P!nk Shares Her Truth and It's Awesome
5 min read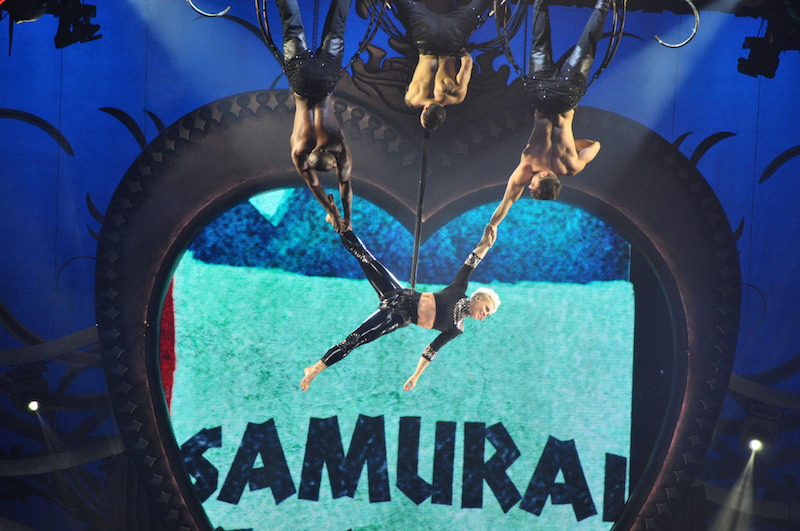 Concert Revue by Stephanie Taylor – Photography by Dean Rogers
She was rocking a blonde buzz cut and bangs before Miley, flying over the audience before Beyoncé, and using punctuation in her name before Ke$ha. IT'S P!NK, people, and if you didn't know she was a big deal before Sunday's concert at Verizon Center, now you know.
The Kin, a trio that is helping the Hemsworths perpetuate the idea that every Australian is guy is smoking hot, opened for the wife/mother/queen of pop rock and they were fantastic. Lead singer Thorry Koren got the ball rolling with "Get On It" and I honestly do not know what was more enthralling – the sound of his voice or the sight of his long hair flying back and forth while he jammed out on the guitar. These dudes were explosive! The drummer played with his bare hands! Isaac, the younger Koren brother, even broke out a didgeridoo while the drummer showed everyone exactly what he could do without any drumsticks. All three of them were adept at engaging the audience, inviting us to clap and sing along during "Mary," a sweet ode to mothers and "America," which ignited everyone's inner patriot. I loved them and they definitely did not overstay their welcome. I actually wanted to hear more from The Kin when they left the stage and were replaced by a very odd emcee.
The host for the evening was Rubix Von Füchenhürtz, a clownish dude who had been doing crazy things like drinking other people's beers and kissing bald heads all evening. He even starred in a video with two other versions of himself lip syncing to the title track of P!nk's latest album, The Truth About Love.  But that was definitely the only lip synching that happened that night. It was obvious during the opener "Raise Your Glass" that we were hearing P!nk live, even though she was upside down.
Her tour should be renamed The Truth About Being a Badass. I don't know why SHAPE magazine doesn't have her on the cover every single month. I know women aren't supposed to be judged by their looks and a lot of these magazines just try to body-shame us into buying a slew of products, but no one can deny that Her Pinkness is super fit. She has solid abs that are visible from hundreds of feet away and she made holding on to a spinning cage look effortless.  And she did seemingly impossible acrobatic feats while belting out her songs. During all of "So What," she was connected to several bungee cords and sang while performing somersaults in mid-air, stopping only to stand on a tiny square platform to greet her fans in the balcony seats. I have never heard anyone sound so flawless while flipping! She actually sounds better live than she does on recordings.
As if her amazing vocal talent weren't enough, P!nk played the drums for the intro of "Are We All We Are" and the piano for all of "The Great Escape." We also got to see her dance moves as she took us back to the turn of the century with a great mash-up of "Most Girls," "There You Go," and "You Make Me Sick." In spite of her magnificence, she was still goofy and likable, graciously accepting gifts for herself and daughter Willow and having conversations with different people in the crowd. One of her funniest moments was when donned a gifted hat that clapped when its strings were pulled. She walked all over the stage gushing about how much she loved it while the tiny hands applauded.
The 2nd D.C. installment of The Truth About Love tour shows why so many people love her (and judging by the number of similar hairstyles, want to BE her). P!nk is an incredible performer and while people try to copy certain elements of her persona, she is truly one of a kind. Get her album and see her show so you too can know the truth about talent.
Tour Website: http://thetruthaboutlovetour.com/
Venue Website: http://verizoncenter.monumentalnetwork.com/