Paula Cole Visits Vienna
3 min read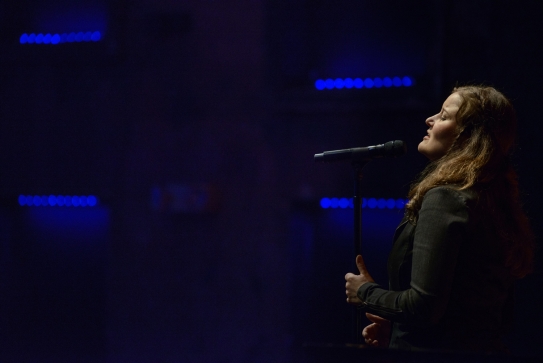 Paula Cole proved herself to be a real barnstormer on Sunday night in The Barns at Wolf Trap. The performance was the perfect blend of electric and intimate; anyone who enjoys listening to music for music's sake absolutely must hear Paula Cole perform live!
Australian Daniel Champagne and his guitar opened the evening for us, and his performance was…interesting. With his floppy, asymmetrical hair and full-on hipster regalia, there was definitely a generation gap between him and nearly all of the audience. Adding to his "other-ness" was the way he handled the guitar. Champagne's careful cradling and angling during songs such as "The Nightingale" and "Holding the Moon" was so distracting that after seeing the way he moved with his guitar, I could not enjoy the music without looking at him to see what he was doing to produce the sound. He created layers of beats and effortlessly faded out the end of his songs without the aid of any modern production equipment, so his overly involved method of playing was not without its value. My review of this young man is mixed, but I can unequivocally say that he knows how long an opening act should sing. After 4 songs and 1 hilarious short story about his elderly stalker, he thanked us and left the stage.
Shortly thereafter, Paula Cole and guitarist Jim Henry sauntered out, dressed in all black (I don't know why musicians do this…don't they know the lights are hot? We could see their sweat stains), and got right down to business. With her gorgeous, attention-demanding voice, it's easy to forget that Paula plays the piano beautifully, well at least it was for me. "Happy Home" reminded me of all the wonderful elements of Paula Cole's music that I had forgotten, in addition to the intricate piano arrangements. Her vocals leapt from forceful whispers to primal belts, and hearing the notes soaring up to the rafters at The Barns was an experience I will not soon forget.
We were treated to a variety of Paula's music from the past 20 years, and her range, both vocally and lyrically, is nothing short of amazing. She unabashedly brought out her sultry side in "Billy Joe," plaintively crooned a country tune with "Eloise" and smugly changed the lyrics in "Where Have All the Cowboys Gone?" so that the dissatisfied protagonist gets to go have a "beeeeer." All of this delighted the crowd, and we were so completely in Paula's pocket that we accompanied her with snaps for approximately 7 minutes at her request. Both of my middle fingers were sore, but I feel like helping a remarkable talent make music, even if for just a little while, was a worthy cause.
It may be some time before Ms. Cole shakes up Northern Virginia again, but do not despair! Her latest album "Raven" is available for purchase, and The Barns has plenty of amazing performers to pair with their awesome acoustics on their schedule for the rest of this year.