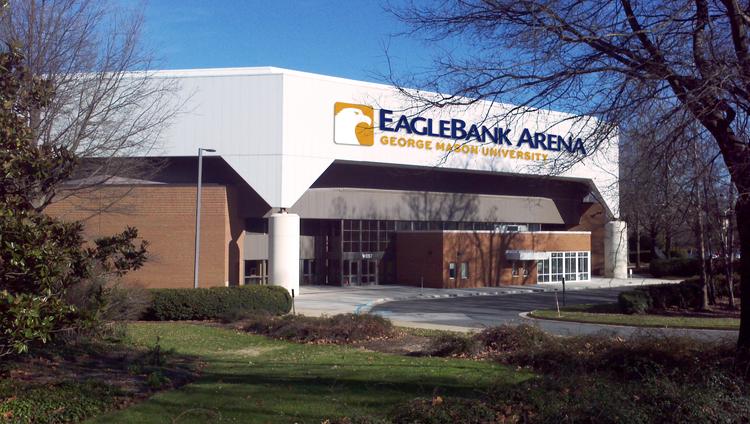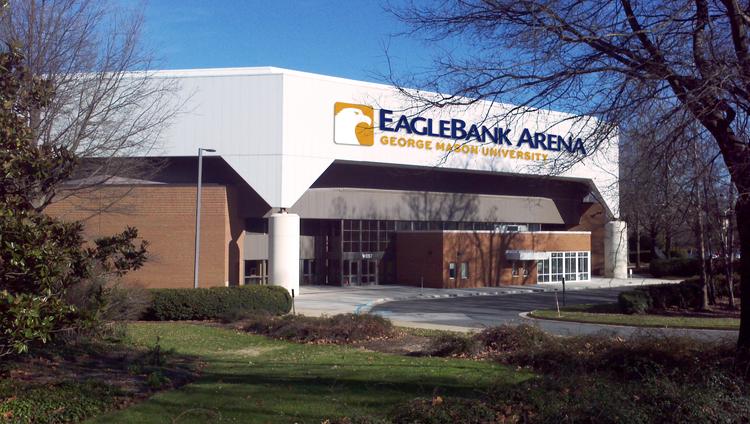 EagleBank, one of the leading community banks in the Washington, D.C. area, today announces a multi-million multi-faceted, long-term strategic alliance with George Mason University. As part of the agreement, George Mason University's Patriot Center will be renamed EagleBank Arena. EagleBank's alliance with George Mason University spans a broad array of substantial education-related programs including scholarships, internships, lectures and seminar series.
The agreement provides for a minimum $6.6 million commitment by EagleBank to the university over 10 years. It also includes the unilateral right of EagleBank to extend the agreement for up to a total of 20 years; in such case EagleBank will have provided $13.7 million in funding to the university over that 20-year span.
"As a local bank, we are delighted to partner with one of the region's most prominent universities," said Ronald D. Paul, Chairman and CEO of EagleBank. "In entering into this array of support, EagleBank underscores not only our commitment to Northern Virginia and the region, but also to the creation of a multi-platform alliance that will support education, job growth and future economic prosperity throughout our community."
"This is a landmark moment for George Mason University and EagleBank," said Mason President Ángel Cabrera. "Our shared vision goes beyond the financial contribution that will benefit so many people. This is about a relationship between two great institutions that have a stake in the community and are investing in the future of our region."
Highlights of the new partnership between EagleBank and George Mason University include EagleBank's sponsorship of a series of business leadership development programs, all with the emphasis on educating and mentoring Mason students about leadership and entrepreneurship. One such activity will be a lecture series where bank executives will host an educational and business-focused speaker series for Mason students, faculty and alumni. EagleBank and Mason will also create an annual internship/apprentice program, which will allow qualified Mason students to participate each semester in EagleBank operations. Additionally, Mason will provide an opportunity for EagleBank to serve as consultant to the master's in Real Estate Development program on campus.
"Our relationship with George Mason will flourish because of our shared values—we both have an interest in community service, integrity and continued development of the region," said Robert Pincus, Vice Chairman of EagleBank. "We are confident that this alignment will carry forward well into the future, as EagleBank's commitment to area residents is synergistic with that of George Mason University."
"This incredible commitment from EagleBank will serve as a tremendous catalyst for the continued strengthening of the national and international reputation of George Mason basketball, the Atlantic 10 Conference and the university," said Assistant Vice President and Athletic Director Brad Edwards.
The Patriot Center, which will be officially renamed EagleBank Arena on July 1, opened on Oct. 4, 1985 and is a 10,000-seat multi-purpose sports and entertainment venue in Fairfax, Va., on the campus of George Mason University. Managed by Monumental Sports & Entertainment, the arena is home to the Mason men's and women's basketball teams, as well as sporting events, concerts and family shows.
Playing host to more than 3,500 events with more than 12 million in attendance, the arena was ranked third nationwide for top grossing venues with a capacity of 10,001 to 15,000, according to Billboard and eighth worldwide for top grossing venues with a capacity of 10,001 to15,000 according to Venues Today in 2014.
Bruce Springsteen, Sting, Keith Urban, Marc Anthony, Selena Gomez, Disney on Ice presents Frozen, Ultimate Fighting Championship (UFC), World Wrestling Entertainment (WWE) and the Harlem Globetrotters have all played at the venue during its storied history. The arena will be celebrating its 30-year anniversary in October.