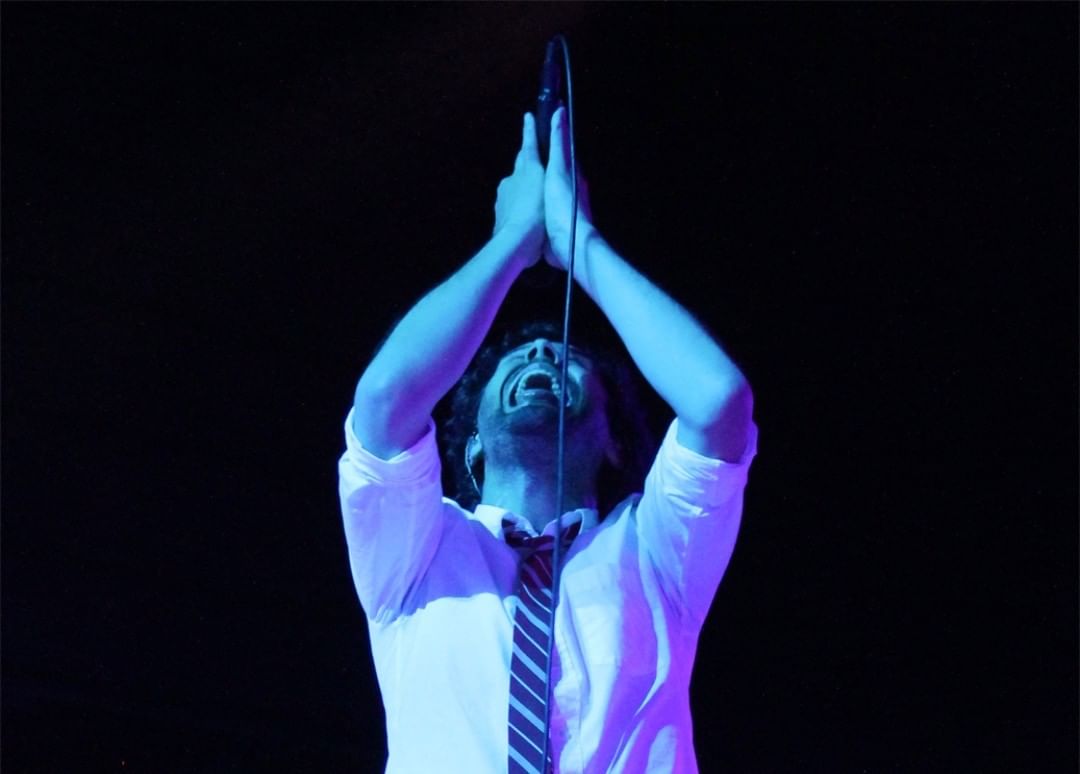 It has been 10 years since Passion Pit's debut breakthrough LP Manners was officially released. To celebrate the occasion the sythpop group decided to head out on a special one month anniversary tour which came to a magnificent end right here in our nations capital.
By nights end Micheal Angelakos was thanking the audience for giving him a renewed interest in wanting to return to DC and making the last night of the Manners 10th Anniversary Tour a special night to remember. The Anthem on this night was hipster paradise. There were sandals, sundresses and group selfies flashing at every angle. Short bursts of dancing and cheering would erupt from all the young women and men celebrating the feeling of musical euphoria. Even though The Anthem was nearly sold out. There wasn't any pushing, no people fighting to get closer to the stage. There was just a pure admiration for amplified sound. I didn't even break a sweat and that is remarkable for a nearly sold out 6,000 capacity music venue.
It all started with an opening performance from The Beaches an all female alt rock band based out of Ontario Canada. I wouldn't be going out on a limb to say this is one of the best live rock acts I've seen in a few years. I would describe them as a mix between punk and classic rock. They use the quintessential ingredients for rock n roll:  drums, bass, guitar and a keyboard that sounds like a Hammond B3 organ. There a female version of The Zombies with attitude or maybe a punk rock version of Heart. Who really stood out was keyboardist Leandra Earl. Halfway through the set she did an organ solo that was a show stopper! The closest comparison I can draw would be Rod Argent of The Zombies or maybe Grace Potter. They are a fantastic live act!
Everything about Passion Pit screams social American at a Micheal Angelakos falsetto pitch. Their melodic hooks are like a magnet drawing the audience into the performance in chant. Micheal Angelakos is the poster child for what business casual Friday feels like in the office. Passion Pit opened with Make Light which visually make sense for an opening song because the stage lit up in an array of neon tubes flashing with samplers and synths. They followed Make Light with what I would consider an absolutely amazing block of music Little Secretes, Moth's Wings, and The Reeling. Songs like Little Secretes and The Reeling are synth masterpieces. The keyboards are use for maximum melodic impact, Passion Pit doesn't use a lead guitar so the keyboards have to take the lead and they do it effectively.
For an encore they performed I'll Be Alright, Lifted Up (1985), Constant Conversations, Carried Away and Take a Walk. I really enjoyed Lifted Up (1985). It's a catchy little tune that will have you screaming "1985 was a good year!" Take a Walk was memorable! A sea of arms were swaying back and forth singing along. It was an amazing experience and a fantastic final chapter to this tour. On this evening Passion Pit left a great impression with everybody who came to see them.