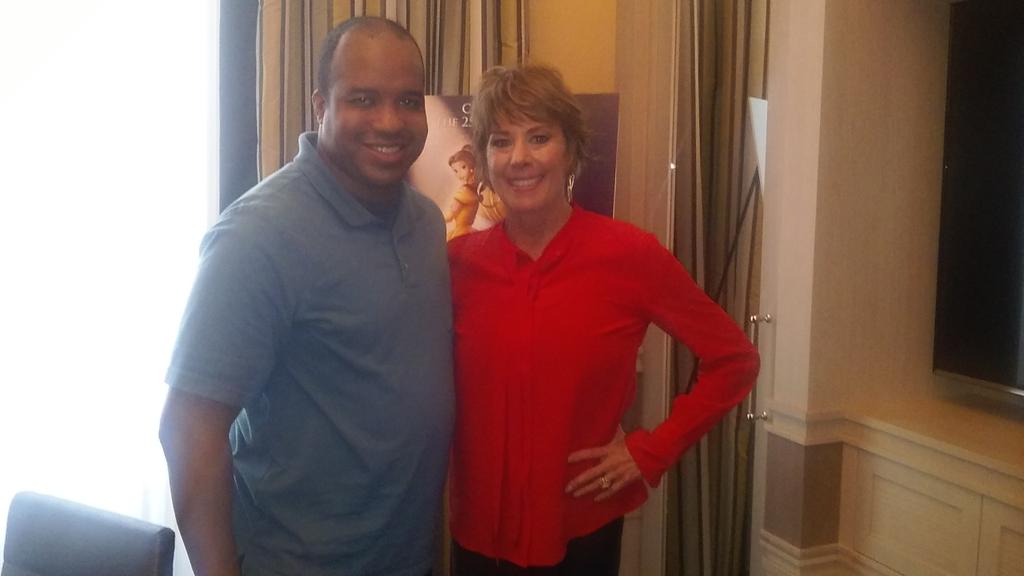 On this magical edition of INTERVUE, I recently sat down with Disney Legend Paige O'Hara who in 1991 played Disney princess "Belle" in the animated masterpiece "Beauty and the Beast". Today, Walt Disney Studios Home Entertainment is releasing the Beauty and the Beast 25th Anniversary Edition on Blu-Ray which include never-before-seen bonus extras. Sit back and relax as I talk to Paige about this timeless classic.
Paige, it's been almost 25 years the original release of Beauty and the Beast. Did you have a feeling 25 years ago you were going to be part of a masterpiece?
You know, in the beginning we didn't realize it. I think I finally realized it's going to be a true classic when was we did the unfinished version for the New York critics at Lincoln Center. We had a little in trepidation about it and we were all sitting there kind of nervous. After the opening number of "Belle", the critics started applauding. They applaud every song and stood up for ten minutes at the end. And being a Broadway theatre actress, I know how tough they are.
(we all laughed at this point)
So, we all had a feeling that this is even better than we thought. Certainly once the film came out and we saw the whole thing and the reaction from the public. I mean even with the movie theatre people applauding and carrying on, we knew that we had something that's going to be a classic. Now, at this point, I think you can use the word "Masterpiece". I can say that word, thank you for that.
Your welcome. Especially that it won the Academy Award for Best Original Song and Score and was nominated for Best Picture. It's a "Tale as Old as Time" I like to know as a voiceover artist, you have to approach the role by reading the material which in the case, it was based on a book. How did you approach playing Belle? 
Just like I do with a role on stage but it's a little trickier because it's got to be so realistic. I had to learn to just be myself because that's what they hired me to do. When I first start recording the first day, I was like playing to the second balcony and projecting my voice. You know, I was just nervous. The more I went along, the directors and Howard said "Paige, we want Paige in Belle. What you are. We want your voice. Don't alter your voice." She, for one, is an older princess; the eldest of the Disney legacy.
She's in her twenties while the others are all in their teens. "We want her to have a old soul and a older maternal quality." So, I had to put this in my own head. You know, I've always hidden behind the characters that I play on Broadway and be kind of this wall but I had to let that wall down as Belle. So, that was a Paige challenge which I was encouraged so much by and when Robbie (Benson) was hired and we recorded together, that wall came down totally once he came onboard.
Other than Belle, what is your favorite Disney princess?
You see now, my friend Jodi will be mad at me because she's Ariel and she's a good friend of mine. Truthfully, Mulan.
Really, why Mulan?
I love her strength. I see I think that Belle paved the way for Mulan because up until that point, you didn't have heroines that were bookworm, not looking for a man, that had that kind of inner strength as well as that love for the parent. I mean that resonates more now 25 years later with both of my parents are gone that she gave up her life for her father. This sort of set the tone and motion for Disney to go much further with the female heroines after that.
We can say that Mulan is equal with Belle. 
She's very similar in a lot of ways. I feel that's why I am partial to her. She's the reason why I am in martial arts.
I understand that you are a painter now and I saw some of your work on your website. How did you get into that?
I been painting since I was three years old. My stepdad was an architect and there were always art supplies around the house. I started doing watercolors at that age. Then I started acting class around five or six years old. I would do watercolors for my acting teacher. She was very tough on me in class. So, instead of an apple, I gave her a watercolor and to this day, she saved a lot of them. I always painted and it's my outlet, my escape and my hobby. I like to copy the famous artists. One time, I got my dad's books out. Turner, Sargent, Da Vinci. There were all these books he had and they ended up in my house in New York. I just copied these artists and learned when I copied them and sold them on the streets in New York. They helped pay the rent, voice lessons, acting classes.
It's been a part of my life and it's kind of wonderful that I am making money at it now. It's just wonderful to share it with people because I am sharing these characters that I know. A lot of artists at Disney Fine Arts, some of them are more talented than I am, more experienced and more book learned – that sums up their art. I am self-taught but they all say that I capture the emotion of Belle's eyes in her face better than any of them. It's like the highest compliment in the world.
At this point, Paige showed us one of her drawings that will be featured on the Blu-ray this week.
What advice would give to person who want to become a VO artist, Broadway actress or a painter?
Study, study, study. I think it is really important to study and get the right teachers behind you but also you have to take the responsibility on your own to study the artists that you admire and inspire you. For me, Judy Garland was a huge point in my life. Mary Martin from Broadway and Julie Andrews – royalty. You need to study like I studied all the musicals. The history of musical theatre for I wanted to go into musical theatre. I wanted to know every composer. I just don't want to know whose popular at the moment. That's the biggest flaw right now with a lot of kids starting out. They don't know where it comes from. I think once they do, their appreciation for what they are doing at the moment will be so much greater.
Stephen Sondheim once said "The greatest song was once written by Jerome Kern & Oscar Hammerstein" which is "All the Things You Are". They asked Stephen "Well, how come you couldn't write that?" He said "I could never write You Are the Breathless Hush of Springtime. Oscar believed that." He was his neighbor, friend and mentor. He said that "Oscar believed that there is a bright golden haze in the meadow. I could never write that stuff." I thought it was really interesting that the most brilliant writers of all time, Sondheim, said that about Hammerstein and Kern.
Are you excited for the upcoming Beauty and the Beast?
Oh of course, I really am. I think its going to be fanastic. Don Hahn, the producer, tells me that they stuck really closely to our film – to really sort of passing the baton. Emma would be my casting if I were producing it. She knows how I feel about her. I adore her.
Thank you Paige for your numerous talents! Be sure to check out her website to see her paintings at http://www.paigeohara.net and grab Beauty and the Beast 25th Anniversary Edition on Blu-Ray TODAY wherever DVDs are sold