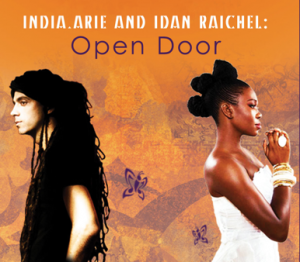 The spiritually soulful duo of India.Arie and Idan Raichel graced the stage of The Music Center at Strathmore in Bethesda on Saturday, October 22, 2011. America's enchanting R&B goddess, India.Arie, known and loved by her fans and the music community as a songwriter, musician, singer, poet, advocate, daughter, and friend, teamed up with Idan Raichel, Israel's biggest international musician to deliver a musical experience that reminds people that we are all ONE, that all people and things are interconnected, and that there is beauty in cultural diversity, mutual acceptance, and love.
The duo met while Arie was visiting Israel two years ago with her family. According to Arie's blog, soulbird.com, she refers to Raichel as her "musical soulmate."
Open Door is the highly anticipated collaborative project between 4-time Grammy winning and 18-time Grammy nominated India.Arie and Israeli keyboardist, Idan Raichel. Together, they created a cross-genre compilation of songs that are relevant to a global audience. Void of overproduced instruments and bolstered by their cause, the musical duo confidently delivered one of the most genuine, spiritually-uplifting, positive, and heartwarming musical performances that has graced the stage of the Strathmore in its history. The blend of the East and West featured percussion, strings, piano, and winds in both English and Hebrew.
Raichel has won an international musical fan base by incorporating Israel's diversity into his music, with specific influences from Ethiopia and Yemen. He is best known for his Idan Raichel Project, noted for its fusion of electronics, traditional Hebrew texts, Middle Eastern, and Ethiopian music. While the majority of Raichel's songs are in Hebrew, several are entirely in Amharic. The Idan Raichel Project grew out of Raichel inviting some 70 different musicians from a wide array of backgrounds to participate in his recordings, including Ethiopian Jews, Arabs, traditional Yemenite vocalists, a percussionist from Suriname, a South African singer, among many others.
The two first debuted together at a Nobel Peace concert in Oslo, Norway featuring their song Gift of Acceptance. Encapsulating the overarching message of Open Door, Arie sings: "We can debate till the end of time who's wrong and who is right, or I can honor your choices and you can honor mine."
Delivering a message of acceptance and unity, Arie and Raichel's lyrics speak of the struggle and peace in inherent in bridging cultural divides.
For more information, visit Indiaarie.com and Idanraichelproject.com.
[youtube=http://www.youtube.com/watch?v=LrYUlQTUYQo]