Only Surviving JAWS Shark Acquired By the Academy Museum
3 min read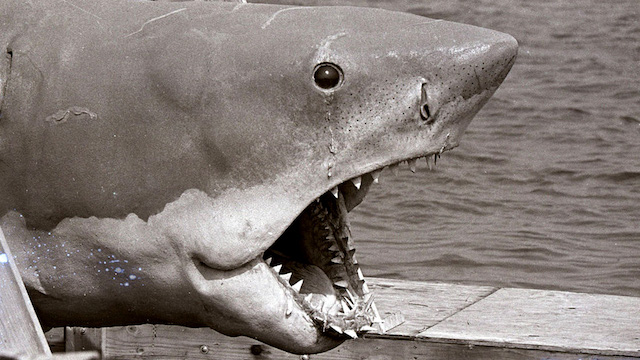 MONUMENTAL 25-FOOT MODEL JOINS M– — USEUM'S OUTSTANDING
COLLECTION OF ARTIFACTS AS LARGEST OBJECT TO DATE
The Academy Museum announced today that it has accepted into its collection a major gift of the sole surviving full-scale model of the 1975 Jaws shark, donated by Nathan Adlen. The monumental Fiberglas model is the fourth and final version made from the original mold. Created for display at the Universal Studios Hollywood at the time of the film's release, the prop remained a popular backdrop for photos until 1990, when it was moved to the yard of Aadlen Brothers Auto Wrecking, a firm in Sun Valley, California, that regularly bought or hauled used vehicles from Universal Studios. With the business slated to close in January 2016, owner Nathan Adlen has made a generous gift of the historic prop to the Academy Museum.
The shark model will join the Museum's unmatched holdings—including an underwater apparatus and fin used in Jaws and Jaws II—as the largest object to enter the Academy's collection to date.
Kerry Brougher, Director of the Academy Museum, said, "Jaws was the original summer blockbuster—a movie that marked a turning point in culture and society—and Bruce is the only surviving version of its unforgettable central prop. This extraordinary addition to our collection, made possible through the generosity of Nathan Adlen, is a major contribution to the resources we will use to illuminate film history and enhance the public's understanding of the arts and sciences of motion pictures."
Directed by Steven Spielberg and based on the 1974 Peter Benchley novel, Jaws was an immediate critical and commercial success, and was selected by the Library of Congress in 2001 for preservation in the United States National Film Registry as a work of utmost cultural, historical and aesthetic significance. The creation of the film's mechanical shark—which Spielberg named Bruce after his lawyer, Bruce Ramer—was undertaken by art director Joe Alves, who designed a prop with a 25-foot long body, 400-pound head and jaws nearly five feet wide. The mold yielded three latex and rubber casts that were used in production. Following the film's release, the three rubber casts deteriorated and were discarded. But the fourth cast, made of Fiberglas for promotional use, has survived. In 2010, it was authenticated by Roy Arbogast, a member of the film's special effects crew.
"I am delighted to be part of the new Academy Museum through the gift of this beloved American icon," said Nathan Adlen. "Bruce caught the eye of my father, Sam Adlen, at first glance back in 1990, and for many years he's been like a member of the family. And the May Company building, where the Museum is being created, feels like part of the family too, since I grew up in the Miracle Mile district and shopped with my parents at the May Company, where my wife even had a part-time job. This is going to be the perfect place to share this extraordinary treasure with the world."