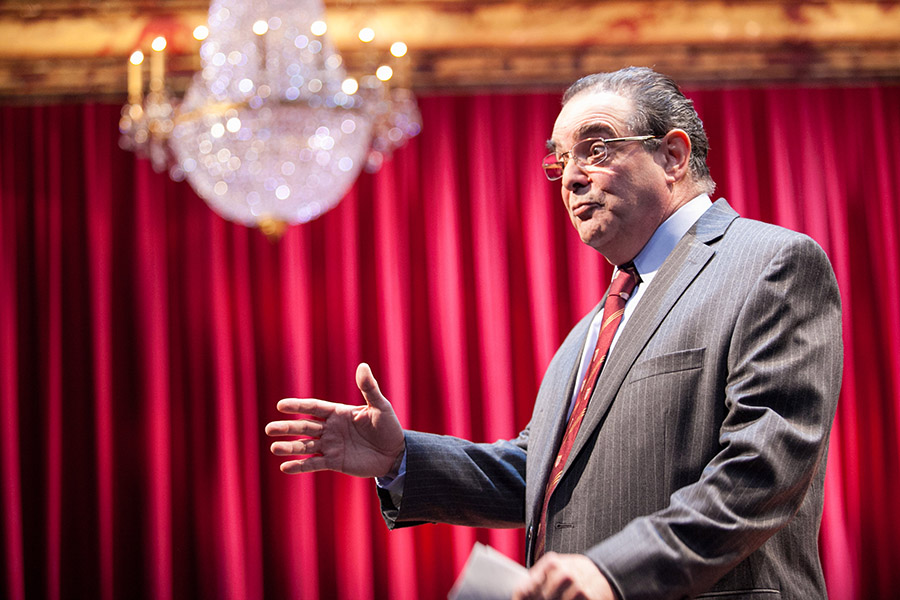 John Strand's critically-acclaimed political drama The Originalist, based on the late Supreme Court Justice Antonin Scalia, will receive an additional week of performances during its summer return engagement at Arena Stage at the Mead Center for American Theater. The play, which features four-time Helen Hayes Award winner Edward Gero and is directed by Artistic Director Molly Smith, now runs through August 6, 2017.
The Originalist was commissioned as part of Power Plays, an ambitious initiative from Arena Stage commissioning and developing 25 new plays over the course of 10 years, focused on stories of politics and power. The largest commissioning project in the company's history, Power Plays will feature on story per decade, beginning with 1776 and spanning 25 decades total.
"Playwright John Strand and Molly Smith have been bold in their endeavor to create a meaty play that finds a way through political dialogue to a middle ground and addresses the polarization of our political parties," says Executive Director Edgar Dobie. "Our Washington, D.C. audiences continue to prove that they have an appetite for relevant and intelligent political work. When The Originalist premiered here in 2015, it was extended twice due to popular demand and broke box office records. Since then, the show has been produced at Florida's Asolo Repertory Theatre and California's Pasadena Playhouse, and will next travel to Chicago's Court Theatre. We're thrilled that audiences nationwide and again here in the nation's capital are able to experience this powerful piece of theater."
The cast of The Originalist also features Jade Wheeler as Cat, the young, liberal law clerk who becomes a sparring partner for the conservative Justice, and Brett Mack as Brad, an eager Scalia devotee. Tickets may be purchased online at arenastage.org, by phone at 202-488-3300 or at the Sales Office at 1101 Sixth St., SW, D.C.
Critical acclaim for The Originalist:
"Taut, punchy, often humorous repartee…Since Scalia's death in 2016, the script has grown more relevant…In the atmosphere of hysterically partisan politics, it feels wholesome and encouraging to hear the two positions summed up clearly and persuasively." –Los Angeles Times
"A timely, almost revolutionary work." –The Economist
"No matter your view of the legal opinions written by Supreme Court Justice Antonin Scalia, it is easy to find something to appreciate in his personality and thinking…in John Strand's combative and thought-provoking play." –Herald Tribune
"Daring…Edward Gero's lively performance…lands the laughs, delivers the gravitas and at every turn makes you believe this tantalizing man." –Washington Post
"The country's most famous legal showman has gotten his show…Scalia, portrayed with terrific verve and snappy humor by Edward Gero." –New York Times
"A smart, thrilling trip through Supreme Court history…The timing of the play's run…brings goosebumps during the play's climactic scenes" –DCist
"Guided with subtlety and heart by director Molly Smith." –Talkin' Broadway
"Entertaining…Edward Gero, who looks remarkably like Justice Scalia, offered an eerily convincing physical impersonation of the justice—down to his Jackie Gleason slow burn, his operatic facial expressions and hand gestures, and his belly laugh." –The Atlantic
ABOUT: Four-time Helen Hayes Award winner Edward Gero returns as Supreme Court Justice Antonin Scalia, offering audiences another opportunity to see his "lively performance" (Washington Post) in this special limited engagement. When a bright, liberal, Harvard Law School graduate embarks on a nerve-wracking clerkship with the conservative Justice, she discovers him to be both an infuriating sparring partner and an unexpected mentor. How will their relationship affect one of the most incendiary cases ever to reach the nation's highest court? Don't miss your opportunity to experience the show afresh with a brand-new staging for the Kreeger Theater.