National Museum of African American History and Culture Releases "A Is for All the Things You Are: A Joyful ABC Book"
2 min read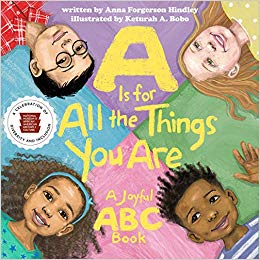 The Smithsonian's National Museum of African American History and Culture has partnered with Smithsonian Books to release A Is for All the Things You Are: A Joyful ABC Book. The alphabet board book was created to help children develop healthy racial identities and to find joy in diversity and inclusion.
Intended for ages from infancy to 7 years, the book introduces readers to 26 key traits that support their understanding of justice and their ability to act to ensure fair treatment for themselves and for others across categories of race, gender, abilities and religion.
"A Is for All the Things You Are empowers children to be seen and heard and to develop a positive sense of self-worth and a commitment to uplifting others," said the book's author, Anna Forgerson Hindley. Hindley is the supervisory coordinator of the Early Childhood Education Initiative at the National Museum of African American History and Culture. "The book is based on the work we do every day at the museum. It is work rooted in the belief that every child deserves to have a positive sense of self and be able to understand that diversity should not only be recognized but celebrated."
The book's illustrator is Keturah A. Bobo, a graduate of the Columbus College of Art and Design known for her vibrant illustrations. Her first picture book, I Am Enough by Grace Byers, was a New York Times bestseller.
The education department seeks to contribute to the museum's role as a place of transformation. During early childhood development, a child's self-image progresses alongside the creation of a personal values system. Throughout this process, parents and caretakers may not be conscious of passing along their own preconceived notions of race, identity and ability. Grounded in the tenets of anti-bias education, A Is for All the Things You Are reinforces scientific conclusions that treating children as strong, intelligent and kind individuals ensures similar outward behavior toward their peers and loved ones. The education department is currently planning other books in alignment with its mission.