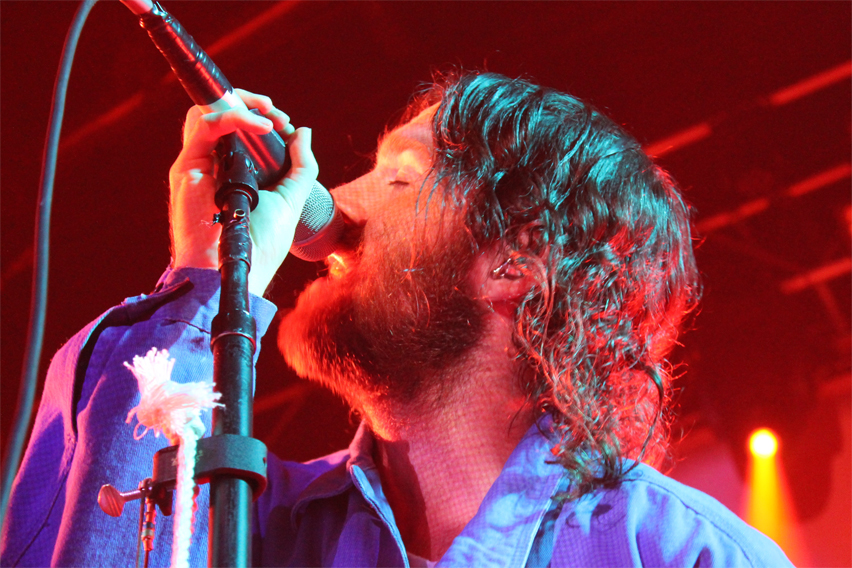 The artist formerly known as Chet Faker, aka Nick Murphy, paired with the opening act Beacon at the 9:30 Club Wednesday evening. Nick Murphy is touring his new album Run Fast Sleep Naked. This is his first album since changing his moniker to his real name.
The opening act Beacon was an atmospheric cleanse. Smooth textures pulsated with hypnotic tones capturing your essence. It was like an electronic mood stabilizer. Thomas Mullarney's falsetto vocals complimented the instrumentals like somebody talking to you in a dream. Beacon's set was short but sweet, a standout track was "Marion". It made you feel like you were floating through space. I would compare the track to Claude DeBussy's "La Mer", (French for The Sea). Marion was an audience favorite. Even though by definition it's supposed to be a sad song —the definition of "Marion" varies between "sea of bitterness" and "sea of sorrow."— the expression of the sound didn't reflect this. It sounded more peaceful than anything else.
Prior to Nick Murphy's set, a blue haze settled over smiling faces, bright with anticipation. The stage was a cluster of instrumentation. There were guitars, drums, an upright piano covered in a tattered cloth, a saxophone, a flute, and an assortment of keyboards and samplers. Nick Murphy is highly influenced by jazz and I could hear it in his sound; but, when it's performed live and amplified, it sounds like rock n roll.
He opened with "Hear It Now" off the new album, Run Fast Sleep Naked. It's a great introductory song. A soft tempo compliments strong powerful vocals and samples of a harp. It's almost like the song was written as an opener. Nick Murphy talks to you through the song, sharing his feelings and introducing himself and his big red beard. For the second track he performed "Sunlight." It is one of my favorites off the new album. It is so energizing! In the opening you can hear faint orchestral samples and what sounds like Middle Eastern/Arabic violin. During the chorus Nick Murphy yells, "sunlight in my green eyes, hey" during which an array of orchestra samples forte with a heavy bass riff and purposely off-tone electric guitar. It sounded great!
The third song he performed during the set was "Gold" and it was instantly recognized. Everybody in the building knew the lyrics so Nick was complemented with a loud echo while he performed. It's cool he sang over the audience and didn't let the audience sing the song for him. I hate it when artist do that! It was great! The show mostly featured songs off Run Fast Sleep Naked and the album Built on Glass  with the tracks "1998", "Gold", and "Talk is Cheap". "Talk is Cheap" is heart warming to hear live, during the opening a robust saxophone solo is performed with Nick Murphy singing intimately on piano.
Nick Murphy's melodies are simple but effective. It might sound cliché; but,  I would call it "less is more" but with more instrumentation/sounds and less complexity. Jazz doesn't have to be complicated. There are electro beats fused with soulful vocals, jazz, rock-n-roll, and even classical music. It's such a unique blend of sound. It's ambitious and perplexing.
Another fantastic track off of  Run Fast Sleep Naked is "Yeah I Care." This song is so rock it had everybody jumping. It opens again just like "Sunlight" with the Middle Eastern style violin. During the coda, there is a memorizing synth solo, it sounds like a heartbeat of effects. It closes out with a rocking guitar solo that leaves you fully energized. I loved this track live; it was the best in show! Some other great songs performed were "Birthday Card" off the Work (EP) with Marcus Marr. The lyrics are captivating, they infer being stuck between a boy and a man.
This concert was fantastic from beginning to end. Nick Murphy leaves it all on the table. He puts a lot of emotion into his performances and his voice is captivating. I believe Run Fast Sleep Naked is his best work to date. I love the Middle Eastern rock influence throughout the album, it reminds me of Dick Dale the inventor of surf rock. Call him what you want; Nick Murphy has arrived! You will leave a Nick Murphy concert feeling ten times better than when you got there.