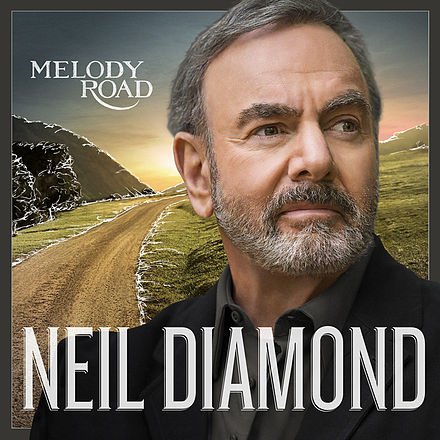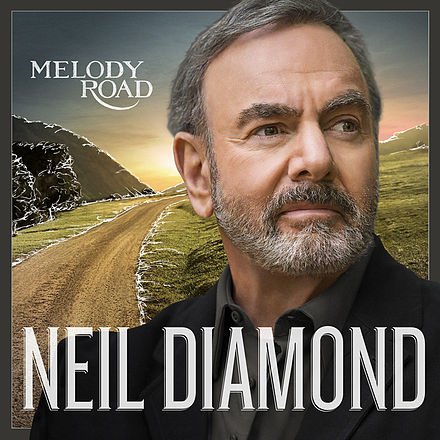 The 73-year-old, Neil Diamond has sold over 128 million albums worldwide and is a member of both the Rock and Roll Hall of Fame and the Songwriter's Hall of Fame. His new folk-pop inspired Melody Road, out Tuesday, is sure to please.
Twenty-five years after Producer, Don Was approached Diamond about recording an album; it has finally come to fruition. Despite producing a single hit song together in 1991. 
Some are calling, "Melody Road" a comeback, but Neil was never gone! The enigmatic singer/songwriter released a very successful album in 2008, but this is his first with Capitol Records. Of his 32 albums, this newest release has the familiar sound of Diamonds rich baritone, but is a fresh group of 12 songs.
The title song, "Melody Road" is a soft ease into the album. It is a head bobbing, easy to listen to tune. Personally, I would have liked a more, "Cracklin' Rosie" approach to, "First Time"; more of a punch. It has hints of "…Rosie" to it, but it never quite reaches that exhilarating belt. It grew on me more and more, as I listened to the album though. "Seongah and Jimmy" has a good beat and of course I love Neil's voice, but rather than listen to the song over and over, I would rather hear the story behind the song. "Something Blue" may prove to be the most popular because of its kick It's very snappy and toe tapping, but maybe a little slow here and there.
"Nothing But a Heartache" starts of in a way that I want to hear more. It really draws me in, but I was waiting for a big build and it stayed fairly the same. Although, Diamond's voice pushes the song and drives it forward. "In Better Days" starts with nice guitar and good lyrics. This song has a familiar story to tell and I think people will relate. "Ooo Do I Wanna Be Yours", one of the ballads, is a little more country and lends itself to his voice, but proved to be a little depressing for me. "Alone at the Ball" is a more upbeat ballad…if that makes sense? It reminded me of some 80's Billy Joel and a little dramatic, which I like.
"Sunny Disposition" couldn't be better placed on the album. I needed a more upbeat moment. This is a bit of beachy-type tune, but had a little too much vibrato, that reminded me of Carol Channing and not in the good way because it took me out of the song. "Marry Me Now" hits the mark with what they are striving for. I can see this song being used for commercials and flash mob style proposals. I like it and it's my favorite on the album, maybe because it's the happiest!
"The Art of Love" takes you on a journey, like only Neil can guide you. He has a way of sending a message with a song and this song is certainly that. Another favorite! The final song is a reprise of "Melody Road" that is basically Neil signing off. 
Overall, I love some of it and can live without some. I never quite got the zing I was looking/hoping for, but it is a soft album for the most part and easy listening at it's best. It will depend on the mood I'm in, on any given day. It is not depressing, just smooth and even-toned.
If you're a fan of Neil's, give this a chance. I appreciated it a lot more on my second go around. It's Neil Diamond and I honestly think he can do no wrong. I think we need more singers and songwriters like Neil Diamond.
This album is now available on iTunes and across the land. For more info. on Neil and his upcoming tour, go to www.neildiamond.com or www.ticketmaster.com