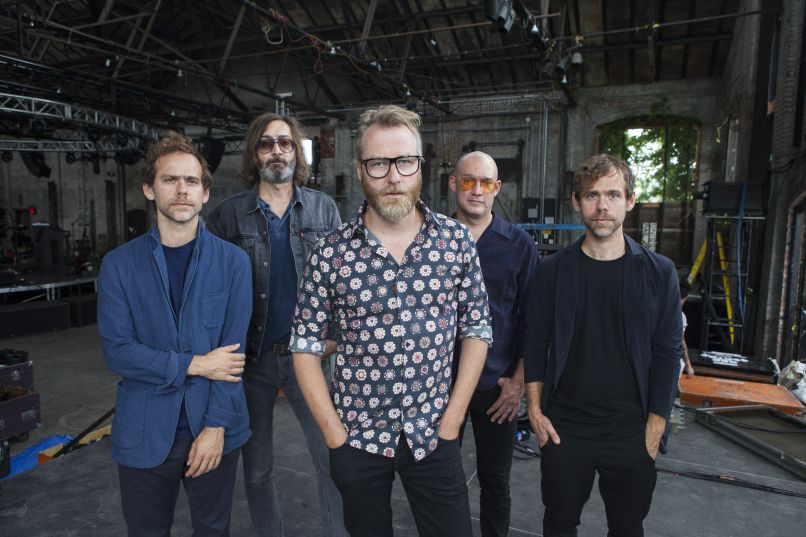 On a rainy Tuesday night, I was totally excited to check out the newest gorgeous music venue in Washington, DC called The Anthem thanks to The National.
The National is a Grammy nominated American indie rock band from Cincinnati, Ohio, formed in 1999. The band consists of Matt Berninger (vocals), Aaron Dessner (guitar, keyboards), Bryce Dessner (guitar), Scott Devendorf (bass) and Bryan Devendorf (drums) who just recently played "Day I Die" on The Ellen Show; visually hypnotizing and musically gifted musicians.
The Anthem is located at 901 Wharf Street SW in the fabulous District Wharf. It is behind the 900 block of Maine Avenue SW, on the waterfront and better yet only a 10-minute walk home from my condo building.
The Anthem has two entrances. One is for VIP/Media and the other is for general admission. The 900 entrance was where I was screened before receiving my general admission standing ticket for the sold-out show.
With the "seating" situation The Anthem has two types of seated shows: reserved seating called "Super Excellent", where you are assigned a seat when you buy your ticket, and General Admission Seating, where all seating locations are based on standing anywhere due to a first-come, first-served basis.
Since it was my first time, I made sure to ask questions to several Anthem staffers who were really nice to me but a special shout-out goes to Mary on the 2nd level. She gave me food menu suggestions like apparently if you're inside the Anthem during happy hour times you save an additional 25% off the drink menu. Okay so back to the National concert music revue.
The National's 30-minute opening act was this very charming British folk-bluesy band This is The Kit featuring musician Kate Stables and honestly, I felt their set was way too short, I guess I will have to replay their NPR's Tiny Desk concert which they filmed on earlier this week. I really loved their song "Sometimes the Sea."
After a brief 30-minute intermission, The National show started about 9pm for about two hours. Lead singer Berninger's first song Santa Clara started off a little shaky since as he forgot the lyrics, but I did appreciate his humor about saying "how the whole administration" was inside The Anthem or dedicating some songs to President Trump / Karl Rove due to his "lies."
From the second level, I could see thousands of National fans bobbing their heads, dancing, and clapping; having a good time, especially a Charlottesville couple who drove over 6 hours to see their favorite band. The gigantic TV screens behind the band showcased several fantastic visual graphics of like when "Bloodbuzz Ohio" was performed, electrifying video montages of the band, etc. I thought I was being musically hypnotized with most of the lyrics being intense "Mr. November" and heartwarming like "I Need My Girl."
After a while my legs were beginning to hurt from standing so I walked back downstairs to the floor and I always appreciated how whatever angle you are at The Anthem you could have a rocking view.
Here's The National playlist for the mega fans out there.
Santa Clara – not sung completely
Nobody Else Will Be There
The System Only Dreams in Total Darkness
Walk It Back
Guilty Party
Don't Swallow the Cap
Bloodbuzz Ohio
Dark Side of the Gym
I Need My Girl
This is the Last Time
Lemonworld
The Geese of Beverly Road
Conversation 16
Empire Line
Turtleneck
Apartment Story
Graceless
Carin at the Liquor Store
Day I Die
Fake Empire
Encore included:
Rylan
Mr. November
Terrible Love
The KKK Took My Baby Away
FINAL GRADE: A-
(Note: Anthem garage parking and traffic are tough during sold-out shows like The National, so I highly recommend taking the Waterfront Metro or Lyft / Uber.)