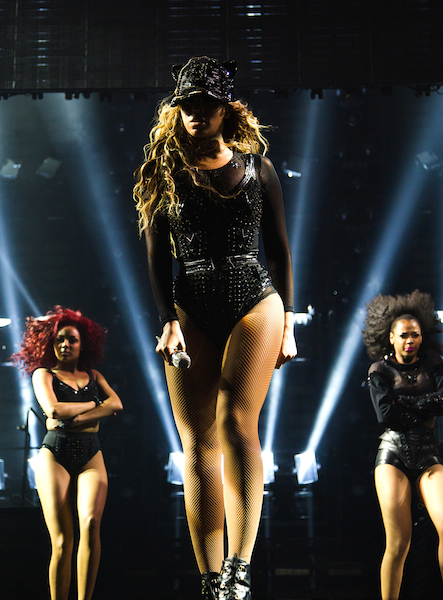 "He-eeeyyy Ms. Carta…"
Beyonce wants her audience to greet her in this familiar fashion after 2 film shorts that portray her as royalty, about 3 costume changes on her enviable (and definitely NOT pregnant) body, and 5 songs where her voice somehow magically projects over her 10-girl band and the shrieks of the crowd. And we do so. Why? Well, because pretty much everyone in the room is spellbound by her aura and would probably do or say anything she tells us to and more impressively, because this unstoppable force of a woman is supremely adept at taking off her crown for a moment to convince you that she's simply a good friend of yours.
In some ways, this is completely believable. A singer at the height of her popularity can have any big name opening for her, but Beyonce chose an up-and-coming friend of hers to start the show. Luke James is very similar to Miguel, but with louder high notes and less clothing. I hate to admit it, but my rating of his performance went way up after he took his shirt off. Even before that, his voice and his passion were hard not to notice. He seemed to sing with every molecule of his body in a way that was slightly reminiscent of the likes of Michael Jackson and Marvin Gaye, two artists he incidentally borrowed songs from for the evening. James also sang a few original songs including the Grammy-nominated "I Want You" and "IOU." He was enjoyable enough, but did plenty of marketing before leaving the anxious crowd alone.
AN HOUR LATER, Queen Bey finally showed herself. During that waiting time, we saw pretty much every commercial or PSA that Beyonce has done in the past year and heard plenty of music from current popular artists like Mr. Carter, better known as Jay Z. Needless to say, the anticipation was almost too much to bear, but we all knew the show would be worth the wait. And was it ever! This concert was part Cirque du Soleil, part burlesque, part karaoke, part fashion show, and many parts dance party. There were lights, lasers, rings of fire, jets of smoke, confetti, sparklers, sequins, cinematic pieces, feathers, ballerinas and so many other features that attacked the senses that if you looked away for 2 seconds, you missed something amazing. I have never seen anything like this before in my entire life. The Verizon Center did not seem big enough to contain all that Beyonce was bringing to the stage.
Another awesome perk to this show was the presence of Les Twins. These two guys are fun personified! Their comedic timing and dance moves were phenomenal, and I hope they perform with Beyonce for years to come. The only two French guys I'm more obsessed with are Daft Punk.
"Ms. Carta" performed songs from her early days such as "Survivor" and "Naughty Girl" as well as the super-catchy newer hits "Grown Woman" and "End of Time." The most unexpected song was a mash-up of "Bittersweet Symphony" and "If I Were a Boy." It was an odd choice, but somehow it worked. She ended the night with a verse "I Will Always Love You" before belting out "Halo." I was more grateful that she did not attempt to do the entire song than I was that she omitted the controversial "Bow Down/I Been On" from her set. But even though I do not think she quite has the voice to cover Whitney Houston, there is no denying that this star has earned her hype. She works HARD. Beyonce sang hard, danced hard, and loved hard as she gave 120% to her adoring fans.
To all the lucky people who scored a ticket to her second DC show tonight, you are in for a treat! Even if you are not a die-hard fan or a member of the BeyHive, you will never forget the time that you spent at the Mrs. Carter Show.