Brian Ganz Dazzles in a Pair of Piano Concerts
3 min read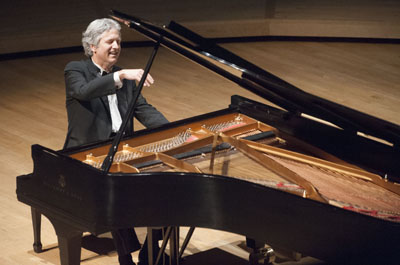 Saturday February 6th 8p.m. – The National Philharmonic Orchestra with pianist Brian Ganz took to the concert stage at The Music Center at Strathmore on Saturday night. They presented a compelling pair of composers, Mozart and Chopin, with a pair of back-to-back concertos for piano and orchestra that left audiences amazed!
The program also featured Gioachino Rossini's Overture to the Opera L'Italiana in Algeri ("The Italian Girl in Algiers") and Mozart's Haffner Symphony. The piano concertos performed were Mozart's Concerto for Piano and Orchestra No. 20 in D minor, K 466, and Frédéric Chopin's Variations on "Là ci darem la mano", Op.2 (There we will give each other our hands").
The opening score Rossini's "Overture to the Opera" was a delightful way to start this concert. The pleasant energy really settled you for the excitement that was due to come. Listening to an all-instrumental version of an Opera score is intriguing. It's almost like listening to a cinematic production number.
This concert was titled "The National Philharmonic presents Mozart's Haffner Symphony," but it was a pair of piano concertos that stole the show. It started with Mozart's Concerto for Piano and Orchestra No. 20 in D minor. The dark D minor tones resonated throughout the concert hall with violins, violas and cellos playing in unison. The theme is promptly picked up by a piano soloist, and builds to a loud and exciting forte. The grand piano and orchestra in the D minor tone blends so well together. Brian Ganz was tremendous in the execution of the piano solos. The tension created by the dark shadowy tones left you with an exhilarating sensation. It contrasted the subsequent movements that were in a more peaceful G minor mood. It's interesting how two opposite expressions could blend together so well; it was like tenseness being relieved by exuberance. This was an outstanding performance; classic Mozart played at it's finest! This concerto was first performed on February 11th 1785 in Vienna so this was like an anniversary celebration.
The audience received Mozart's Concerto for Piano and Orchestra No. 20 with overwhelming enthusiasm. The next number featured a composer who Brian Ganz specializes in performing, Frédéric Chopin. Brian Ganz has spent the better part of the last half-decade dedicating himself to performing every Chopin composition ever produced. Tonight he shared with us some of that enthusiasm for Chopin. We were not let down. Typically Brian performs Chopin as a solo recital but tonight we had the added treat of having him complimented with orchestra.
Variations on "Là ci darem la mano", Op.2 is a brilliant piano composition accented gracefully with orchestra. Brian Ganz's piano playing was hair raising! He executed each movement with technical mastery. Each piece was vigorously completed to near perfection and Brian put on a show! The audience reacted with amazement; you could hear the sound of gasps during the performance. This was an awesome piece, very entertaining to see live.
The concert closed with just the orchestra playing Mozart's Haffner Symphony. It was a little anti-climatic compared to the previous two scores but was expertly performed. It's a great score for violin and cello. The violin solos played in unison in the third and forth movements sounded pristine. It was a great end to a great concert. Brian Ganz was outstanding! The National Philharmonic and conductor Piotr Gajewski played exquisitely.