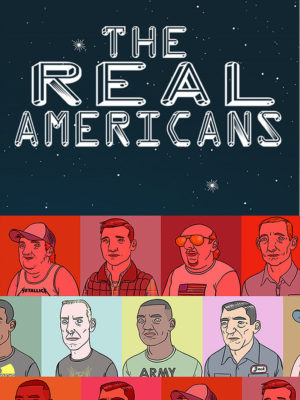 The third show of Mosaic Theater Company's ambitious third season will be The Real Americans, a one-man show written and starring Bay Area sensation and now NYC-based performing artist Dan Hoyle. In an effort to escape the liberal urban bubble, Hoyle spent 100 days traveling through small-town America. The cast of characters he met and interviewed are vividly brought to life in this hilarious, poignant performance.
"We are so pleased to have Dan bring this play to Mosaic," said Founding Artistic Director Ari Roth. "Dan is a razor-sharp writer and an extraordinary chameleon of a performance artist, in the best tradition of artists like Anna Deavere Smith, performing transcribed interview material with absolute fidelity. This play exemplifies the importance of seeing the world through someone else's eyes. We are confident this show will make audiences laugh but also spur conversations about our country's political and economic climate. To that end, we are pairing this show with a robust series of post-show discussions, including with Washington Post senior editor Marc Fisher, co-author of Trump Revealed: An American Journey of Ambition."

Originally written during Barack Obama's first term as president, this version of The Real Americans includes updated material based on travels during the summer of 2016 and updated reflections on last year's presidential election. Hoyle is currently testing out his latest version of the script at The Marsh in San Francisco, fine-tuning new scenes before arriving in Washington DC in November.
The Real Americans will play in Lab II at the Atlas Performing Arts Center, and will overlap with Vicuña & The American Epilogue. "These two productions are absolutely linked," continued Roth. "While different in style, both plays ask about the moments and sentiments that led to our current political climate. Dan's play is a particularly intimate, personal experience, which is why we decided to stage it in the smaller Lab II black box space. We hope that audiences will come and enjoy both shows for a truly remarkable pairing created by some brilliant writers, performers, and directors."
Beginning in December, The Real Americans will be running in rep with Draw the Circle, a moving one-man show about how the creator's (Mashuq Mushtaq Deen) gender transition affected his family and friends. Together, The Real Americans and Draw the Circle make up the series "Transformational Journeys: Inspired Singular Explorations." (press release to come).
Additional Information about The Real Americans
Opening Night: Sunday, November 12 at 7:30 PM
Special Performances and Post Show Discussions: PWYC preview on November 10 at 8 PM; Weekday Matinee at 11 AM on December 7; Open Captions provided at 8:00 PM on December 9 and at 3:00 PM on December 10; Post-show discussions with Marc Fisher on November 11 and November 15. A full list of discussion dates and discussant bios will be available on mosaictheater.org/discussions. 
FOR ADDITIONAL INFORMATION, VISIT: HTTP://WWW.MOSAICTHEATER.ORG/THE-REAL-AMERICANS
VALET PARKING NOW AVAILABLE FOR ALL PERFORMANCES